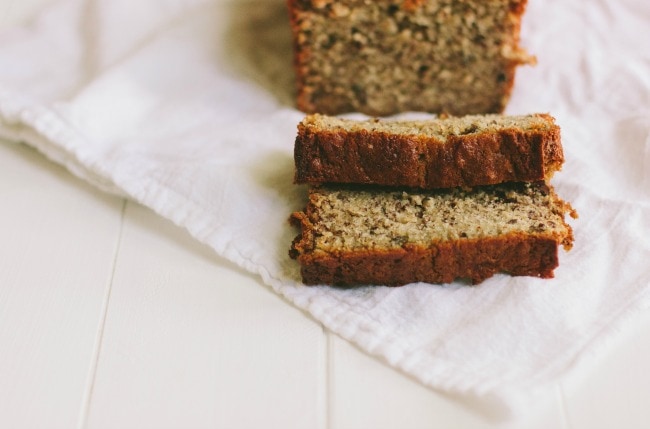 I know there are a million recipes for banana bread out there, all of them claiming to be the best. Is there a bad recipe for banana bread? I don't think there is. I've tried many different variations over the years, from healthy versions made with whole wheat flours and flaxseed to loaves that were basically cake, crammed with chocolate chips and peanut butter. They were all delicious. But there is one recipe that has traveled with me from coffeehouse to coffeehouse, and now is a staple in our home. It has won our simple hearts.
I'm not going to lie. It's not on the healthy end of the spectrum. There is butter, and sugar, and sour cream. Pecans, white flour, and eggs. It is rich and delicious, always moist, full of banana flavor. And it's the best.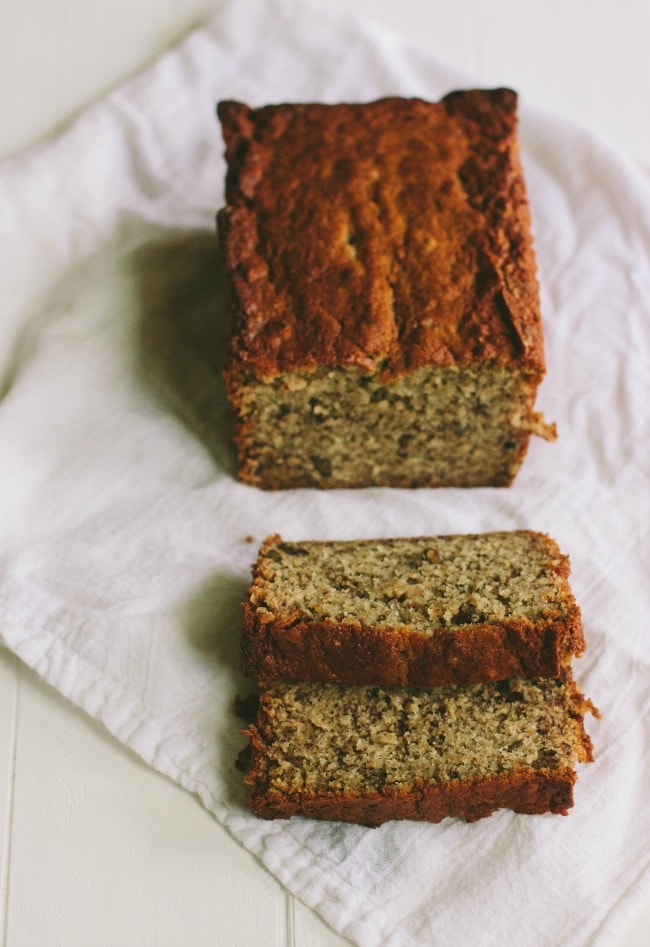 Banana Bread
adapted from Martha Stewart
I make these loaves in an 8 x 4 bread pan – I've found it to bake up prettiest in these. This will work in a 9 x 5, but it will be flatter. I like to use super ripe [almost black] bananas that have been frozen and then thawed for this bread, as they have the best flavor [a little trick I learned from Cooks Illustrated]. When the frozen banana thaws, it gives off lots of juice that has SO MUCH FLAVOR. You want to put this juice in with the bananas, when you mash them. If you do not have frozen bananas available, use really ripe, almost black bananas for good flavor. You can substitute walnuts or chocolate chips for the pecans, and yogurt for the sour cream. This bread keeps well for days wrapped in plastic, and I like it's flavor on the second and third days best.
1 cup butter, room temperature
2 cups granulated sugar
4 large eggs
3 cups all-purpose flour
2 teaspoons baking soda
2 teaspoons salt
1 cup pecans, toasted
2 cups mashed bananas (or 5 bananas, see note above)
2 teaspoons pure vanilla extract
1 cup sour cream
Preheat oven to 350F. Grease two 8 x 4 bread pans (see note).
Whisk flour, baking soda, salt and pecans together. In a separate bowl, mash bananas. Add vanilla and sour cream and mix until combined.
In a standing mixer, cream butter and sugar together until fluffy, 3-5 minutes. Add eggs one at a time, scraping down bowl after each addition. Add dry ingredients, and combine slightly. While mixer is running, add banana mixture [and juices, if using, see note] and mix until just combined. Finish stirring batter by hand, making sure any batter on the the bottom of the bowl is well incorporated. Pour batter into pans and bake until bread is no longer doughy and golden brown, 45 minutes – 1 hour, or until a toothpick comes out clean. Let cool in bread pans for 20 minutes, then turn out on to wire racks to finish cooling.