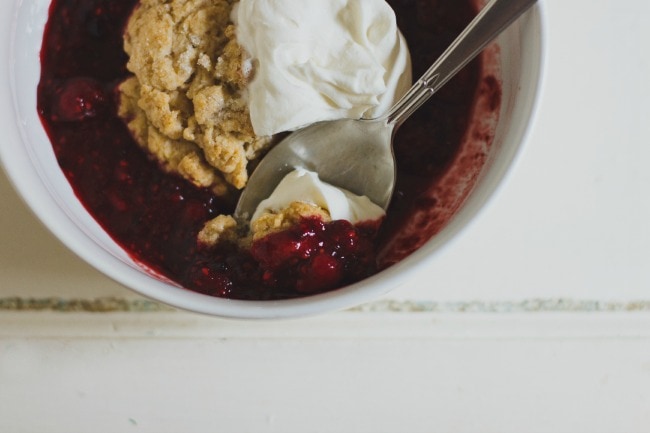 Usually when the school buses start making their way down my street, summer gives way and makes room for the next season. Fall has always been my favorite time of year, bringing with it the expectancy of change. This year, however, it's as if Jacob is at the bottom of that heavenly ladder, wrestling fiercely with the angels. Summer is refusing to give up residency, and we have had week after week of sweat and fake air. Jacob wrestled the angel, and the angel was overcome*. Here's hoping.
So since I'm here in limbo, with a foot in each season, I came up with a dessert that could be, too. Warm, whole wheat drop biscuits speak to me of cozy sweaters and thick blankets, while mixed berries and Frangelico sing of beach waves and late nights on the patio. Whipped cream, of course, works no matter what the weather.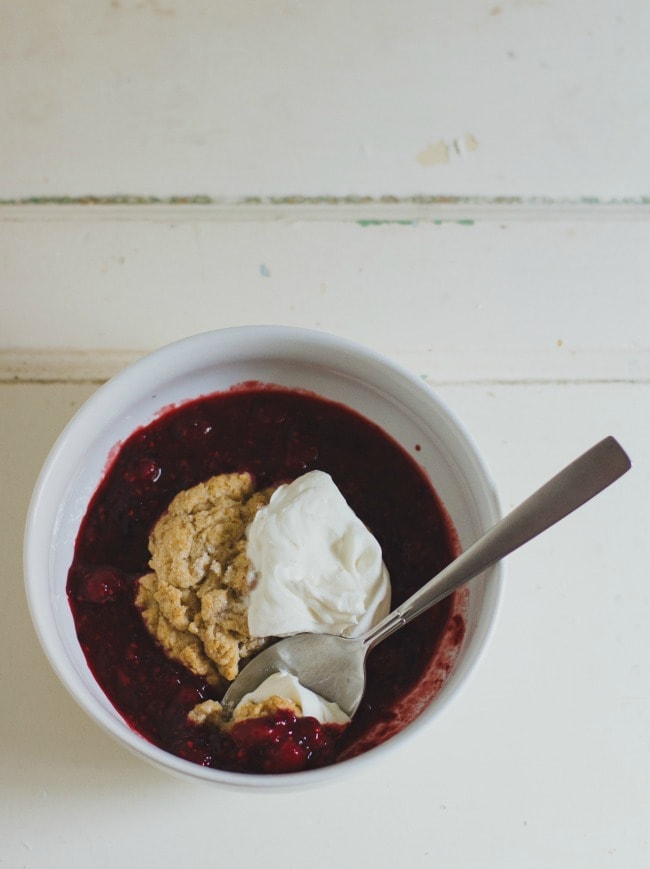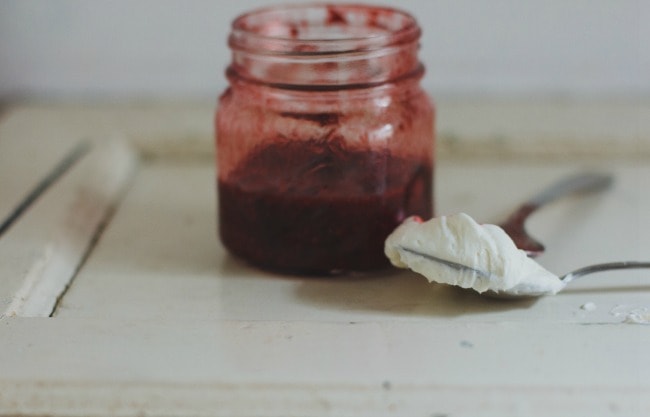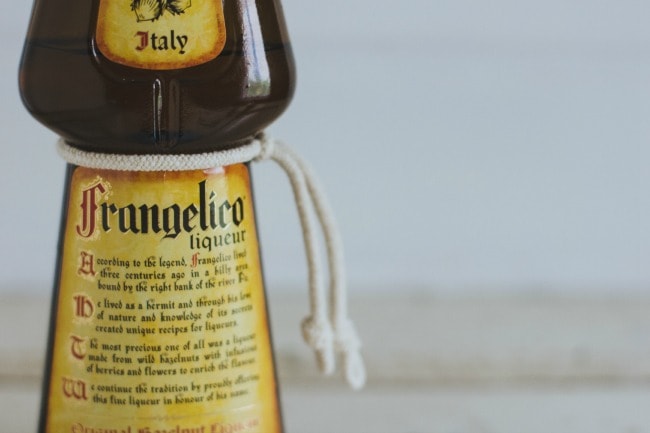 This sponsored post is a collaboration with Frangelico. All opinions are my own (and I honestly enjoy baking and cooking with it). You can check out Frangelico online or on Facebook.
*a line from Bullet the Blue Sky, sung by U2

Whole Wheat Drop Biscuits with Mixed Berries and Frangelico
Drop Biscuits
adapted from Kim Boyce, Good To The Grain
These biscuits can be made with more whole wheat flour if desired – you could do equal parts all purpose and whole wheat (3/4 cup of each). Much more than that, and the biscuits will be very dense. If you want these lighter, you could try substituting buttermilk for the heavy cream, although they might not hold their shape as well, and will not taste as rich. But! buried in mixed berries and whipped cream, that just might be okay.
1 cup all purpose flour
1/2 cup whole wheat flour
1/4 cup sugar, plus 2 teaspoons
2 teaspoons baking powder
1/4 teaspoon salt
1 cup cold heavy cream
Preheat the oven to 325, with the oven rack in the center. Rub a baking sheet lightly with butter.
Whisk together the flours, 1/4 cup sugar, baking powder, and salt. Pour the cream in, and stir (with a fork or your hands) until the dough just comes together; do not overmix (the dough will be very shaggy).
On the baking sheet, pile the dough into six mounds, leaving 4 inches between each mound (They will literally be blob-y piles; and you will not be impressed with how they look. Have faith!) Tuck in any rough pieces of dough. Sprinkle the dough with the remaining 2 teaspoons of sugar.
Bake the biscuits for 35-40 minutes, until the just begin to color on top, rotating the sheet pan halfway through baking.
Mixed Berries with Frangelico
adapted from America's Test Kitchen
I used 1/2 cup of sugar here, which left the berries still tart. When eaten with the drop biscuits and whipped cream, I thought the flavors balanced perfectly. However,  if you'd like things a bit sweeter, you can add more sugar. I also thought 4 tablespoons of Frangelico was nice – there was a lovely undertone of hazelnut. You can, of course, add more if desired! If you are whipping your own whipped cream, you can also add a tablespoon or two of Frangelico there, for even more hazelnut flavor.
3 cups blackberries
4 cups raspberries
1/2 cup sugar (see note)
1 teaspoon vanilla
4 tablespoons Frangelico (see note)
Place the blackberries in a large bowl and crush gently with a potato masher. Add the raspberries and stir together. Add the sugar, vanilla, and Frangelico, and stir gently. Let the berry mixture sit at room temperature for 30 minutes, until the sugar has dissolved and the berries are juicy.
To assemble:
Put a good amount (about 3/4 cup) of the berry-Frangelico mixture into a large serving bowl. Nestle a warm drop biscuit in the mixture, and dollop with whipped cream or creme fraiche (if desired). Serve.