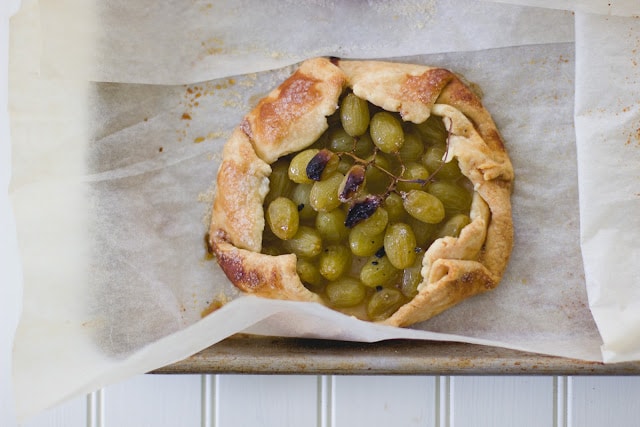 roasted grapes [haiku]
I am taken with
you: alone, or sleeping with
covers of sweet crust.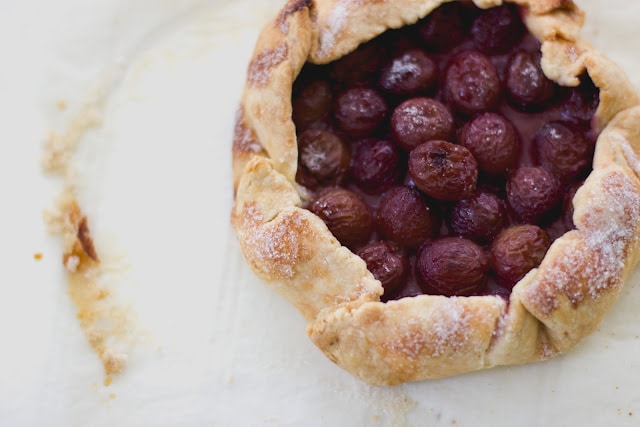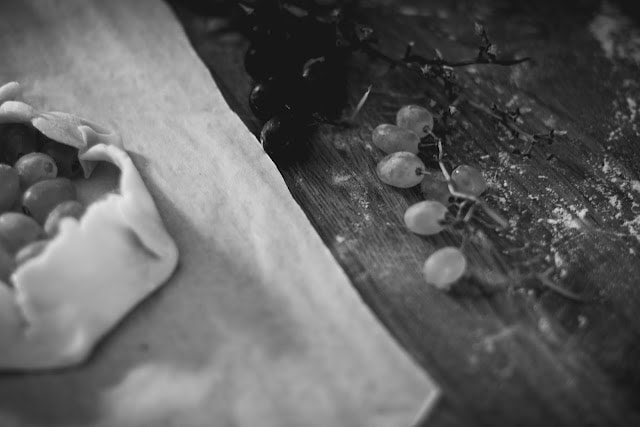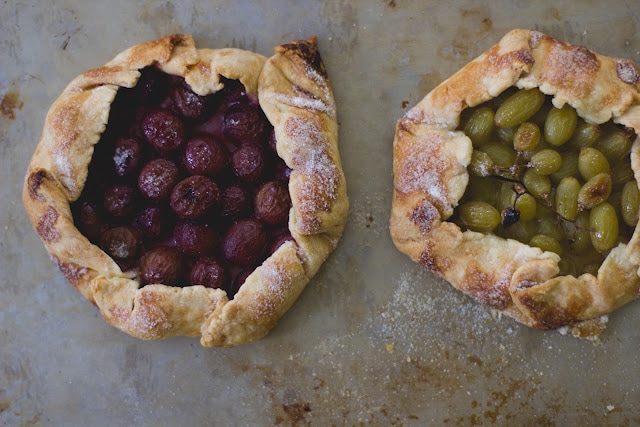 We ought to do good to others as simply as a horse runs, or a bee makes honey, or a vine bears grapes season after season without thinking of the grapes it has borne. – Marcus Aurelius
Rustic Grape Tarts
Tart dough recipe from Cooks Illustrated
These tarts are fairly easy to make, and because the grapes are so sweet, only a touch of sugar is needed. The crust is very flaky, but still soaks up all the juice the grapes leak, creating a very delicious bite.
I made tartlets, and used about 3/4 cup of grapes per tart, plus a cluster on top.
1 1/2 cups [213 g] all-purpose flour
1/2 teaspoon salt
10 tablespoons unsalted butter, cut into small pieces
3 to 6 tablespoons ice water
red and green grapes, loose and a few small clusters still attached to the twig [see note]
1 tablespoon granulated sugar

For the crust
Process the flour, salt, and butter in a food processor until the mixture resembles coarse bread crumbs, and the butter is the size of small peas. Add the water through the feed tube 1 tablespoon at a time, until dough holds together when pinched (about 10 pulses).

To fraisage the dough:
[also, a You Tube video here]
Turn out the dough onto a lightly floured work surface and gather into a rectangular shaped pile. Use the heel of your hand to smear the dough against the work surface. Continue to smear until all the dough has been worked. Gather into a pile again, and repeat. Flatten dough into a 6 inch disk, wrap in plastic, and refrigerate for about an hour.
Roll the dough into a 12 inch circle [or 6 small circles, about 6 inches wide] on a piece of parchment paper, and refrigerate for 20 minutes.
Adjust your oven rack to the middle position and heat to 375F [180C].
Mound a few grapes in the center of your rolled dough, leaving a 2 inch border [or 1 inch border for tartlets]. Fold the outermost dough over the fruit, pleating it as you go [about every 2 to 3 inches]. After making the pleats, go back and put in more grapes, covering the bottom [the pleats will help the grapes from rolling everywhere] and tucking them under the pleats. Place a small cluster of grapes still attached to the twig on top of the loose grapes, if desired. Brush the dough with water and sprinkle with 1 tablespoon sugar [or 1/2 teaspoon for each tartlet].
Bake until tart is deep golden brown and the grapes are slightly wrinkled and their juices are leaking, about 1 hour [less for tartlets – about 35 to 45 minutes]. Rotate baking sheet halfway through baking.
Cool the tart on a wire rack for 10 minutes, then use the parchment to transfer tart to a wire rack. Cool about 25 minutes. Serve.