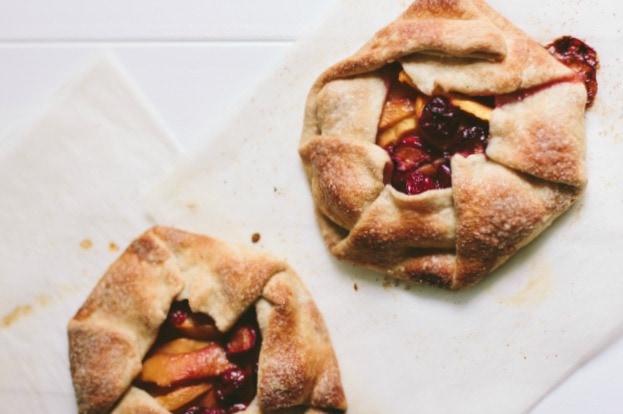 I'm sneaking in for a post. I just couldn't help myself; there were cherries. Not just any cherries, but hand-picked cherries dripping from trees like drops of rain: red, sparkling drops of sweet-tart rain. We filled our bucket gleefully, and my baker-heart had prophetic visions of flaky turnovers leaking dark juices, and sweet-sour chutney served next to roasted chicken; cherry and vanilla bean compote to cover the tops of pancakes and waffles, and of course, pies. Real cherry pies with real Door County cherries, to celebrate these August days that are slipping away…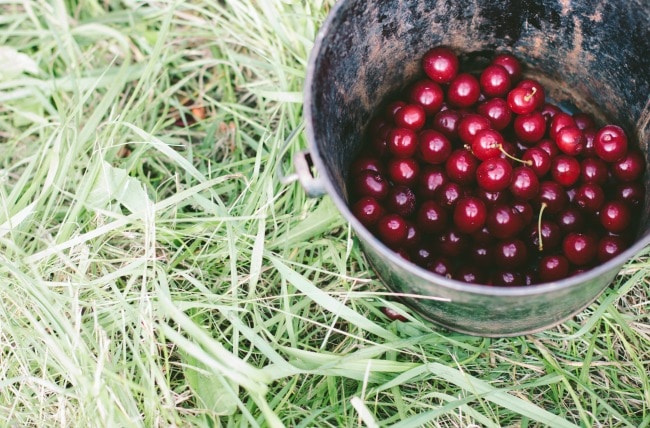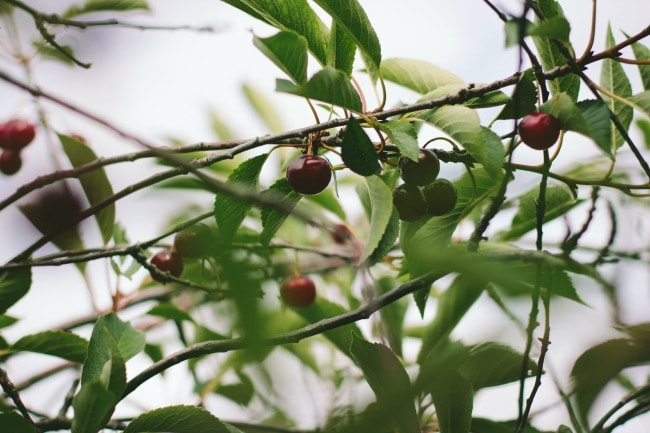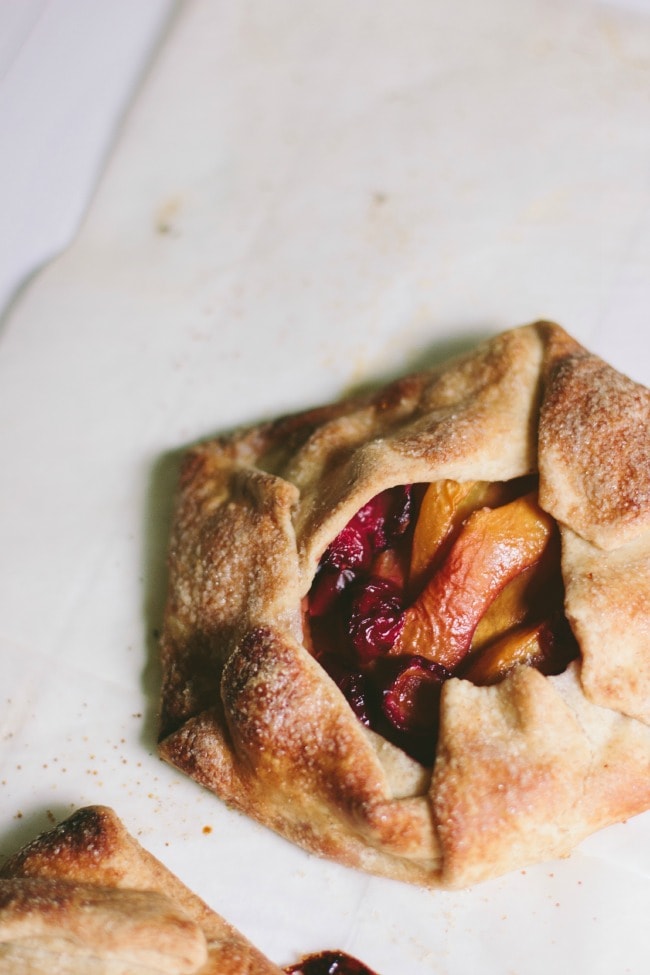 The end of summer is knocking loudly at our door and I'm not answering yet, hoping he's read my 'no soliciting' sign and takes a hint, tries the next house. We're not ready, not yet, my heart has been whispering while pitting cherries, while watching the sun set earlier each night, while filling out piles of paperwork for kindergarten and trying desperately not to let my unstoppable tears smudge the ink.
I'm just not ready to let go, let her go.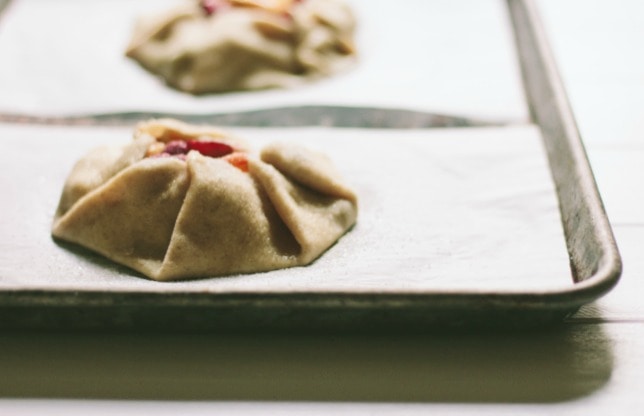 Peach and Cherry Galettes

adapted from America's Test Kitchen
I didn't change much. This is one of my most favorite summer desserts! The tart dough is made with a technique called frisage, and it guarantees a wonderful, flaky crust. If you've never used it before, I've included a link to a video tutorial to help you. You can use any stone fruits here, and berries instead of cherries. This makes one large galette, or 4-6 small galettes.
dough
1 and 1/4 cup all purpose flour
1/4 cup spelt flour
1/2 tsp salt
10 tbsp butter, cut into small pieces
3-6 tbsp ice water
filling
1 pound peaches, pitted and sliced into 1/2 inch thick wedges
1 cup cherries, pitted and sliced in half
3-5 tablespoons sugar, plus more for sprinkling
crust
Process the flours, salt, and butter in a food processor until the mixture resembles coarse bread crumbs, and the butter is the size of small peas. Add the water through the feed tube 1 tablespoon at a time, until dough holds together when pinched [about 10 pulses].
to fraisage the dough
[also, a You Tube video here]
Turn out the dough onto a lightly floured work surface and gather into a rectangular shaped pile. Use the heel of your hand to smear the dough against the work surface. Continue to smear until all the dough has been worked. Gather into a pile again, and repeat. Flatten dough into a 6 inch disk, wrap in plastic, and refrigerate for about an hour.
Roll the dough into a 12 inch circle [or 6 small circles, about 6 inches wide] on a  piece of parchment paper, and refrigerate  for 20 minutes. Adjust your oven rack to the middle position and heat to 375.
fruit filling
Toss the fruit and sugar together. Mound the fruit in the center of your rolled dough, leaving a 2 inch border [or 1 inch border for tartlets]. Fold the outermost dough over the fruit, pleating it as you go [about every 2-3 inches]. Brush the dough with water and sprinkle with an additional 1 tablespoon sugar.
Bake until tart is deep golden brown and the fruit is bubbling, about 1 hour [less for tartlets – about 35-45 minutes]. Rotate baking sheet halfway through baking.
Cool the tart on a wire rack for 10 minutes, then use the parchment to transfer tart to a wire rack. Cool about 25 minutes. Serve.