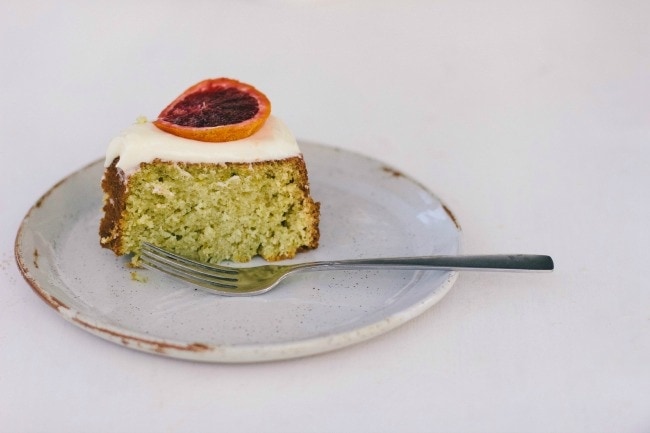 "Gathering around the dinner table has been and still is the highlight of our day… We believe that eating together is more than just everyone sitting down at the table; it's about the communal meal, which at its best is the ritual of sharing food, of cooking together, eating together, and laughing together. Our recipes return families to the idea of a common pot."
A few weeks ago I was sent a copy of The Pollan Family Table, a cookbook celebrating good, simple food for the family table. I always appreciate cookbooks of this variety – as someone who tries to cook a dinner meal five times a week, I often find myself running out of ideas that my whole family will enjoy. This cookbook does just that. It inspires with healthy ingredients and seasonal recipes.
Of course I was drawn immediately to the dessert section, and so made Grandma Mary's Grand Marnier Orange Cake. This cake! I must admit I usually go for chocolate-y things, but I had a bag of blood oranges and decided to try out the Bundt cake. This cake! It's crazy good.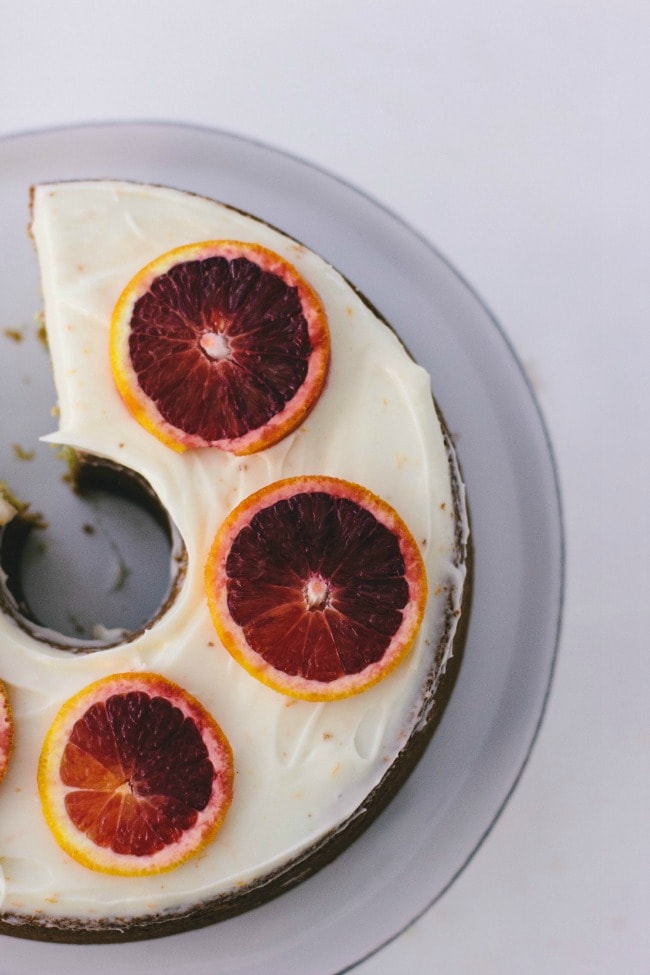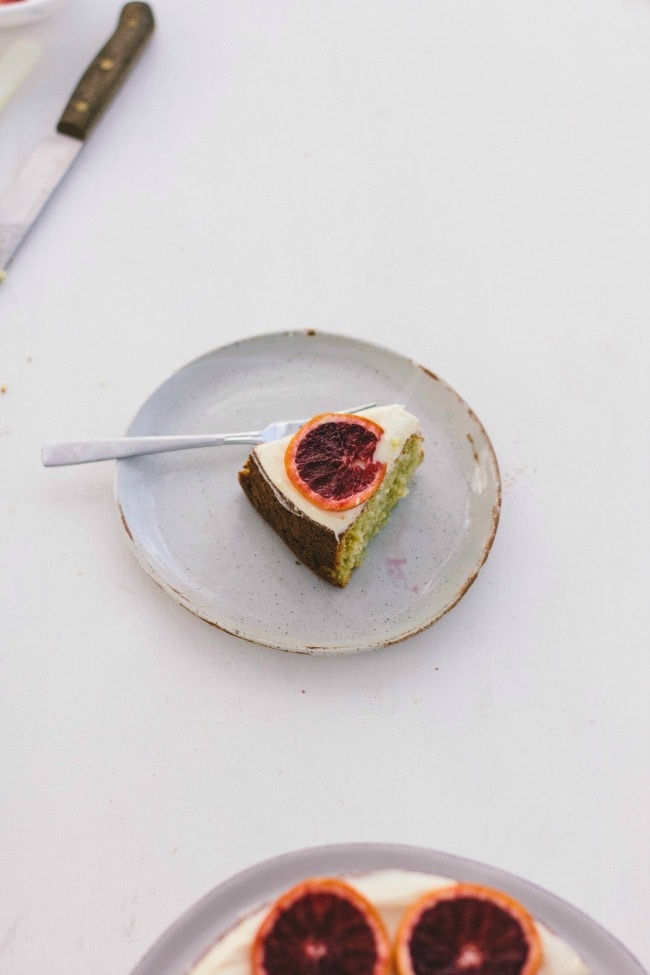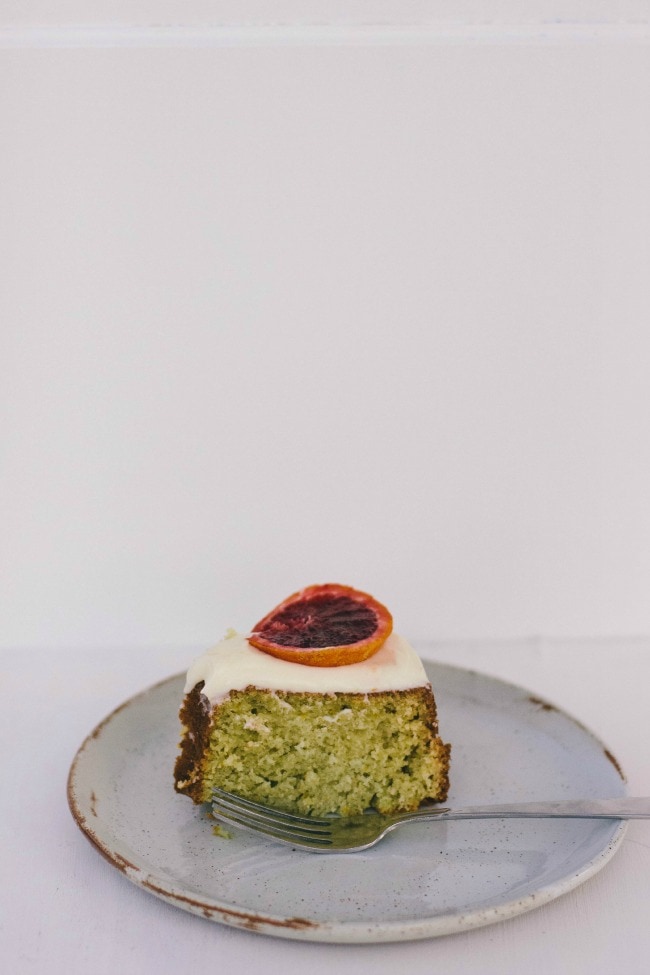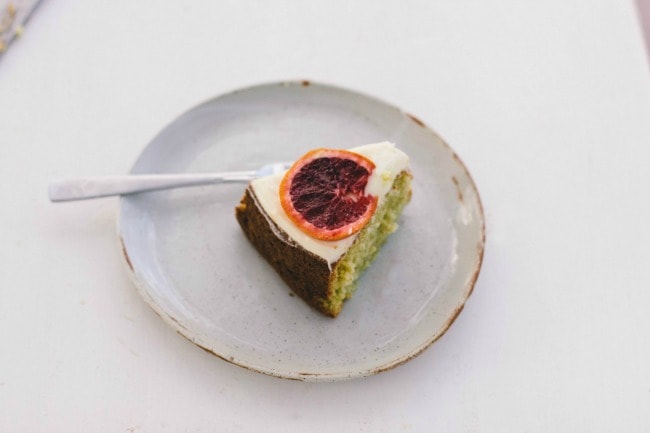 Grand Marnier Orange Cake Recipe
adapted from The Pollan Family Table
I changed this recipe a bit from the book. The original recipe has an orange juice-Grand Marnier soak that is poured over the cake while it is still warm, and then it is topped with almonds. I instead put the orange juice and Grand Marnier into the cake, and then smothered the top in cream cheese. Either way, a winner. You can use any orange liqueur in place of the Grand Marnier. I used blood oranges, but regular old oranges will work great, too.
2 cups all-purpose flour
1 teaspoon baking soda
1 teaspoon baking powder
1/2 teaspoon salt
1/2 pound (2 sticks) unsalted butter, at room temperature
1 cup sugar
3 large eggs, separated
1 teaspoon vanilla
1 tablespoon orange zest
1 tablespoon Grand Marnier
1 cup sour cream (or Greek yogurt)
1/4 cup fresh squeezed orange juice
Preheat the oven to 350. Grease a 10-inch Bundt or tube pan.
Whisk together the flour, baking soda, baking powder, and salt. Set aside.
In the bowl of a standing mixer, cream the butter and sugar together until light and fluffy, 3-5 minutes. Add the egg yolks, vanilla, Grand Marnier, and orange zest, and beat until combined. Turn the mixer to low, and add 1/3 of the flour mixture. When the flour is just combined, add the sour cream and mix until combined. Add 1/3 of the remaining flour mixture, and mix until combined. Add the orange juice, and mix until combined. Add the last 1/3 of the flour, and mix until the batter is smooth.
In a clean bowl of a standing mixer, use the whisk attachment to whisk the egg whites until they are stiff but not dry, about 2 minutes. Gently fold the egg whites into the batter until incorporated, and there are no white streaks.
Pour the batter into the prepared pan, smoothing the top. Bake, rotating the pan halfway through, until the cake is golden brown and a cake tester comes out clean, 45-50 minutes. Let the cake cool on a wire rack.
Invert the cake onto a wire rack or serving plate, and top with cream cheese frosting (recipe follows).
Orange Cream Cheese Icing
6 ounces cream cheese, room temperature
2 tablespoons Grand Marnier
1/2 teaspoon vanilla
1 teaspoon orange zest
good pinch of salt
1 1/2 cups powdered sugar
In the bowl of a standing mixer, beat the cream cheese on medium-high until light and fluffy. Scrape down the sides, and add the Grand Marnier, vanilla, orange zest, and salt. Beat again until light and fluffy. Add the powdered sugar and mix on low until combined. Increase the speed to medium, and beat until light and fluffy.