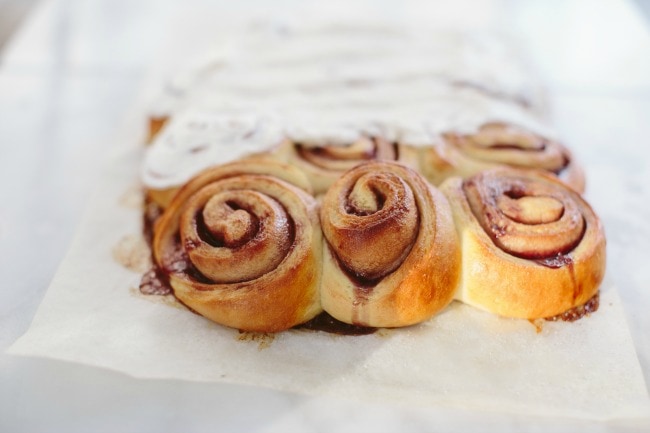 I'm in my cozy home, sipping hot coffee, listening to the rain fall gently on my roof top. A Thanksgiving Day to-do list is started before me, as well as a mile-long work list that naturally I'm avoiding. I move to my web browser, and read two news articles that project fear and anxiety; my stomach is in permanent knots lately. I gaze out the window, lost in thought. I imagine I'm on a rollar coaster of sorts, and while it's driving me up and down gigantic hills and looping me upside down, I'm not sure if it stops all nice and neat where I got on, or if it flies off the rails into some great abyss where there is weeping and gnashing of teeth.
I laugh at how dramatic I can be. I move to facebook, and find my inbox filled with notes from hurting friends and family. I drink my coffee, even with the tears falling into each sip. Suddenly it's 1987 and there is a sleepy little me on a Sunday morning, slouching on a cold, metal fold-up chair. I am scheming how I can get my mom to let me go to the bathroom one more time during this never-ending sermon, where I will then read my Nancy Drew mystery (secretly tucked away in my pastel purple purse), if only for 10 more minutes. Verses fall all around me as I plot my escape. I shake my head, slightly annoyed, as the words whisper to both the 10-year old and the 39-year old, 'love your neighbor as yourself.' That old, over-used line seems to have lost all meaning, and the sentence doesn't make sense to me in this moment. I find myself saying it out loud, chanting it slowly again and again while I write on my list: turkey, mashed potatoes, sweet potatoes, rolls, stuffing, cranberries, pumpkin pie, corn. Apple pie! Chocolate cake, too! I imagine my table piled high with so much food, and it seems to multiply in my mind; loaves and fishes with a 20-pound turkey besides, nestled between outstretched hands that overflow with excitement and hope, love and joy.
Here is enough food to feed us, and all our neighbors besides.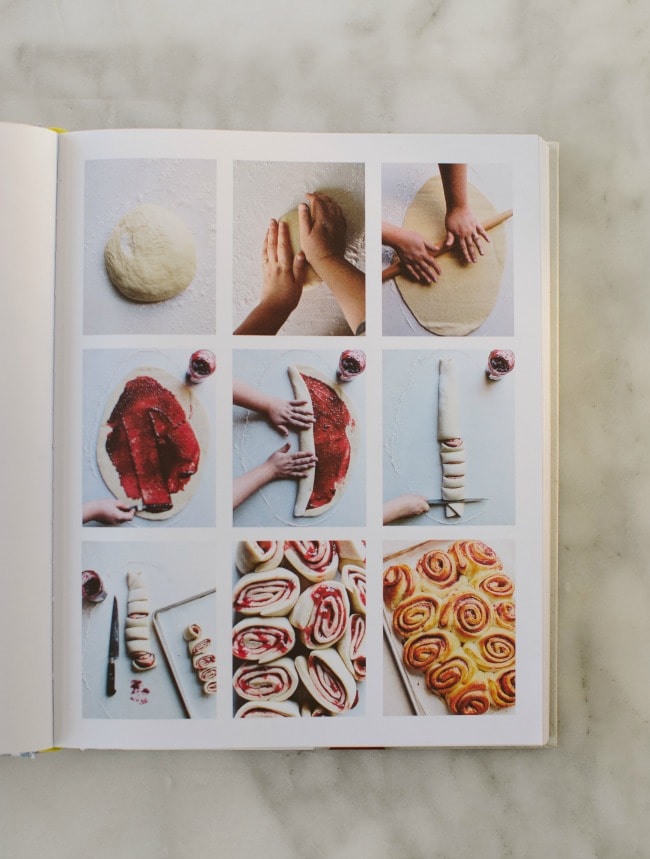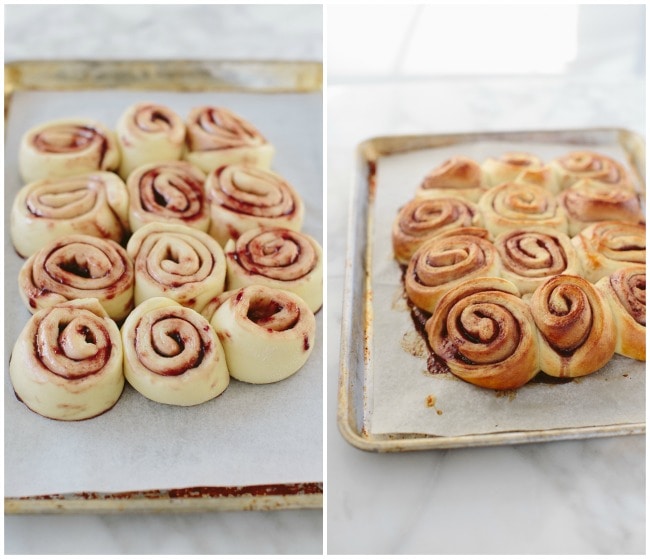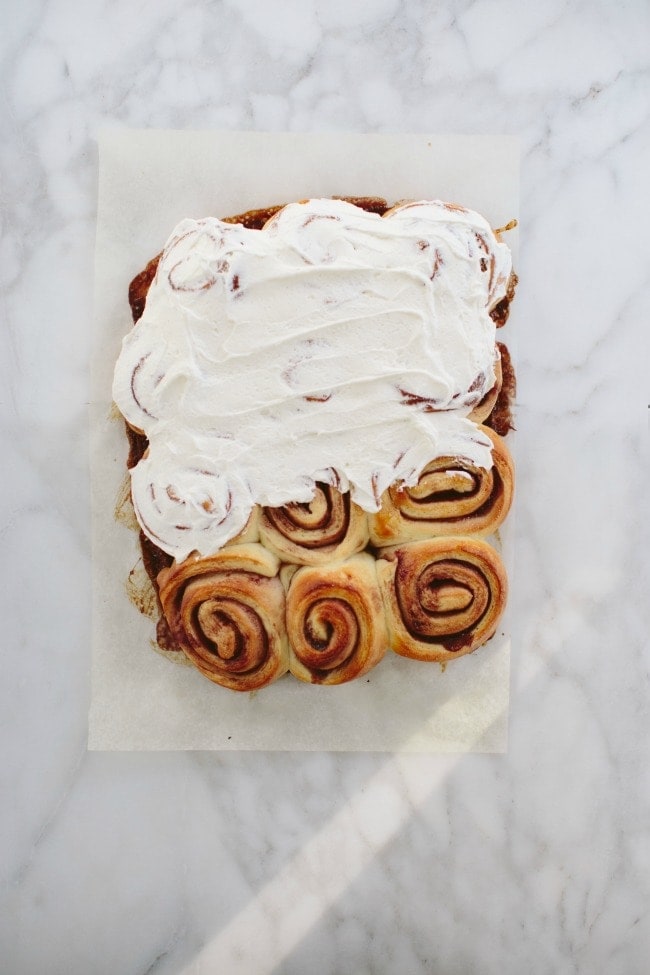 I'm teaming up with Julia Turshen and a few other bloggers to help to raise money for No Kid Hungry's Friendsgiving program. Julia is the author of Small Victories, a lovely cookbook filled with "simple, achievable recipes" that emphasizes bold-flavored, honest food for breakfast, lunch, dinner, and dessert. Julia writes, "This cookbook, like most cookbooks, assumes that whoever is reading it has access to food and not only the desire, but also the time, energy, and means to cook. How great would it be if that were the case for everyone? I firmly believe that if you have the privilege of eating however much you want whenever you want, you should spend some time ensuring that others have the same opportunity." To learn more and/or give to the campaign, please click here! Let's not forget to love our neighbors, each and every day.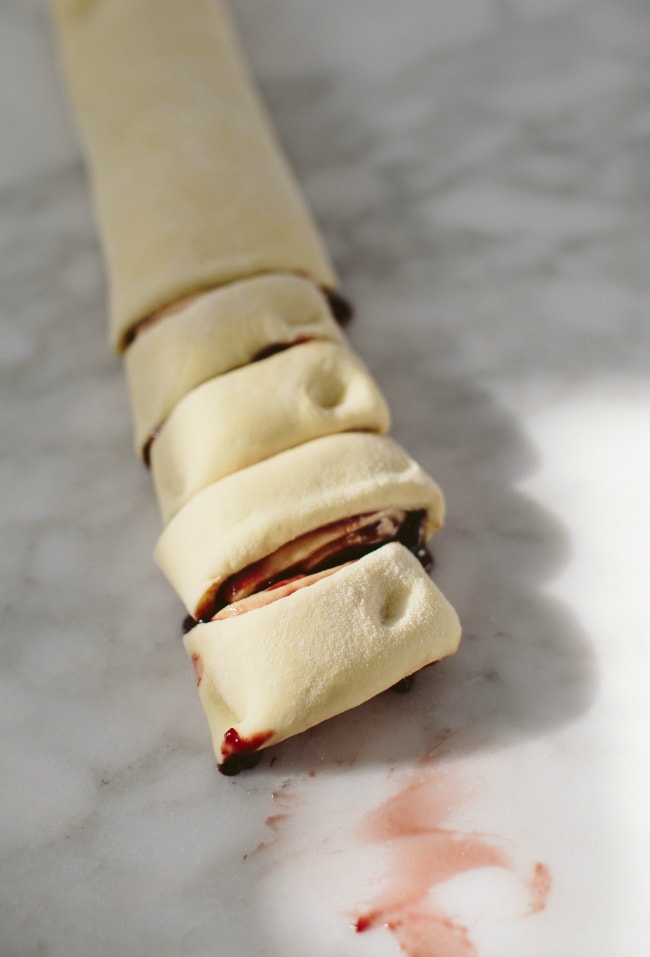 Blackberry Jam Buns with Crème Fraîche Frosting
From Small Victories by Julia Turshen.
Julia's recipe uses raspberry jam, but otherwise I haven't changed a thing. These buns are DELICIOUS, and the dough rolls out like a dream.
¾ cup (180 ml) whole milk
2¼ tsp active dry yeast
2 large eggs
3¼ cups (390 g) all-purpose flour
2 Tbsp granulated sugar
1 tsp kosher salt
4 Tbsp (55 g) unsalted butter, at room temperature
3/4 cup (200 g) blackberry jam
¼ cup (30 g) powdered sugar
½ cup (115 g) crème fraîche
½ tsp pure vanilla extract
In a small saucepan over medium heat, warm the milk until it is body temperature (you can also use the microwave for this). Transfer the warm milk to a large bowl and stir in the yeast. Let the mixture sit until the yeast is dissolved and looks cloudy (almost like miso soup), about 5 minutes. A few bubbles on the surface is also a good sign that your yeast is ready.
Crack one of the eggs into a small bowl and beat with a fork. Add the beaten egg to the milk-yeast mixture, along with the flour, granulated sugar, salt, and butter. Use a wooden spoon to mix everything together until the dough starts to pull away from the sides of the bowl. (If after a minute or two of mixing it doesn't pull away from the bowl, add a little more flour, 1 Tbsp at a time, until it does. On the other hand, if the dough seems far too dry and impossible to mix, add a little more milk, 1 Tbsp at a time, until it becomes a little more forgiving. This is the nuanced part of baking where all the tiny variables—how humid the air is, how you measured your flour, etc.—all come into play. Don't worry too much and trust your instincts.)
Transfer the dough to a lightly floured work surface. Shape the dough into a large ball and knead it by pressing it with the heel of your hand and pushing it away from you, then immediately pulling it back, folding the top of the dough back on itself. Kneading is all about this push-and-pull. Turn the dough clockwise a little bit each time you push and pull it so that it gets evenly worked, and knead it until its surface is completely smooth and the whole thing feels both solid and soft at the same time, not unlike a baby's bottom (probably my favorite line in this book). It will take a solid 5 minutes of kneading.
Put the dough back in the large bowl and cover the bowl with plastic wrap. Let the dough sit in the warmest spot in your kitchen until it's soft and puffy and just about doubled in volume, about 1 hour.
Return the dough to the lightly floured work surface and use a floured rolling pin to roll it into a large ovalish rectangle measuring roughly 18 in (46 cm) long and 12 in (30.5 cm) wide. If the dough resists while you are rolling it, simply let it rest until it yields to the rolling pin; dough responds well to patience. Spread the surface of the dough evenly with the blackberry jam, leaving a ½-in (12-mm) border. Starting from a long side, roll the dough up tightly so you end up with an 18-in (46-cm) rope. Cut the rope into a dozen even slices (I like to cut it in half and then cut each half in half, and so forth, so that it's easy to get even pieces). The ends might not have much jam—you can still add them to the bunch to make a baker's dozen.
Line a baking sheet with parchment paper. Arrange the buns, spiraled-jam-side up, on the prepared baking sheet in relatively even rows. The buns should be touching each other but not shoving each other and the seams on the rolls should be facing inward in the "huddle" so that they don't unravel in the oven. Cover the buns loosely with plastic wrap and let rise at room temperature until they've risen a bit and are soft and puffy, about 1 hour. Or, so you can prepare them the night ahead, let them rise at room temperature for just 30 minutes, cover in plastic wrap, and refrigerate overnight. The next morning, pull them out and let return to room temperature, about 1 hour, before proceeding.
Meanwhile, preheat your oven to 350°F (180°C).
Crack the remaining egg into a small bowl and whisk it with 1 Tbsp water. Uncover the buns and brush them with the egg mixture (I use my hands for this so I get to be very gentle, achieve even coverage, and don't have to wash a brush afterward). Discard whatever egg mixture is left over (or save for another use such as a tiny omelet).
Bake the buns until they're beautifully browned and the exposed jam is caramelized, 25 to 30 minutes.
While the buns are in the oven (ha!), in a small bowl, whisk together the powdered sugar, crème fraîche, and vanilla.
Drizzle the hot buns (yeow!) with the crème fraîche mixture—this should be a wonderfully messy moment. Serve immediately (an even more wonderfully messy moment). These buns are best served warm out of the oven rather than at room temperature.
If you know you will have extra buns, don't top them with the crème fraîche. Store in an air tight container at room temperature for a couple of days or wrap tightly in plastic and freeze for up to 1 month (thaw at room temperature). Warm in a 350°F [180°C] oven for 10 minutes. Top the warmed buns with the crème fraîche mixture and serve.