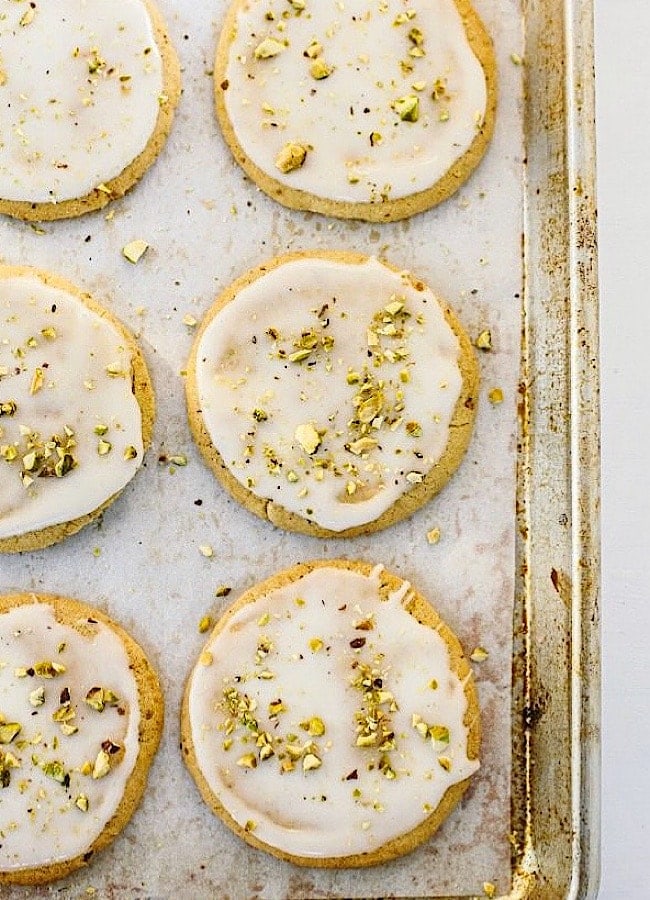 My mom will often turn down the sweet, gooey confections that I prefer, but she can never say no to a thin, crispy cookie. I created these unique olive oil sugar cookies with her in mind. The olive oil pairs well with the pistachios and lemon in this recipe. The olive oil flavor here is subtle, but there is still a trace of fruitiness and spice, and the sweet lemon glaze is a nice partner.
*EDIT/NOTE: I have been making this recipe for 6+ years now (during the winter holidays especially), and never had a problem with it rolling out, if anything the dough erred on the side of being a little wet. However, many of you have written me to tell me the dough was really crumbly for you, and I found the same to be true when I made it this holiday season (2020). It could be just a case of dry flour – flour can dry out, especially in the winter months. Flour also changes from harvest to harvest, so it's possible that this is a higher-protein season, and that's why many of us are having trouble. If you find that the dough is crumbly after adding the ingredients, you can add a little water (a teaspoon at a time) until it comes together. I did have one reader add an extra egg and said that worked well, too. I'm sorry if you are having trouble! This really has been my go-to dough for so many things and has worked so well up until now. I'll update if I find out anything else to help/answer questions.
Notes: This dough is very forgiving, so if it cracks at all while you are rolling it out, you can patch it up easily. I call for a 2 in [12 cm] biscuit cutter, but smaller sizes also work well, just take a few minutes off the baking time. You can leave out the pistachios if needed; replace it in the dough with equal parts flour.
Olive Oil Sugar Cookies with Pistachios and Lemon Glaze
From The Vanilla Bean Baking Book
1/3 cup [43 g] shelled pistachios, plus 1/3 cup [43 g] chopped for sprinkling
2 cups [284 g] all-purpose flour
1/2 teaspoon baking soda
1/2 teaspoon salt
4 tablespoons [57 g] unsalted butter, at room temperature
3/4 cup [150 g] granulated sugar
1/4 cup [30 g] confectioners' sugar
1/2 cup [112 g] olive oil
1 large egg
1 teaspoon pure vanilla extract
Lemon glaze
1 tablespoon unsalted butter, melted
2 to 4 tablespoons lemon juice
Pinch salt
1 1/2 cup [180 g] confectioners' sugar
For the cookies
Adjust an oven rack to the middle of the oven. Preheat the oven to 350F [180C]. Line two baking sheets with parchment paper.
Place the pistachios in a food processor fitted with a steel blade and pulse until finely ground. Add the flour, baking soda, and salt. Pulse to fully combine and set aside.
In the bowl of a stand mixer fitted with a paddle, beat the butter on medium until creamy. Add the granulated and confectioners' sugars and beat on medium until light and fluffy, 2 to 3 minutes. Add the olive oil and mix on low until combined. Scrape down the sides of the bowl and add the egg and vanilla, mixing on low until combined. Add the flour mixture and mix on low until combined.
Gather the dough, wrap with plastic wrap, and chill in the refrigerator for at least 2 hours and up to 1 day.
Lightly flour a work surface and roll the dough to 1/4 in [6 mm] thick. Using a 2 in [12 cm] biscuit or cookie cutter, cut out circles. (Any dough scraps can be rewrapped and chilled while the cookies are baking.) Gently slide a metal spatula underneath each round and transfer it to the prepared baking sheet. Place 12 cookies on each sheet. Put the first baking sheet in the freezer for 10 minutes. After the dough has chilled, put the first pan of cookies in the oven, and then put the second pan in the freezer. Repeat with the leftover dough.
Bake one sheet at a time, 10 to 12 minutes, until the cookies are just beginning to brown on the edges.
Transfer the baking sheet to a wire rack and let the cookies cool completely on the pan.
For the lemon glaze
In a small bowl, whisk together the melted butter, 2 tablespoons lemon juice, and the salt. Add the confectioners' sugar and mix together until smooth. Add more lemon juice, 1 tablespoon at a time, until the desired consistency is reached. Using an offset spatula or kitchen knife, spread a thin layer of the glaze on each cooled cookie. Sprinkle with the chopped pistachios and let the glaze set before serving.