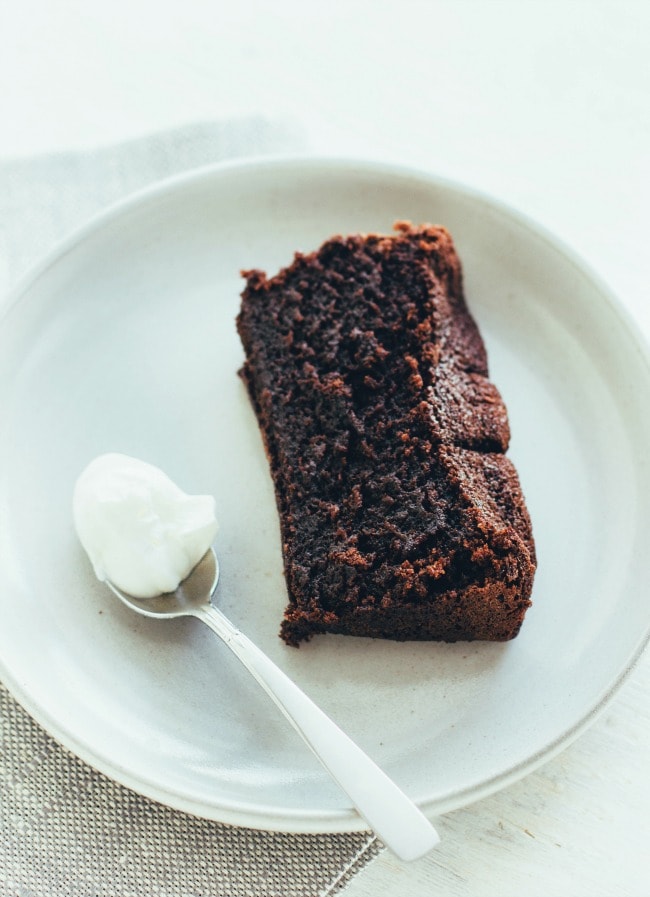 'In a way, baking stands both as a useful metaphor for the familial warmth of the kitchen we fondly imagine used to exist, and as a way of reclaiming our lost Eden. This is hardly a culinary matter, of course; but cooking, we know, has a way of cutting through things, and to things, which have nothing to do with the kitchen. This is why it matters. The trouble with much modern cooking is not that the food it produces isn't good, but that the mood it induces in the cook is one of skin-of-the-teeth efficiency, all briskness and little pleasure. Sometimes that's the best we can manage, but at other times we don't want to feel like a postmodern, post-feminist, overstretched woman but, rather, a domestic goddess, trailing nutmeggy fumes of baking pie in our languorous wake.' – Nigella Lawson
I don't actually own Nigella's How To Become A Domestic Goddess, but I've checked it out of the library a crazy amount of times, and have baked so many things from it's pages. I've always loved the above quote by her; I've connected so much with her words: cooking cutting through things, and to things, which have nothing to do with the kitchen. There have been many moments stirring, or kneading, or dicing, that have brought me to my knees. My kitchen floor may be coated in flour, but some days I'm okay finding myself there.
Also this chocolate bread. I've baked this hundreds (and hundreds) of times at a little coffeehouse I worked at, but it has been years since I made it at home, just because. I was feeling rather celebratory today, and it seemed to fit the occasion perfectly. I wish I could share some with you; to say thanks, and cheers (see below).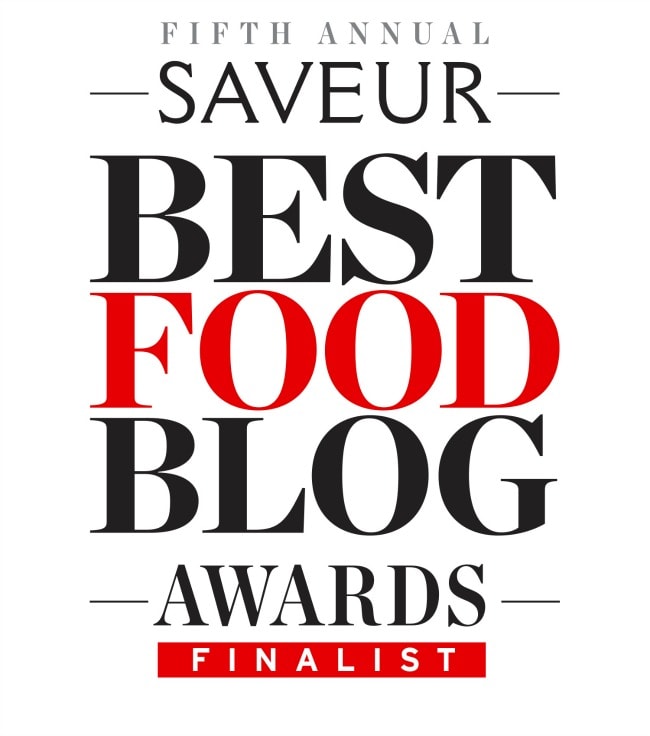 And in other news: I don't know how it happened, but somehow all you nice readers and friends nominated me for the Saveur Blog Awards, and I actually am a finalist in the Best Baking Blog category. I'm still a bit in shock, feeling stunned and terribly excited at the same time. So first of all, thank you so much. Thank you for coming to this space, and being so kind. I appreciate you all. That of course leads into secondly, which is in order to win the category, I need your votes. So if you wouldn't mind, you can just click on this huge picture above, and it will take you to Saveur's webpage, where you can vote. You do have to register to vote, but it just takes a login name and password to complete. Thank you so much!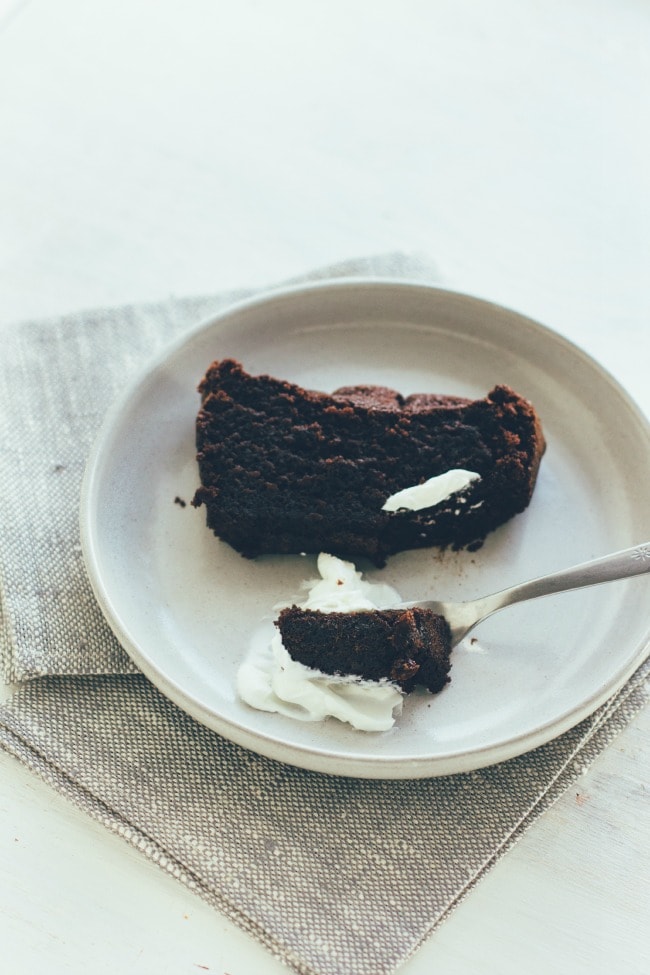 Chocolate Loaf Cake
adapted from Nigella Lawson's How To Be A Domestic Goddess
I made a version of this cake for years at a coffeehouse I worked at; customers begged for it, but my baking staff always found it so troublesome, as the batter tended to leak over the sides and all over the oven floor on a regular basis. One employee had a recurring nightmare about the bread spilling everywhere, in which I came to her and told her, 'It's in the parchment. It's all in the parchment paper.' I decided to take the dream as a sign, so one day I came up with a parchment paper 'tent' for the bread, and low and behold, we never had trouble with it again. Well, most days. I've included instructions and pictures below for proper tenting.
This bread is not a perky, pretty quick bread, instead it's a sunken, squidgy chocolate masterpiece. I've tinkered with the original version just a bit, adding a few more ounces of bittersweet chocolate, hot coffee, and salt to add some depth. The flavor of the chocolate is deeper and darker a day or two after the cake has been made, but a slice of this warm is quite a treat. Do what you have to do.
1 cup soft unsalted butter
1 2/3 cup dark brown sugar
2 large eggs
1 teaspoon vanilla extract
6 ounces good bittersweet chocolate
1 1/3 cup all-purpose flour
1 teaspoon baking soda
1/2 teaspoon salt
1/2 cup fresh brewed coffee
1/2 cup plus 2 tablespoons boiling water
Heat the oven to 375°F. Line a 9 x 5 inch loaf pan with parchment paper, leaving an overhang on both sides (see very specific instructions below).
Melt the bittersweet chocolate, and then set aside until slightly cooled.
Combine the flour and baking soda together in a small bowl, and set aside.
In the bowl of a standing mixer, cream the butter and sugar together until combined, 2-3 minutes. Add the salt, and mix to combine. Add the eggs and vanilla, beating them in well. Add the slightly cooled chocolate, mixing well, but being careful not to overbeat.
Add the flour, alternately spoon by spoon, with the boiling water and coffee (I mixed the water and coffee together) until you have a smooth and liquid-y batter. Pour into the prepared loaf pan (again, see lining instructions below), and bake the bread for 30 minutes (you can put a sheet pan under the loaf pan if you are nervous about spillage). Lower the oven to 325 degrees and continue to bake for another 15 minutes. The cake will still be moist and squidgy inside, so an inserted cake tester won't come out clean. But this is a good thing.
Move the loaf pan to a wire rack, and let cool before taking it out of the pan and the parchment (unless, of course, you do need to sneak one piece of warm chocolate bread, and then I say, go to it!) The cake will sink in the middle, but again, this is okay. You can serve once the cake has cooled, or wait a day and let the flavor develop a bit, and then serve. The sunken middle can be filled with all kinds of goodness (crème fraîche, whipped cream, mixed berries, etc), or it can be served plain, which is my favorite way to partake of it.
PARCHMENT LINING FUN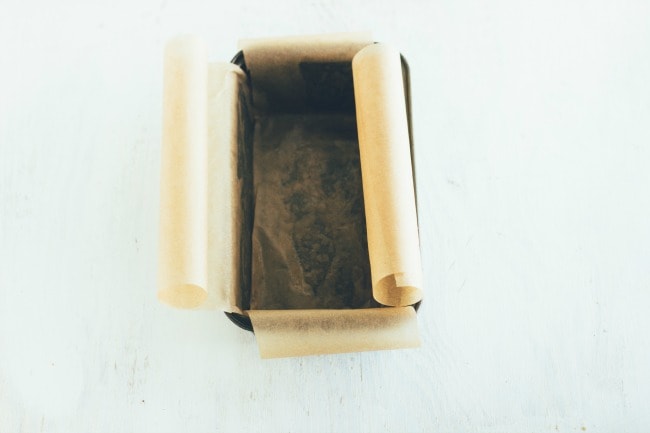 Line the 9 x 5 loaf pan with two strips of parchment paper that fit the pan (both vertically and horizontally), leaving a large overhang over the sides. If your parchment paper is curled around a tube (like above), let the curls face in, so they will eventually curl over the top. Make sure the paper lays flush in the pan, and use pan spray (or butter) as you need it to keep the paper clinging to the pan.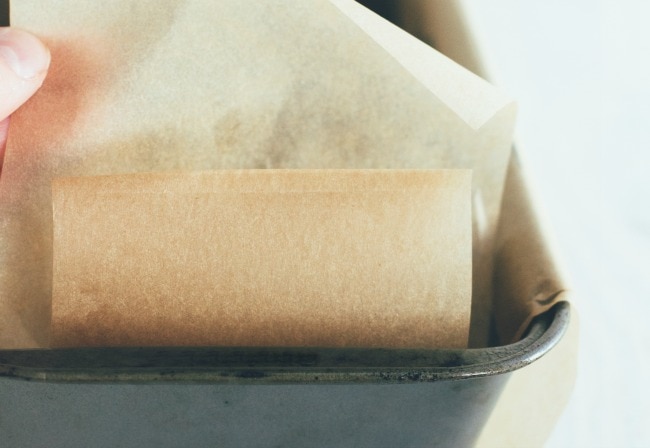 Cut two additional strips of parchment paper (about 3-4 inches wide and 8-9 inches long) and fold them into small squares. Tuck the squares behind the strip of parchment paper (so the square is touching the pan) on the ends of each pan. This helps to keep the short sides from leaking cake batter.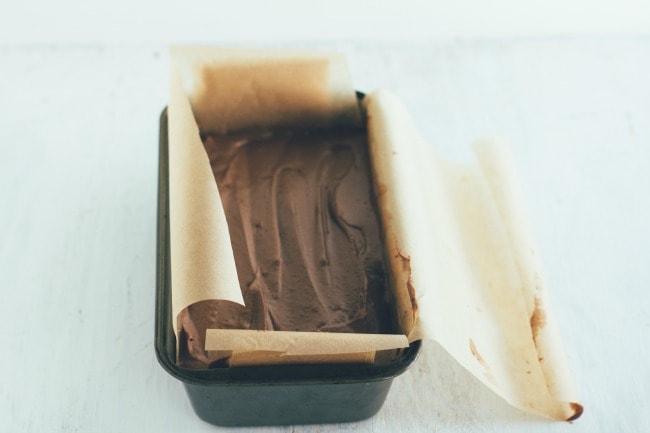 Pour the batter into the pan. On the left side of the pan, trim the parchment paper overhang down, so only 2 or 3 inches are sticking up. Spray a small amount of pan spray in a line on the outside, near the edge, on this shorter side of parchment.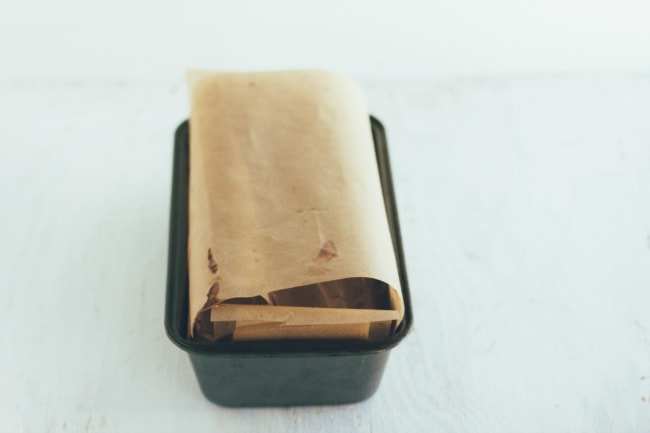 Wrap the longer side of parchment paper (the right side) over the top, and gently press it onto the shorter piece of parchment (it should stick where the pan spray is). It will form a small canopy over the bread, and protect it from spilling out. Put the bread in the oven.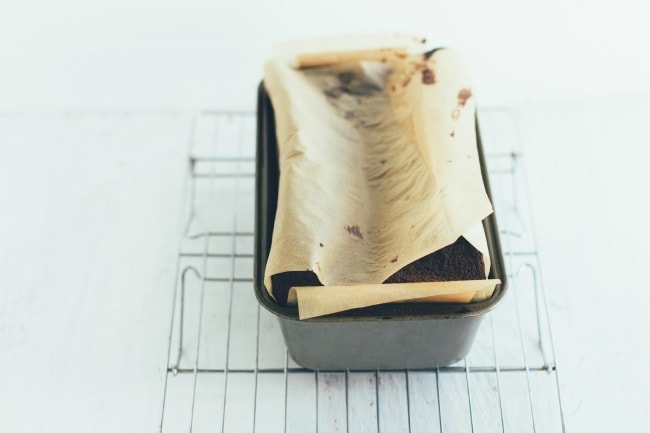 When the bread has finished baking, the parchment may have fallen a bit in the oven, but the bread will be just fine. You can 'unlock' or unwrap the top of the bread, but keep the bread in the pan and in the parchment until it is cool.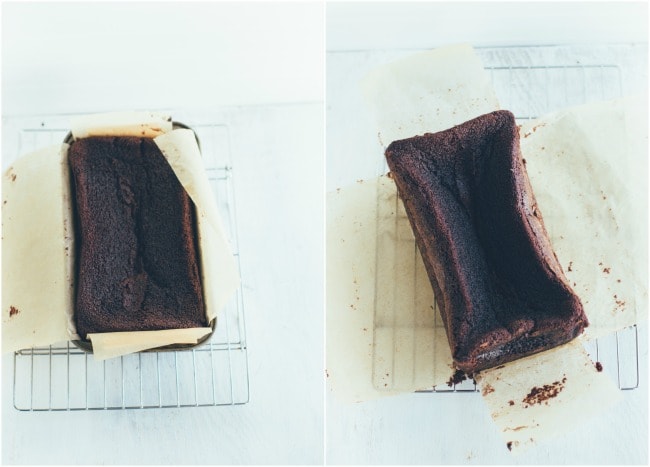 The bread will slowly sink as it cools. Fill the middle with crème fraîche and berries, or eat it plain. Mmm.