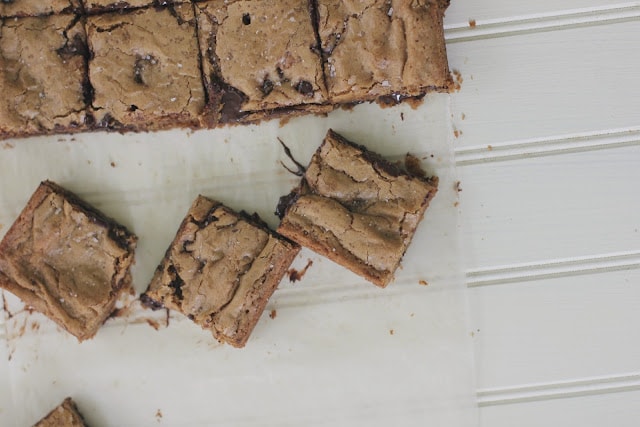 When something brings out the worst in me, I find myself scrambling to find the good. After a 5 hour car trip alone with my two kids, where everyone [and that would be especially me] was crabby, where naps were rejected scornfully, and where a zip lock bag chock-full of
cheddar bunnies
was purposely, but oh so quietly, crumbled into the tiniest pieces imaginable, then sprinkled all over knees and hair and seats and floor, and then not to mention the 6 straight days of unbearable humidity and just not.enough.sleep, I am searching for the best of me. It's hard to find.
It's in these moments I see that angel and demon on my shoulder, waiting. For one instant I feel ripped in two, almost like those active labor contractions that brought these two babes in, and I have to make a choice. If I lose it, this car ride is going to be a never-ending train wreck. So I have to search for the door: the door down a long, dark corridor, the door so terribly hard to open. There, scrawled across it, almost illegible, is the word 'patience'. And I have to make it there, open it, and there will be more for me. But I have to make it.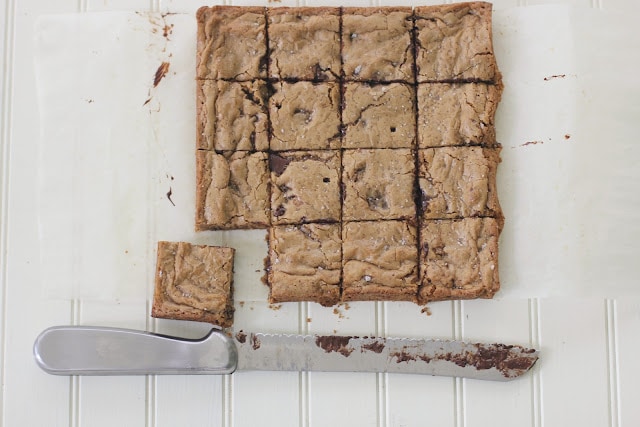 And let me be honest, it's not easy to get to. Sometimes I close my eyes and think instead '
chocolate
! Just give me some damn chocolate and then I'll find that door!' Most days that dark, dreamy treat is a good temporary solution. Some people find comfort in alcohol, exercise, intrigue, or shopping, but I turn towards sugar and salt, hopefully paired together. I readily admit to you this isn't the best option. But there are those moments, the
Berenstain Bears and Too Much Birthday
moments, where just that taste of something sweet and salty buys me a little more time. I so badly wish it was heirloom tomatoes freckled with sea salt, or bright red strawberries smashed on salty wheat crackers that I reach for instead; or, of course, sheer good character alone. I'm working on things. Slowly, slowly.
In the mean time, however, these salty bourbon bars have helped keep me sane. Bittersweet chocolate, fleur de sel, and bourbon goodness: tiny bites of sweet comfort. Yes, they will float me down that long corridor, and I will find the handle. I will open that door.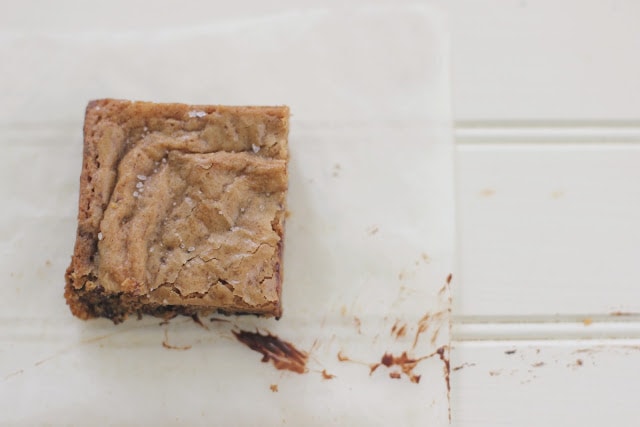 [I finally have some NYC pictures up 
here
, if you want to take a peek.]
Salty Bourbon Squares
loosely adapted from The Settlement Cookbook.
Use 1 tablespoon bourbon for a lighter flavor, or you can omit all together. But really, you don't want to.
1 cup dark brown sugar
1/4 cup butter
1 cup flour
1 teaspoon baking powder
1/2 teaspoon salt
1 egg
1 tablespoon vanilla
2 tablespoons bourbon
8 ounces bittersweet chocolate, chopped
1/4 – 1/2 teaspoon fleur de sel or coarse salt [to taste]
Preheat oven to 325. Grease a 9 inch square pan, and line pan with a parchment sling.
Heat the brown sugar and butter together in a saucepan until the sugar is melted, stirring occasionally. Let cool. Whisk flour and baking powder together, and set aside. Add egg, vanilla, salt, and bourbon to the cooled butter mixture, and beat together. Stir in the flour, and then the chocolate, until just combined. Spread batter in the pan, and bake 18-22 minutes, until light golden brown, and a tooth pick comes out clean, being very careful not to over bake. Sprinkle with fleur de sel. Let cool in the pan, then carefully lift sling from the pan and cut into squares.