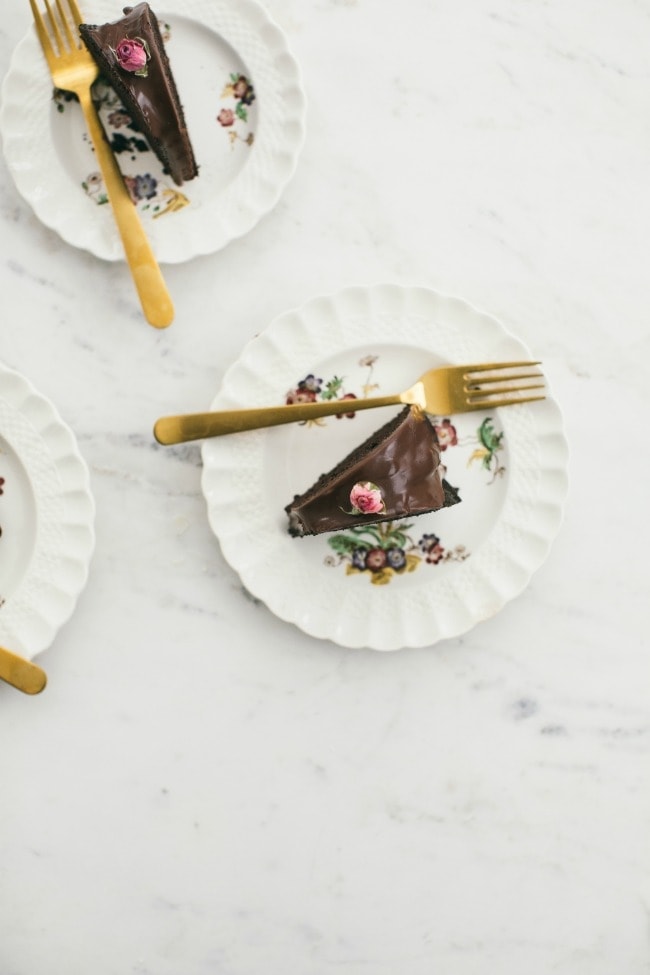 Chocolate Cardamom Cake
I use freshly ground cardamom in this cake – the flavor is so much better. If you prefer to use pre-ground cardamom, substitute 1 teaspoon pre-ground cardamom for the fresh. If you have never ground cardamom before, here is a video to show you how.
The ganache makes this cardamom cake extra special, but the cake tastes good without it as well. I like to add 1/2 cup of chocolate chips to the batter if I'm not going to cover it in chocolate. Also, I like to make sure they are a few crumbs still on my cake tester when I pull the cake out of the oven. If it comes out completely clean the cake tastes a little too dry to me.
_______________________________________
Duke Ellington once commented, "I don't need time. What I need is a deadline." I'm in total agreement, and apologies for my lackluster approach to posts. I am working on it.
Speaking of Duke Ellington, it would have been Ella Fitzgerald's birthday this past week (they did record and play together a lot, which is why I'm connecting them), and in honor of her day I have made an Ella Fitzgerald playlist over on Spotify. I fell in love with Ella twenty years ago, working at a crappy coffee shop tucked away on the third floor of a ritzy mall in Edina, Minnesota.
The store had an old CD player in the back that would only load three CDs at a time, and my sister, who also worked at said shop, would often run up to Sam Goody and buy a handful of new music when we starting to feel crazy after listening to the same tunes for hours on end. One day she came back with a stack of Ultra Lounge CDs, Mambo music, the Swingers Soundtrack, and Ella and Louis: Our Love is Here to Stay. Ella started singing, and I felt like a voice I had been looking for was finally found. There is both peacefulness and playfulness in her singing, and I'm always in the mood for whatever she is swinging.
Twenty years later, I listen to Ella almost every day (the Swingers Soundtrack still gets some play time, occasionally), and have made her a big part of my family's musical life. The playlist is a lot of my favorite songs, and some 'classic' Ella hits. You can click here to listen.
For more on Ella:
Ella Fitzgerald (Little People Big Dreams) – children's book
Albums I love: Mack the Knife, Ella & Louis, Ella in Hollywood, Ella Fitzgerald Sings the Duke Ellington Songbook, and Ella: The Legendary Decca Recordings.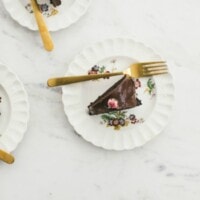 Chocolate Cardamom Cake
A deeply chocolate bundt cake with rich cardamom notes. Finished with a glossy chocolate ganache.
Print
Pin
Rate
Ingredients
3

oz

(85 g) bittersweet chocolate

1

cup

boiling water

1/2

cup

sour cream

1/2

cup

whole milk

½

cup

canola oil

4

large eggs

room temperature

2

tsp

pure vanilla extract

2

cups

(284 g) all purpose flour

2

cups

(396 g) sugar

¾

cup

(75 g) Dutch process cocoa powder

3/4

teaspoon

freshly ground green cardamom seeds,

this was 12 pods of cardamom for me

2

teaspoons

baking soda

1

teaspoons

baking powder

1

teaspoon

salt
ganache
6

ounces

(170g) bittersweet chocolate, chopped fine

3/4

cup

heavy cream
Instructions
For the cake
Adjust an oven rack to the  middle position. Preheat the oven to 350F. Butter and flour (or grease) a 10-inch Bundt pan.

Put the bittersweet chocolate in a small bowl. Pour the hot water over it and cover with a piece of plastic wrap. In a medium bowl or liquid measuring cup, whisk the sour cream, milk, canola oil, eggs, and vanilla.

In the bowl of a stand mixer fitted with a paddle, mix the flour, sugar, cocoa powder, ground cardamom, baking soda, baking powder, and salt on low until combined. (If the cocoa powder is lumpy, you can sift it into the other ingredients.) With the mixer running on low, slowly add the sour cream mixture. Increase the speed to medium and beat until combined, 20-30 seconds.

Whisk the chocolate and hot water together until completely smooth. With the mixer running on low, slowly pour the mixture into the batter and mix until just combined. Using a spatula, give the batter a couple of turns to make sure it is fully mixed.

Pour the batter evenly into the prepared pan. Bake 25-35 minutes, until a wooden skewer or toothpick comes out with a little bit of crumb.

Transfer the cake to a wire rack and let cool for 30 minutes. Turn the cake out onto the rack, and let cool completely. Once cool, the cake can be topped with chocolate ganache if desired.
For the ganache
Place the chocolate in a small bowl. Heat the heavy cream in a small saucepan until it is simmering and just about to boil. Pour the cream over the chocolate, cover the bowl with plastic wrap, and let sit for 5 minutes.

Remove the plastic wrap and whisk until completely smooth. Coat the cake with the ganache while the ganache is still warm, but the cake has cooled. Let the ganache set before slicing the cake.