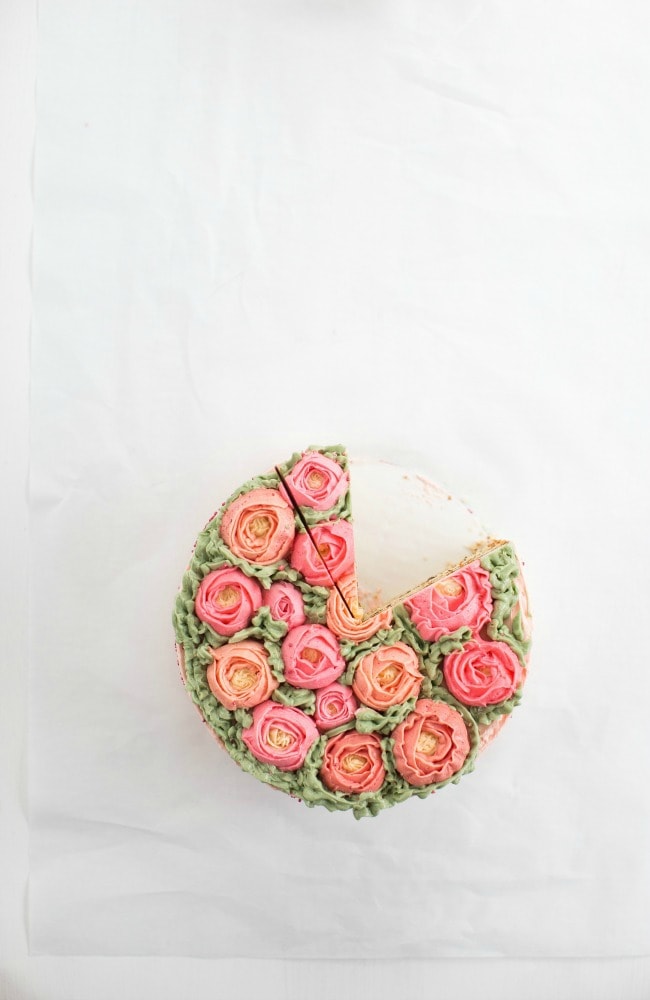 About this Almond Layer Cake:
I'm celebrating this year with a fabulous cake, for both myself and my own Mother. I'm excited to share the one pictured above with you: an almond cake with chocolate and Amaretto buttercream. Andre Prost sent me several boxes of their imported Odense Almond Paste (from Odense, Denmark) to experiment with. It is made in a factory where only almonds are used so there is no risk of other nut allergies in this cake.
If you have never used almond paste, it is found in the baking section of the supermarket. I love almond paste in so many applications (paired with puff pastry, especially, and also in a Danish braid), but I had never used it in a straight up yellow cake.
I love the way it turned out; the almond cake is rich and full of almond flavor, without the need for extra almond extract.
Amaretto is an under-used liqueur in my cabinet, and it pairs nicely with the almond cake and thin layer of chocolate (side note: on the rare occasion I order a drink when I'm out on the town, I do always get an amaretto sour. I've also been informed that this is an old lady drink, but dang, it's so good!).
Decorating a Cake with Flowers:
The flowers on this cake are inspired by the lovely Molly Yeh and her own fabulous cake. She has a lot of good links posted for making flowers, and here are a few more:
Cupcake Jemma has tons of great videos and tutorials.
Piping Peonies
More flowers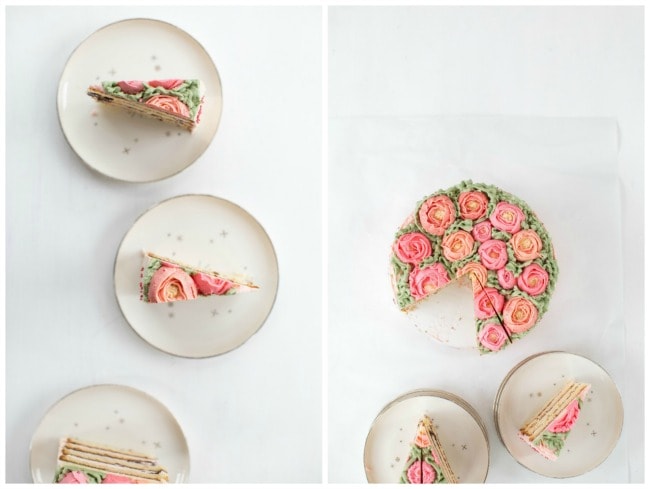 About Mother's Day:
I often forget about it; not about celebrating my own mother, of course, but about that fact that it is now a day for others to celebrate my contribution to their life. I am a Mom every day – I get two littles up for school each morning; guide them through dressing and eating and brushing teeth while cramming folders and lunch boxes into back packs. I wait at bus stops. I take breaks from working and baking to fold laundry, change pillow cases, pick up toys. I make dinner, I help with homework. I am a story teller, a song singer. I close my book at night when little feet quietly make their way into my room, needing hugs or more songs, or reassurance in the dark.
I am always listening, checking, double-checking, holding, awake while sleeping, hoping, helping.
But still, somehow, I forget I'm the Mom.
Because there is still 10-year old me inside, singing along to Amy Grant all afternoon and lost in Nancy Drew stories. Fifteen year old me is there, dreaming about boys and crying over journal entries. Twenty year old me is over-spiritualizing her life and trying not to bounce every check she writes.
Twenty-five year old me is married and can actually sleep through the night without being afraid. Thirty year old me is pregnant for the first time and finally seeing a therapist. And now there is almost 40 year old me, the woman trying to make sense of aging while still so aware of all the other, younger Sarahs lingering inside. Not Mom, then Mom, then both together, for the remaining miles of the journey.
It was already late
enough, and a wild night,
and the road full of fallen
branches and stones.
But little by little,
as you left their voices behind,
the stars began to burn
through the sheets of clouds,
and there was a new voice
which you slowly
recognized as your own
-Mary Oliver, from The Journey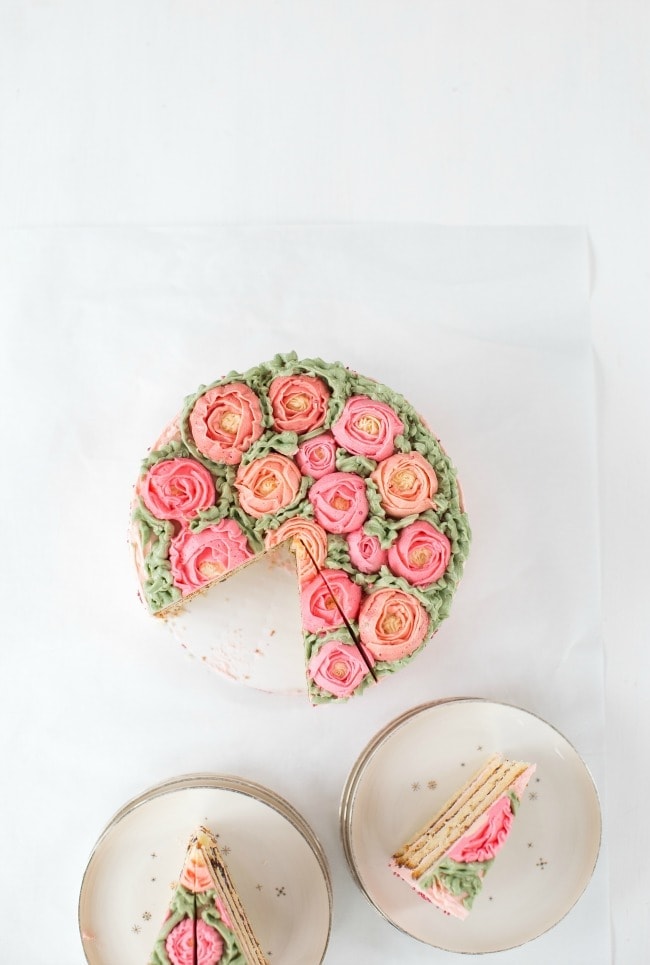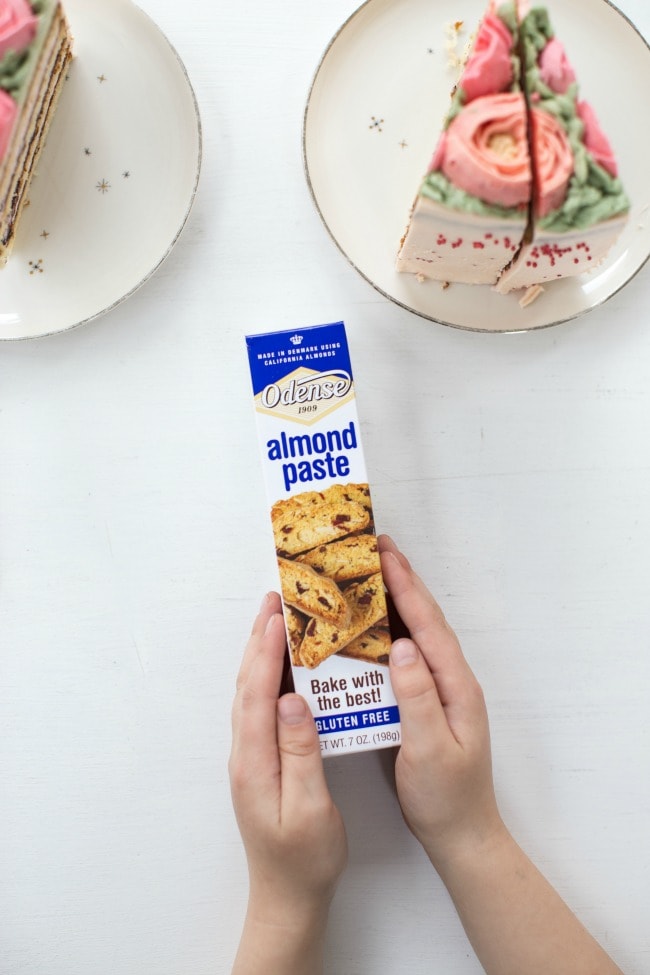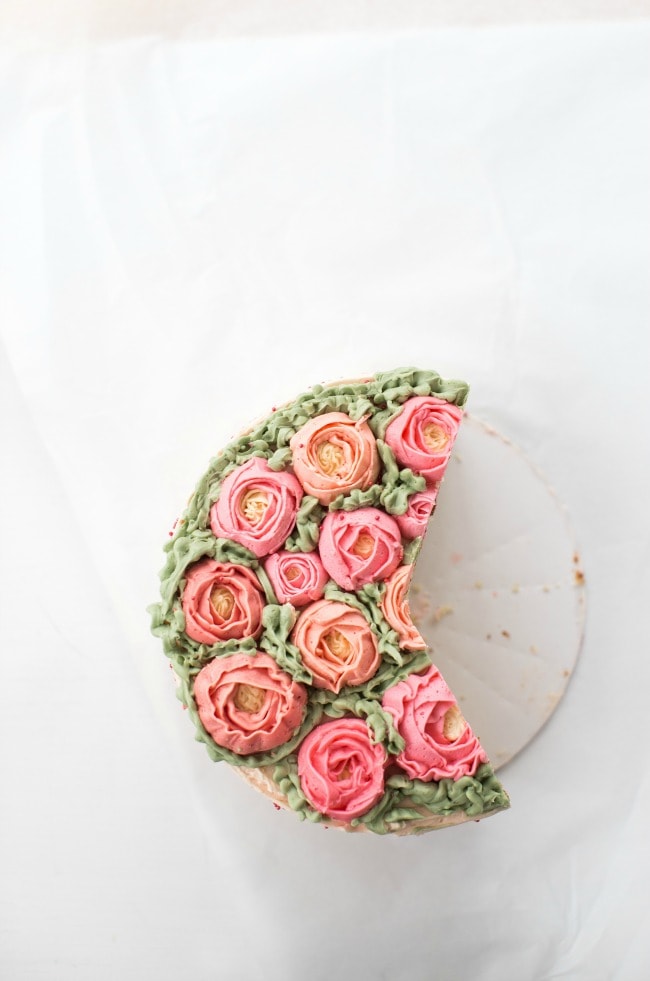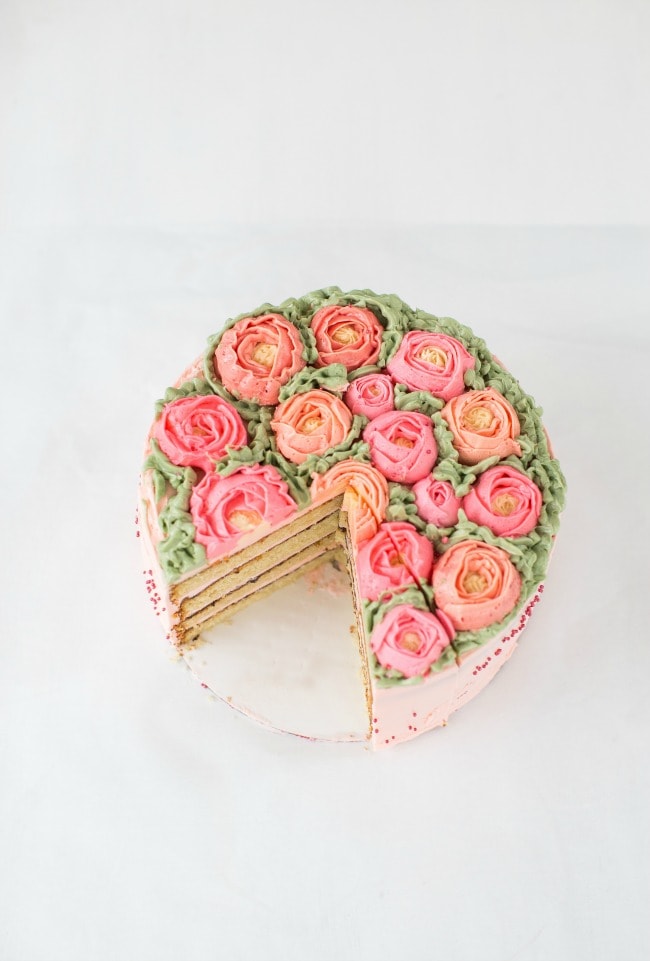 Notes on Making This Almond Cake:
This recipe is based on both the Yellow Cake and the Swiss Meringue Buttercream from my book, The Vanilla Bean Baking Book (affiliate link).
I use 8 inch pans to bake these – you can use 9-inch cake pans here; just note they will bake a little bit quicker.
The cakes take a little longer to bake than normal because of the added almond paste. If you feel your cake tops are browning too quickly, you can place a piece of foil loosely over the tops. My cooked cakes were a little more golden brown than usual, but tasted fantastic.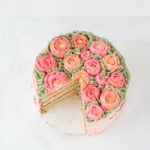 Almond Cake with Chocolate, and Amaretto Buttercream
This almond layer cake is rich and full of almond flavor, without the need for extra almond extract. Amaretto is an under-used liqueur in my cabinet, and it pairs nicely with the almond cake and thin layer of chocolate.
Print
Pin
Rate
Ingredients
Cake
7

ounces

Odense almond paste

thinly sliced

1 1/2

cups

granulated sugar

(297g)

3

large eggs

2

egg yolks

1

tablespoon

pure vanilla extract

3/4

cup

sour cream

1/4

cup

buttermilk

2

cups

all-purpose flour

(284g)

3/4

teaspoon

baking powder

3/4

teaspoon

baking soda

3/4

teaspoon

salt

1/2

pound

2 sticks; unsalted butter, room temperature, cut into 1-inch pieces

(227g)
Amaretto Buttercream
8

large egg whites

2 ¼

cups

granulated sugar

(446g)

¼

teaspoon

salt

1 ½

pounds

6 sticks; unsalted butter, room temperature

(678g)

2

teaspoons

pure vanilla extract

2

tablespoons

Amaretto liqueur

3

ounces

bittersweet chocolate, melted (to use after the cake is cooled)

(85g)
Instructions
For the cake
Adjust an oven rack to the middle position. Preheat the oven to 350F. Butter and flour two 8 by 2-inch round cake pans and line the bottoms with parchment paper.

Place the almond paste and sugar in a food processor. Pulse until the almond paste is finely ground and the mixture resembles sand.

In a medium bowl or liquid measuring cup, whisk the eggs, egg yolks, vanilla, sour cream, and buttermilk.

In a bowl of a stand mixer fitted with a paddle, mix the sugar and almond paste mixture, flour, baking powder, baking soda, and salt on low until combined. With the mixer running on low, add the butter one piece at a time, beating until the mixture resembles coarse sand. With the mixer still running on low, slowly add half the wet ingredients. Increase the speed to medium and beat until incorporated, about 30 seconds. with the mixer running on low, add the rest of the wet ingredients, mixing until just combined. Increase the speed to medium and beat for 20 seconds (the batter may still look a little bumpy). Scrape down the sides and bottom of the bowl, and use a spatula to mix the batter a few more times.

Divide the batter into the prepared pans and smooth the tops. Tap the pans gently on the counter 2 times to help get rid of any bubbles. Bake 35 to 50 minutes (see note above), rotating the pans halfway through, until the cake are golden brown and a wooden skewer or toothpick inserted in the center comes out clean.

Transfer the pans to a wire rack and let cool for 30 minutes. Turn the cakes out onto the rack, remove the parchment paper, and let cool completely before frosting.
For the buttercream
Put about an inch of water in a medium saucepan and bring it to a gentle boil.

In the bowl of a stand mixer, stir the egg whites, sugar, and salt until combined. Put the bowl over the saucepan, being careful not to let the water touch the bottom of the bowl. Stir with a rubber spatula until the sugar is completely melted, and the mixture reaches a temperature of 160F, about 4 to 5 minutes. While you are stirring, be sure to scrape down the sides of the bowl with the spatula—this will ensure no sugar grains are lurking on the sides and will help prevent the egg whites from cooking.

Remove the bowl from the heat and place it in the stand mixer fitted with a whisk. Whisk the mixture on medium-high until stiff, glossy peaks form, 8 to 10 minutes.

With the mixer running on low, add the butter, 1 to 2 tablespoons at a time, beating well after each addition until incorporated and the buttercream is smooth. Add the amaretto and vanilla. Beat on low until combined.
To assemble the almond cake
Line two baking sheets with parchment paper. Cut each layer of the cake in half horizontally, to make a total of four layers, and place the layers on the prepared baking sheets, cut sides down. Top three of the layers with a thin coating of chocolate (1 ounce on each piece), spreading it thin and evenly along the whole surface of each layer. Let the chocolate set before frosting the cake (you can put the layers in the freezer for 2 or 3 minutes to speed this up).

Put one cake layer, chocolate side up, on a turntable or serving plate and top with ¾ cup of buttercream. Repeat with two more chocolate-covered layers and then top with the remaining, chocolate-free layer. Frost the cake as desired.