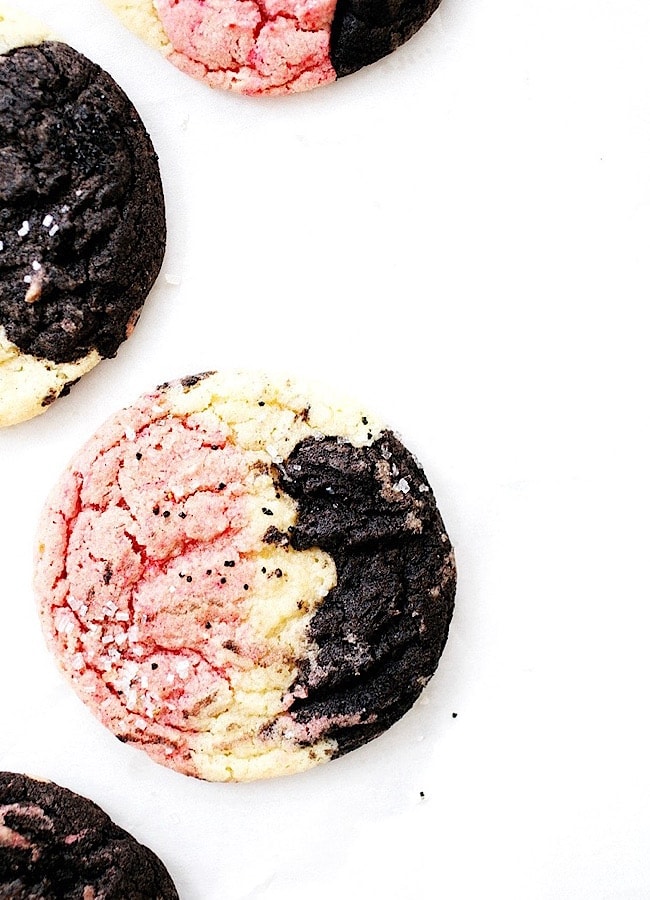 This cookie was inspired by pastry chef Matthew Rice's Neapolitan cookie, which I stumbled upon while searching Pinterest for the color pink. This cookie popped up, and I was intrigued by the pretty colors all rolled together. I headed straight to the kitchen. I used my sugar cookie (#6) as a base and came up with the version here.
My children beg for this cookie, and it's worth the extra steps needed to create it.
Need more cookies? You'll find my favorite cookie recipes here.
Neapolitan Cookies
This recipe is #70 in my 100 Cookies cookbook.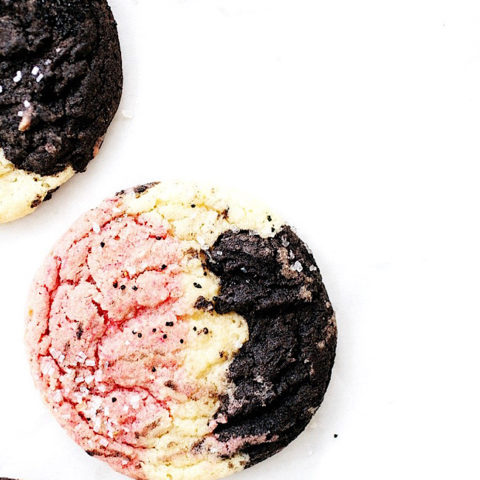 Neapolitan Cookies
Additional Time:
30 minutes
Stunning Neapolitan cookies with made with strawberry, vanilla, and chocolate dough. A cookie with three flavors in one bite!
Ingredients
2 1/2 cups plus 1 tablespoon [364 g] all-purpose flour
3/4 teaspoon baking soda
3/4 teaspoon salt
1/2 cup [8 g] freeze-dried strawberries
1 cup [2 sticks | 227 g] unsalted butter, room temperature
1 3/4 cup [350 g] granulated sugar
1 large egg plus 1 large yolk
2 teaspoons pure vanilla extract
2 or 3 drops red food coloring (optional)
2 tablespoons Dutch-process cocoa powder
Sprinkles or granulated sugar, for rolling
Instructions
Adjust an oven rack to the middle of the oven. Preheat the oven to 350F [180C]. Line three baking sheets with parchment paper.
In a medium bowl, combine the flour, baking soda, and salt.
In the bowl of a food processor fitted with a blade, pulverize the strawberries into a powder.
In the bowl of a stand mixer fitted with a paddle, beat the butter on medium speed until creamy, about 1 minute. Add the sugar and beat on medium speed until light and fluffy, 2 to 3 minutes. Add the egg, yolk, and vanilla, and beat on medium speed until combined. Add the flour mixture and beat on low speed until just combined.
Dump the dough out onto a work surface and divide it into three equal portions. Put one-third of the dough back into the mixer and add the powdered strawberries and food coloring, if using. Mix on low speed until totally combined, then remove the dough and quickly wipe out the bowl of the mixer.
Add another third of dough to the mixer. Add the cocoa powder and mix on low speed until totally combined.
Pinch a small portion (about 1/2 oz [15 g]) of each of the three doughs, and press them gently together, so they adhere to each other, but keep their unique colors. Press the piece into a cookie scoop or roll it into a ball, then roll the ball into sprinkles or granulated sugar. Place 6 or 7 cookies on each sheet pan. Bake the cookies one pan at a time, rotating halfway through baking. Bake until the sides are set and the cookies are puffed, 10 to 11 minutes.
Transfer the sheet pan to a wire rack and let the cookies cool for 5 to 10 minutes on the pan, then remove them and let them cool completely on the wire rack. Cookies can be stored in an airtight container at room temperature for up to 2 days.
Notes
*Recipe adapted from Matthew Rice
*Use black cocoa powder for a darker color. The powdered strawberries on their own won't give a bright pink hue, so I like to add a little food coloring. I also like to roll each individual color of dough into the same color of sprinkles, but you can mix and match however your heart desires. I buy freeze-dried strawberries at Target.