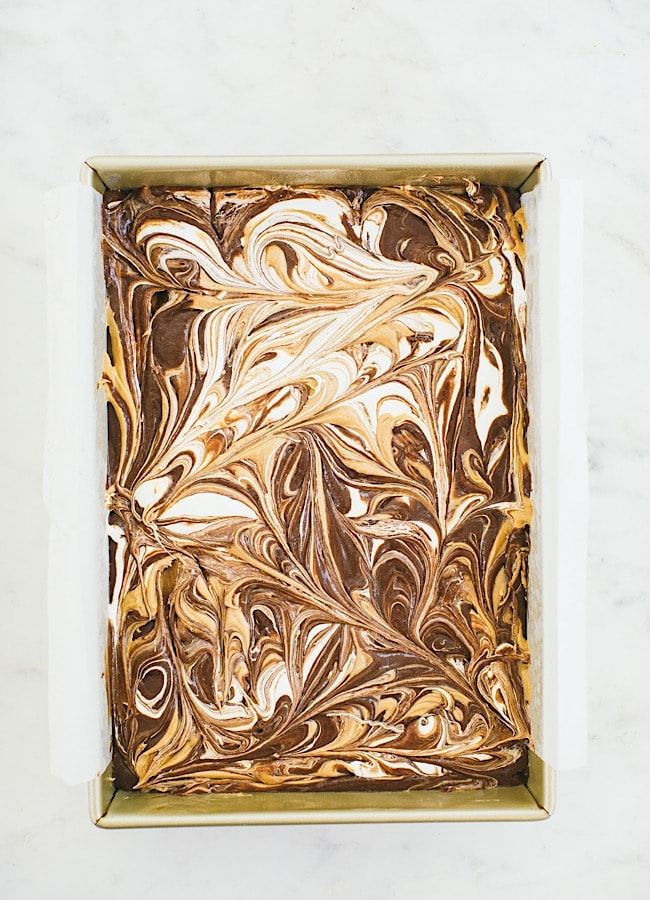 Marshmallow Fluff + Peanut Butter + Brownies = Yes, please.
Marshmallow Brownies with Peanut Butter
From 100 Cookies
Notes This recipe also needs the recipe for My Favorite Brownies (instructions below). I actually prefer these brownies on the second day; the marshmallow fluff softens and the chocolate flavor intensifies.
1/2 cup [107 g] creamy peanut butter
1/4 cup [30 g] confectioners' sugar
2 tablespoons [29 g] unsalted butter, at room temperature
3/4 teaspoon pure vanilla extract
Pinch salt
1 recipe My Favorite Brownies
1/2 cup [70 g] store-bought marshmallow fluff
Adjust an oven rack to the middle of the oven. Preheat the oven to 350F [180C]. Grease a 9 x 13 in [23 by 33 cm] baking pan and line with a parchment sling.
In a medium bowl, mix together the peanut butter, sugar, butter, vanilla, and salt until combined and completely smooth.
Make the brownie batter as directed (but do not bake it!). Pour the brownie batter into the prepared pan. Dollop the peanut butter filling and the marshmallow cream over the top, alternating the two. Drag the tip of a butter knife through the batter, creating swirls.
Bake until the sides of the brownies have set, the top is starting to crackle and look glossy, and a wooden skewer or toothpick inserted into the center comes out with crumbs, 26 to 32 minutes. The batter on the toothpick should not be wet but should have a good amount of crumbs clinging to it. Transfer the pan to a wire rack and let cool completely. Use the parchment sling to gently lift the brownies from the pan. Cut them into bars and serve. Store the brownies in an airtight container for up to 3 days.
How about some more bar recipes?