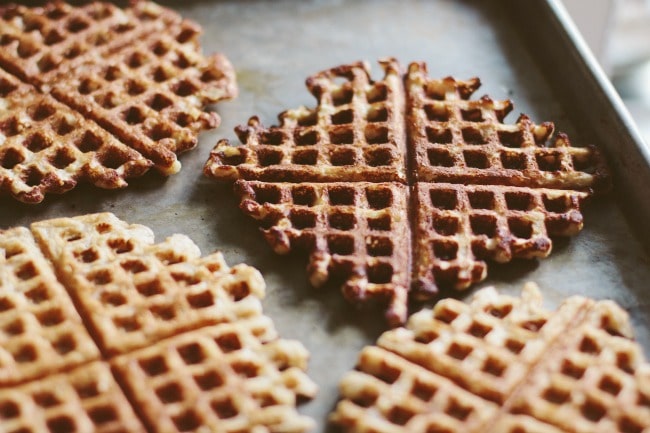 {most my anxiety and nightly begging pleading praying musings summed up in a nutshell. just throw in some fear of dying and you've got me:}
'The very least you can do in your life is to figure out what you hope for. And the most you can do is live inside that hope. Not admire it from a distance but live right in it, under its roof. What I want is so simple I almost can't say it: elementary kindness. Enough to eat, enough to go around. The possibility that kids might one day grow up to be neither the destroyers nor the destroyed. That's about it. Right now I'm living in that hope, running down its hallway and touching the walls on both sides.' – Barbara Kingsolver
{still, the morning comes, and she is kind. I  am greeted with kisses and whispers, little arms and legs rushing with smiles and snuggles and demands for waffles. so we break our bread together and spend our days giving in to joy, hoping it will once more bring us through the night…}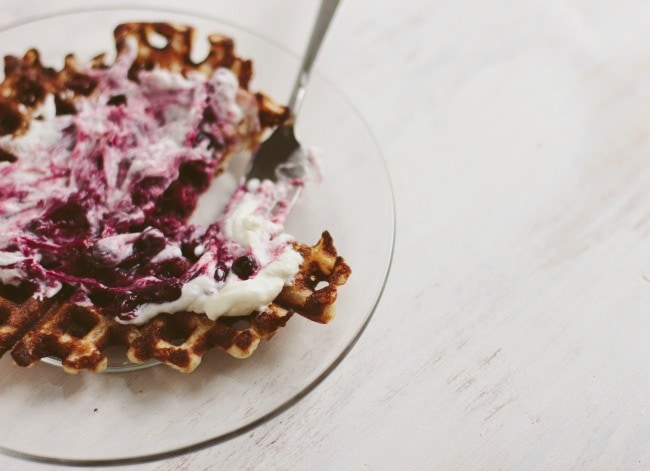 Whole Wheat Waffles with Rhubarb-Blueberry-Cardamom Compote
For the waffles, I always use the FauxMartha's whole wheat waffle recipe. It's never failed me. (Although, I will be trying this raised waffle recipe soon, and this multigrain recipe recipe has been on my to-do list. If you need a gluten-free option, this one and this one look good.) I served them with a little whipped cream, too, but next time am going to make this coconut milk version.


rhubarb-blueberry-cardamom compote
I hardly used any sugar here – I wanted to keep it out as much as possible, but felt a little was needed to cut the tartness of the rhubarb. Honey is added at the end, and I thought 3 tablespoons was perfect; the blueberries lend some sweetness as well, but feel free to add more honey to taste. The cardamom flavor needs a good 12 hours to develop, and the pods are slightly annoying – they need to be removed before serving (they can be a little tricky to find in the compote). You can omit them if you don't want the trouble, or use ground cardamom instead (I'm thinking 1-2 teaspoons).  I liked serving this warm, and gently reheated it before serving. This is so tasty! I think it would be wonderful over ice cream, as well.
1 pound rhubarb, chopped into 2 inch pieces
10 cardamom pods, gently crushed
1/4 cup sugar
1/4 cup water
1 cup blueberries
3 tablespoons honey (more or less to taste, see note)
2 teaspoons vanilla
Place the rhubarb, cardamom pods, sugar, and water in a sauce pan. Bring to a boil, and then let simmer for 10-15 minutes until the rhubarb is tender. Add the blueberries and cook gently until blueberries are soft, but haven't lost their shape. Remove from heat, and stir in the vanilla and honey to taste. Serve warm or cold.