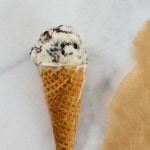 Print
No-churn Mint Ice Cream
If you own a Pullman pan, this works nicely to freeze the ice cream in (plus it has a lid!) but otherwise a 9 x 5 loaf pan works great. You might also enjoy no-churn basil ice cream and raspberry chocolate chip. Small bowl with blue flowers by Dishes Only.
In a food processor, combine the sweetened condensed milk, fresh mint, vanilla extract, 1 tablespoon creme de menthe, and salt. Process until the mint is finely chopped into very small bits. Taste the mixture. If more mint flavor is desired, add another tablespoon creme de menthe, and mint extract 1/2 teaspoon at a time until the perfect minty-ness is reached. Pour the mint-milk mixture into a large bowl.

In the bowl of a standing mixer, beat the heavy cream on high until stiff peaks form, about 3 minutes. With a rubber spatula, gently fold 1/3 of the whipped cream into condensed milk mixture. Fold until fully combined. Gently fold in the rest of the whipped cream, until no streaks remain. Pour into a regular sized loaf pan, and freeze until firm, 6 hours (or, covered, up to 1 week).