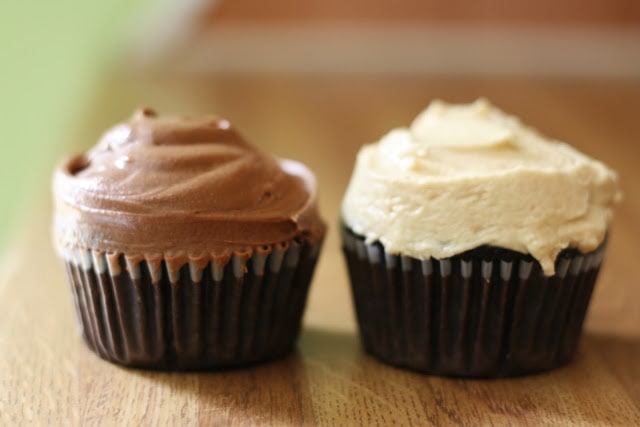 I have a thing for vegan desserts. I'm not a vegan, but every January [A] and I partake in a vegan diet to cleanse our systems and add more fruits and vegetables into our bodies. When we first started doing this, way back in college, it was rather difficult to find good vegan food. It had just started to become mainstream, and we didn't realize all our options. We were constantly starving, roasting up potatoes and cracking open a can of corn for every meal. Seriously. The day we came across natural peanut butter in our tiny little co-op was like Christmas; we almost ate a whole jar on some apples. Now-a-days it's rather 'easy' to eat meat and dairy free – there are so many choices in the grocery store, and most coffeehouses and hip restaurants serve something that caters to this life choice.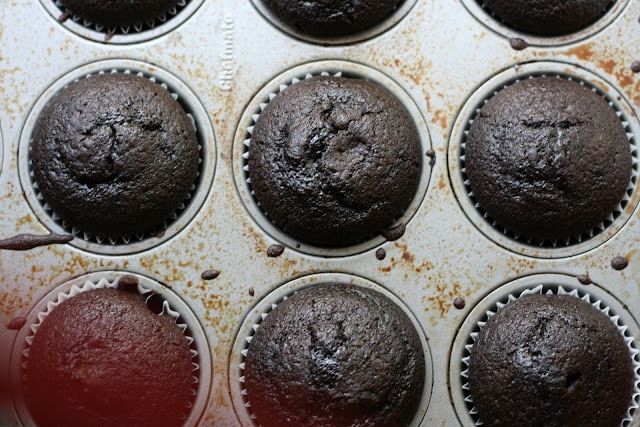 I've always been interested in vegan food because the time each year I eat vegan, I want some great options. Fresh fruits and vegetables are obvious, but this girl can only hold out on baked goods for so long. It's become a sort of secret challenge – coming up with vegan desserts that taste as good as anything made with butter and eggs. We have several dear friends who are vegan, and I've wanted to have a good selection of meals and desserts that I can serve them when they come over – something we'll all enjoy. It's so important to me that the people dining at my home feel comfortable with what we are eating.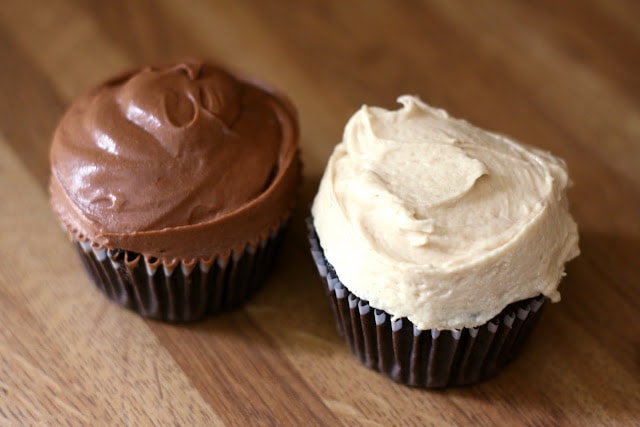 So about these cupcakes. My dear friend Bethany approached me to make desserts for her sister, who is vegan. I had a great recipe for vegan chocolate cake, and experimented with making it into cupcakes. It worked like a charm: these cupcakes were just as good as my dairy version. I had also previously experimented with a dairy free version of cream cheese peanut butter frosting, so I stepped it up a bit and added bourbon – yum. I mean, super-yum. The chocolate frosting worked great, too; we had winners. Really, it didn't taste like a granola girl concoction. Imagine dreamy, creamy chocolate or peanut butter frosting on top of moist, rich chocolate cupcakes. Time to call up your vegan friends and have a party.
Vegan Chocolate Cupcakes with Peanut Butter Bourbon Frosting and Chocolate Coffee Frosting
adapted from the Moosewood Collective
Make sure the oven and pan are ready before you combine all the ingredients – the batter has to go into the pan right away. You can bake the cupcakes with or without paper liners, but they bake up more beautifully with them.
1 1/2 cups flour
1/3 cup unsweetened cocoa powder
1/2 tsp baking soda
1/2 tsp salt
1 cup sugar
1/2 cup vegetable oil
1 cup cold water, cold press or chilled coffee
2 tsp vanilla extract
2 tbsp cider vinegar
Preheat oven to 375.
Line a 12 cup muffin pan with liners [see note].
Sift together flour, cocoa, soda, salt and sugar. Set aside.
Combine oil, water or coffee and vanilla. Pour liquid ingredients into the dry ingredients and mix until well blended and smooth.
Add the vinegar and stir briefly; the baking soda will begin to react with the vinegar right away, leaving pale swirls in the batter. Without wasting any time, pour the batter into the prepared baking pan.
Bake 12-15 minutes, or until a toothpick comes out with the tiniest bit of crumb on it. Let the cupcakes cool 5 minutes in the pan, remove and finish cooling on a wire rack.
Peanut Butter Bourbon Frosting
adapted from Joy of Cooking
This recipe calls for soy milk, but rice or oat milk will work just as well. You can omit the Bourbon if desired.
1/2 cup smooth peanut butter
3 oz Tofutti 'cream cheese', room temperature
1 1/2 tbsp natural margarine spread [Earth's Best has margarine in stick form that works well], room temperature
1 tsp vanilla or 1/2 vanilla bean scraped
3 tbsp soy milk, and more if needed
1 tablespoon bourbon [optional]
2 2/3 cup powdered sugar, sifted
Beat peanut butter, Tofutti, margarine, vanilla, soy milk and bourbon until just blended. Add powdered sugar slowly and beat on medium high until smooth. If the frosting is too thick, add more soy milk until desired consistency is reached.
Chocolate-Coffee Frosting
adapted from Joy of Cooking
Rice, oat or regular soy milk can be substituted for the chocolate soy milk. I added 3-4 tablespoons of soy milk at the end, to get a nice smooth frosting. 
3 ounces bittersweet chocolate, chopped
3 tablespoons natural margarine spread
1/8 cup chocolate soy milk, plus 1-3 tablespoons more if needed
2 cups powdered sugar, sifted 
Melt the butter and chocolate together in the microwave until smooth,stirring frequently. Stir in the hot coffee, then the soy milk and vanilla. Place in the bowl of a standing mixer. Gradually add the powdered sugar, beating until spreadable. Add several tablespoons more soy milk until you reach the consistency desired.