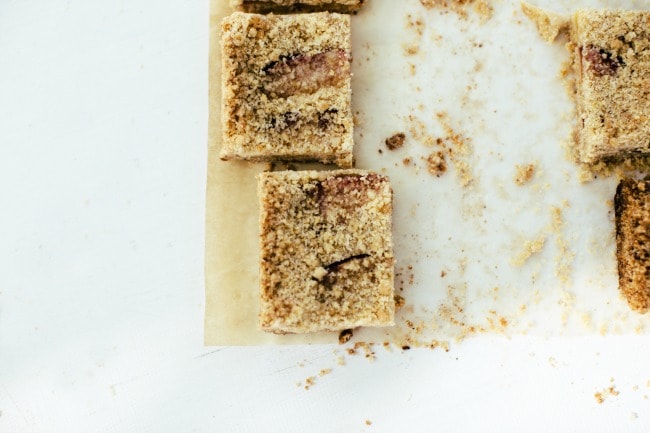 And indeed there will be time
To wonder, "Do I dare?" and, "Do I dare?"
Time to turn back and descend the stair,
With a bald spot in the middle of my hair —
(They will say: "How his hair is growing thin!")
My morning coat, my collar mounting firmly to the chin,
My necktie rich and modest, but asserted by a simple pin —
(They will say: "But how his arms and legs are thin!")
Do I dare
Disturb the universe?
In a minute there is time
For decisions and revisions which a minute will reverse.
For I have known them all already, known them all:
Have known the evenings, mornings, afternoons,
I have measured out my life with coffee spoons;
I know the voices dying with a dying fall
Beneath the music from a farther room.
So how should I presume?
I grow old … I grow old …
I shall wear the bottoms of my trousers rolled.
Shall I part my hair behind? Do I dare to eat a peach?
I shall wear white flannel trousers, and walk upon the beach.
I have heard the mermaids singing, each to each.
-From The Love Song of J. Alfred Prufrock by T.S. Eliot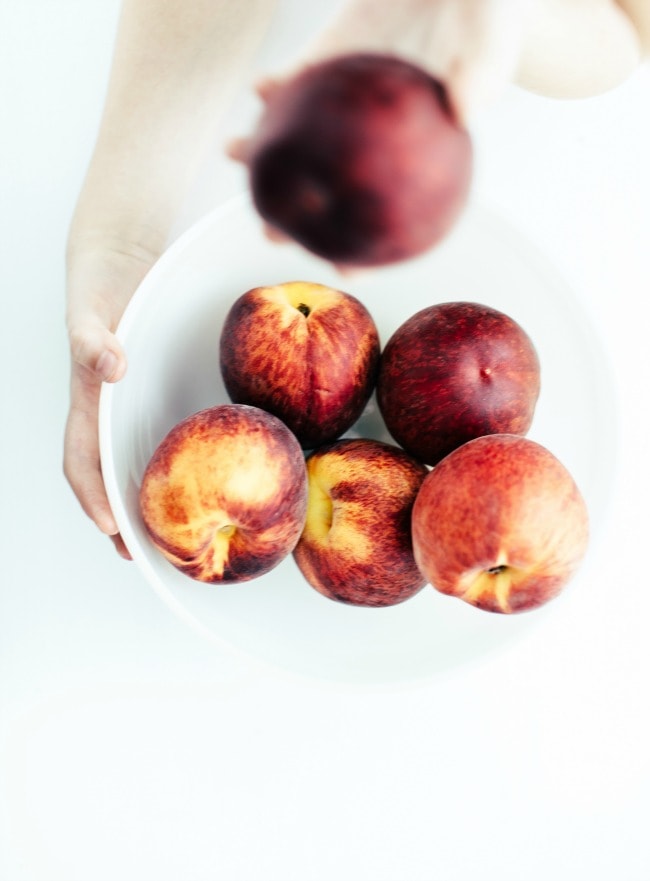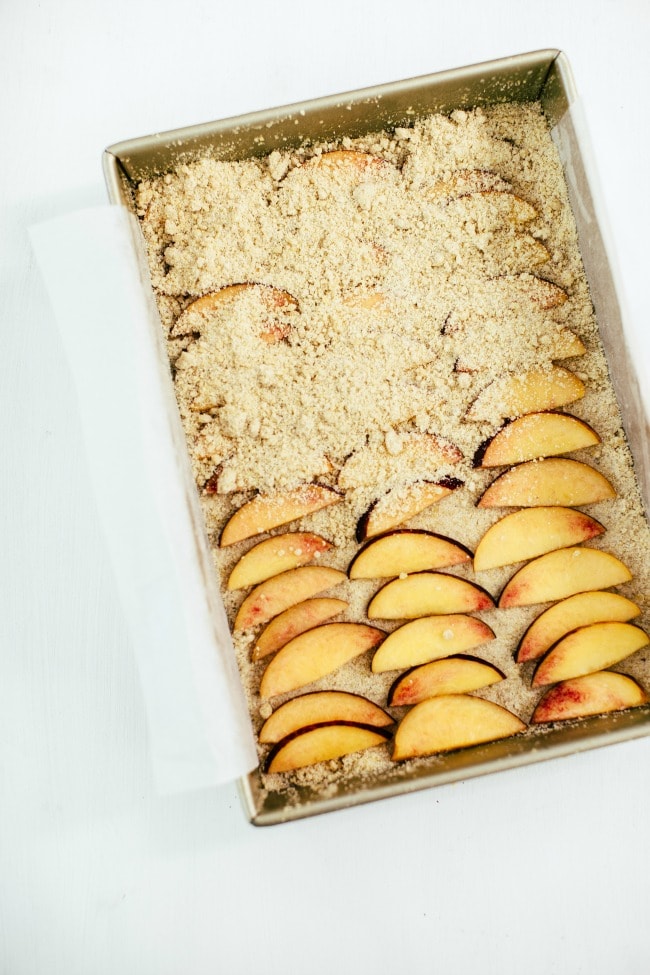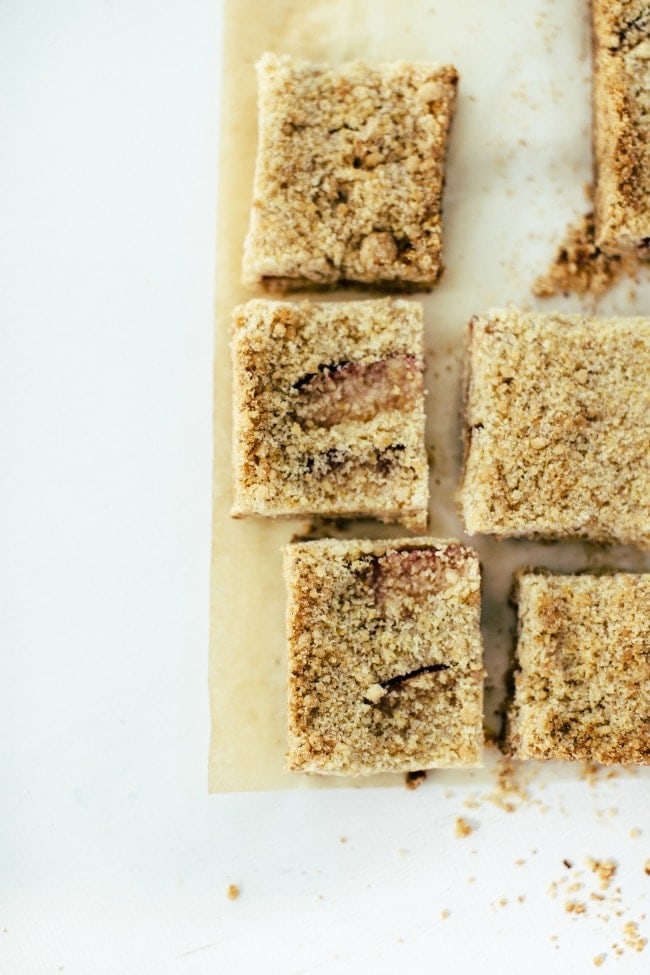 These streusel bars are also another baking recipe I've created as a Pulses Ambassador this year. The United Nations has declared 2016 the International Year of the Pulse, and I've taken the Pulse Pledge, committing to eat pulses once a week for the next year. Pulses are beans, chickpeas, lentils and dry peas; leguminous crops that are good for your health and good for the environment. I'll be posting recipes involving them periodically this year, incorporating pulses not only in my savory cooking, but baking recipes as well. I'd love for you to join me! If the Pulse Pledge sounds interesting to you, you can read more about it here. It's a 10 week commitment, and it doesn't require elaborate baking: a serving of hummus and a bowl of soup are good ways to take them in, too. Also check out my Vanilla Lavender Cupcakes.
This post was sponsored by USA Pulses & Pulse Canada. All opinions are my own.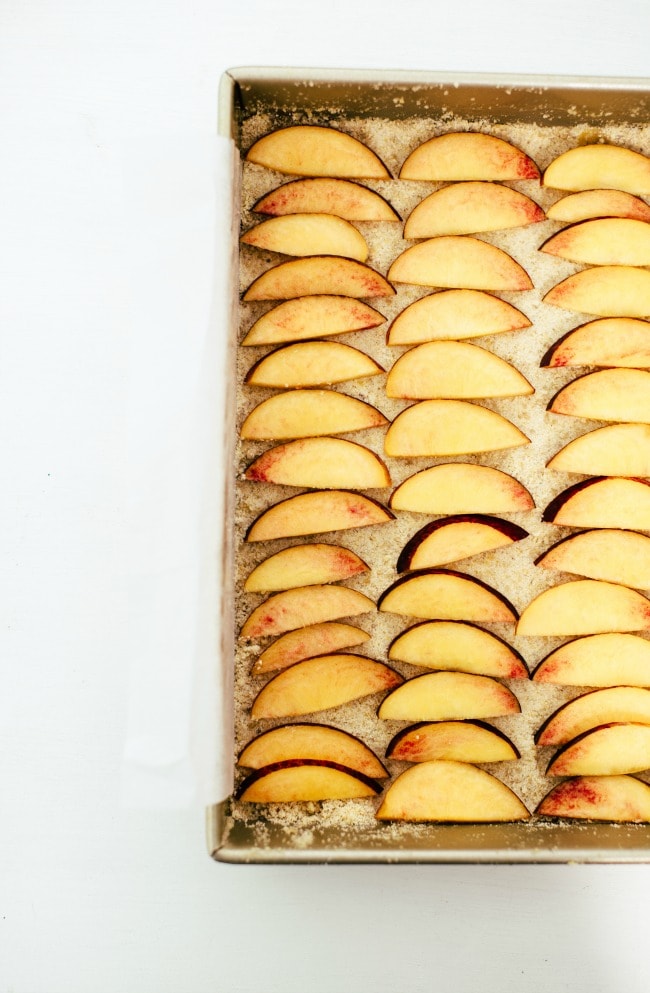 Yellow Pea Peach Streusel Bars
This time around I used yellow pea flour instead of chickpea flour. I thought the pea flour had a more subtle taste than the chickpea, which I liked here. My husband preferred the chickpea flour however, and my kids didn't notice a difference either way, they just gobbled up the bars.
The recipe for the peach bars (or peach shortbread bars) is found on Smitten Kitchen, and since the only change I made was swapping out some all-purpose flour for yellow pea flour, I'm going to send you to Deb's site for the recipe. This is one of my favorite SK recipes – I've made these bars so many times over the years, and they are always a hit. The recipe can also be doubled, and baked in a half sheet pan if you need to feed a large crowd.
What I did: I made these bars several times, with different amounts of yellow pea flour. I found swapping out 1/3 cup all-purpose and replacing it with toasted yellow pea flour was a good balance of flavors. You can go all the way up to 1 cup, and down to 1/4 cup flour, doing an even trade of flours. I found 1 cup of yellow pea flour to equal 140 grams (so 1/3 cup would equal 47 grams).
To Toast the Yellow Pea Flour: Place the flour in a small skillet and toast over medium heat, until the flour turns light golden brown and begins to smell 'toasty', 3-5 minutes. Take off the heat and move the flour to a small bowl. Set aside to cool. (Toasting the flour prior to using it can help mellow the flavor, which adds delicious taste without overpowering the cookie. Also note yellow pea flour does not taste great raw, so the raw dough will not be one to nibble on).