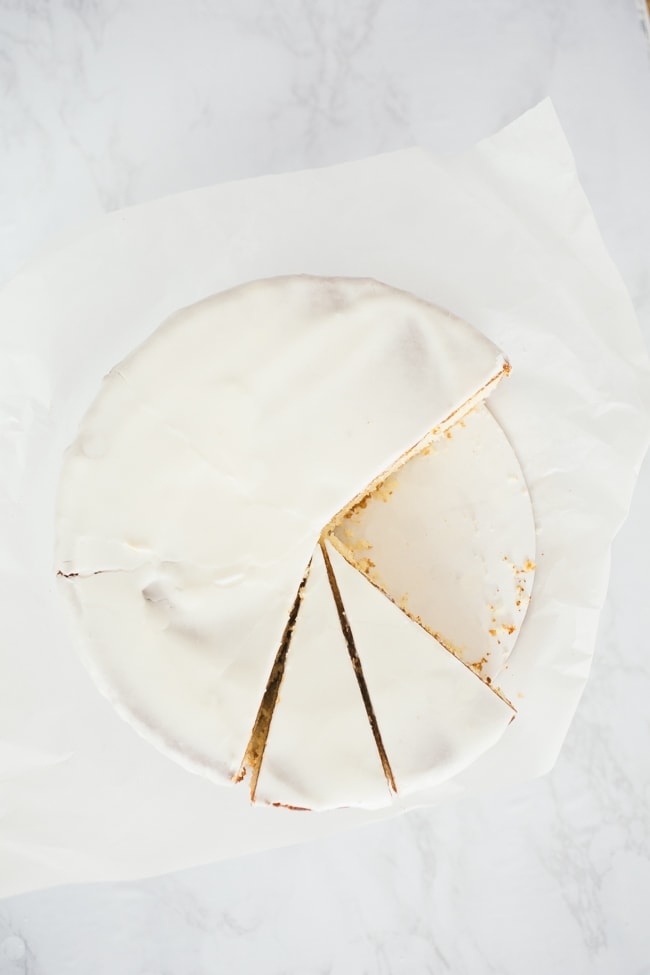 This week I was sent an advance copy of Odette William's new book, Simple Cake. It is a beautiful book filled with all kinds of (wait for it) simple cakes, and after flipping through the pages I was immediately inspired to head to the kitchen and bake. I decided on this Lovely Lemon Cake with Nana's Simple Glaze; we have been buried in piles and piles of snow here in Minnesota, and a bright lemon cake seemed just right for perking up our spirits. It was like a tiny spark of sunshine in our small, cloudy kitchen, and made the perfect afternoon school snack (and then breakfast the next morning).
Other cake recipes you may enjoy: Lemon Poppyseed Bunt Cake, Cardamom Pound Cake, Triple Ginger Coffeecake, and Grand Marnier Orange Cake.
************************************************
A few things:
*Over the Rhine has a new album coming out this month. I have been listening to the first song, Los Lunas, on repeat for days.
*I started watching The Good Place, and am totally hooked. I have been told I should also be listening to this podcast that goes a long with it.
*I have an Amazon Store Front now – it's a place to find all my favorite cookbooks, kitchen equipment, books I'm reading, and the like. You can find it here if you are interested.
*I want to make these Popovers from Zoebakes.
*I've been reading Dreyer's English this month.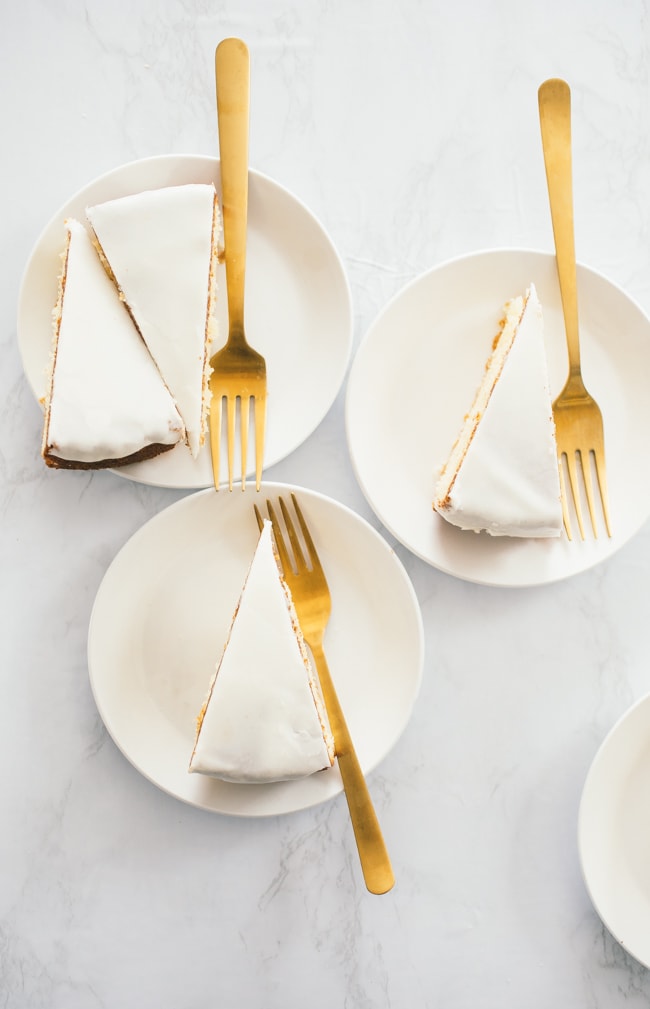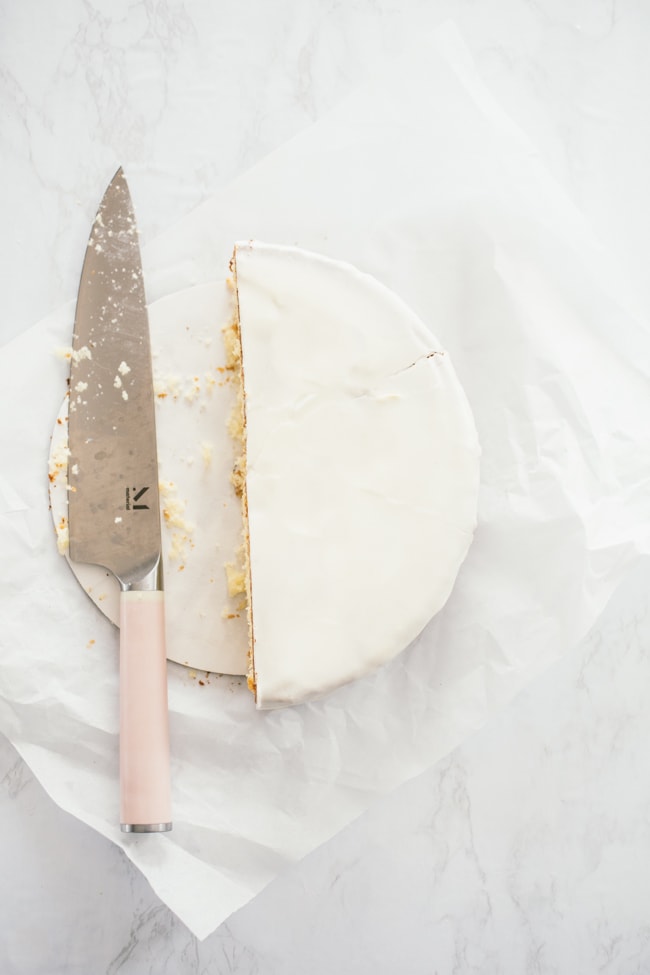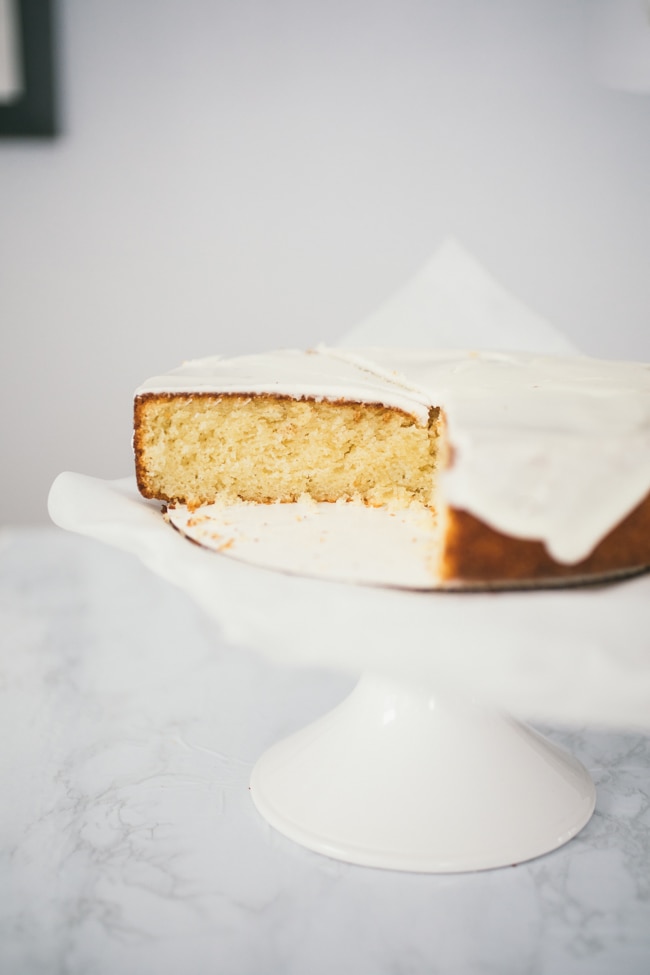 Lovely Lemon Yogurt Cake
From Simple Cake by Odette Williams
Makes one 9 by 2-inch round cake, or one 9 by 5-inch loaf cake.
2 cups (290g) all-purpose flour
3 teaspoons baking powder
1/2 teaspoon salt
2 eggs, room temperature
3/4 cup (180ml) grapeseed oil or any mild-flavored oil (I used canola oil)
1 cup (230g) plain Greek full-fat yogurt
Finely grated zest of 1 large lemon
1/3 cup (80ml) freshly squeezed lemon juice
1 cup (200g) granulated sugar
Nana's Simple Glaze
1 cup (115g) confectioner's sugar
1 tablespoons unsalted butter, melted
2 tablespoons lemon juice
For the cake
Adjust an oven rack to the middle position, and preheat the oven to 350F. Grease a 9 by 2-inch round cake pan with butter, line the bottom with a round of parchment paper, and then grease the paper.
Place a large sifter or a sieve in a large mixing bowl. Add the flour, baking powder, and salt, and sift.
In another large bowl, whisk the eggs, oil, yogurt, zest, lemon juice, and sugar until combined.
Gradually add the wet ingredients to the dry ingredients and whisk until there are no lumps and the batter is smooth.
Pour the batter into the prepared pan and smooth the top. Bake 35-45 minutes until a wooden skewer inserted in the center comes out clean, and the cake bounces back when lightly pressed. Remove the cake and let cool on a wire rack for 20 minutes. Run a butter knife around the edges to gently release the cake from the sides of the pan. Turn it out onto a wire rack and cool completely, removing the parchment paper. Dust generously with confectioner's sugar, or top with Nana's Simple Glaze.
For the Glaze
Sift the confectioner's sugar into a small mixing bowl. Make a well in the center of the sugar and add the butter and the lemon juice. Stir together until smooth. If you prefer a runnier consistency, add a bit more lemon juice (or water).