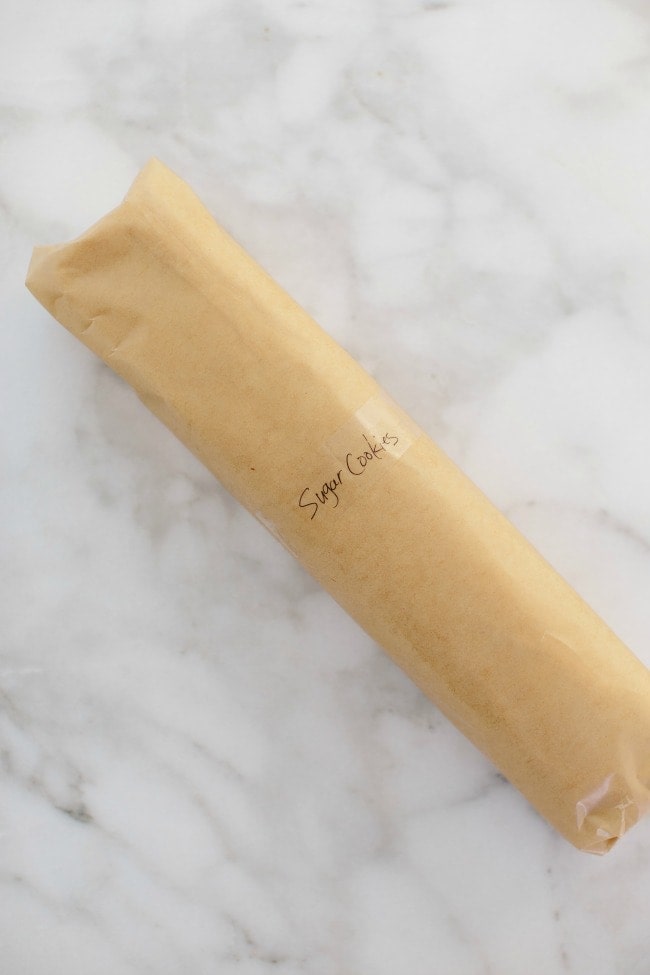 Happy Tuesday! I hope you all had a lovely Thanksgiving holiday, and survived the shopping madness that followed. After working retail for 10 holiday seasons in a row (with Black Friday and Christmas Eve always days I had to work), I can't bring myself to venture out anywhere over the after-Thanksgiving weekend, so I enjoyed time inside my house, baking and reading. I have five books going right now; I am currently rereading two books: The Hobbit, which I am reading outloud to my kids for the first time (and they are loving it!), and Pride and Prejudice, which seemed like the perfect snowy weekend read. I'm also still working through this collection of letters. What are you currently reading? I'm always adding to my book list; I'd love suggestions.
"What a delightful library you have at Pemberley, Mr. Darcy!"
"It ought to be good," he replied, "it has been the work of many generations."
"And then you have added so much to it yourself, you are always buying books."
"I cannot comprehend the neglect of a family library in such days as these."
–Pride and Prejudice, Jane Austen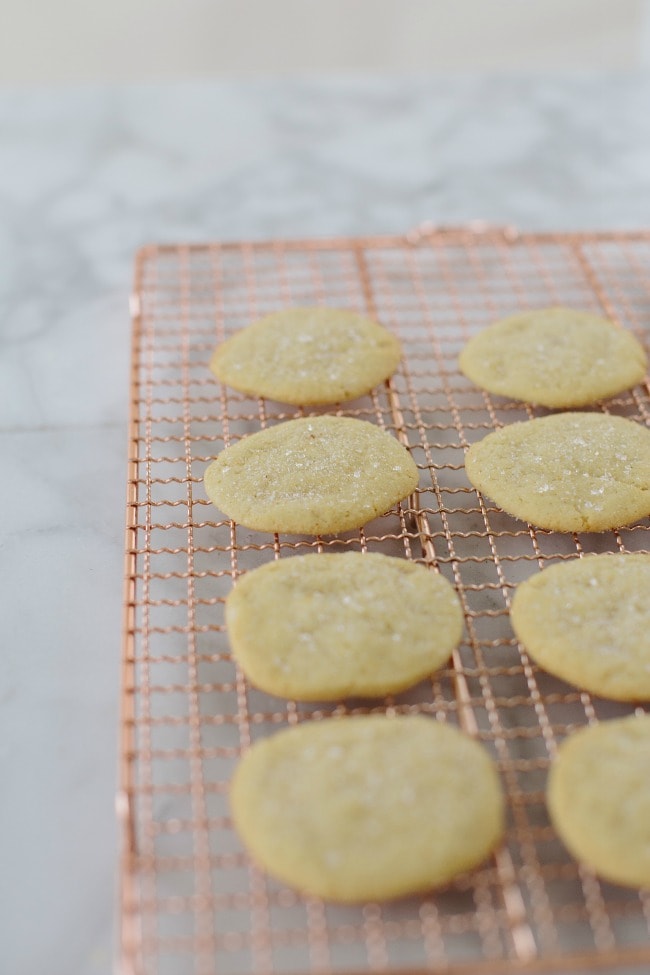 These ice box sugar cookies are another baking recipe I've created as a Pulses Ambassador this year. The United Nations has declared 2016 the International Year of the Pulse, and I've taken the Pulse Pledge, committing to eat pulses once a week for the next year. Pulses are beans, chickpeas, lentils and dry peas; leguminous crops that are good for your health and good for the environment. I'll be posting recipes involving them periodically this year, incorporating pulses not only in my savory cooking, but baking recipes as well. I'd love for you to join me! If the Pulse Pledge sounds interesting to you, you can. It's a 10-week commitment, and it doesn't require elaborate baking: a serving of hummus and a bowl of soup are good ways to take them in, too. Also check out my Vanilla Lavender Cupcakes.
This post was sponsored by USA Pulses & Pulse Canada. All opinions are my own.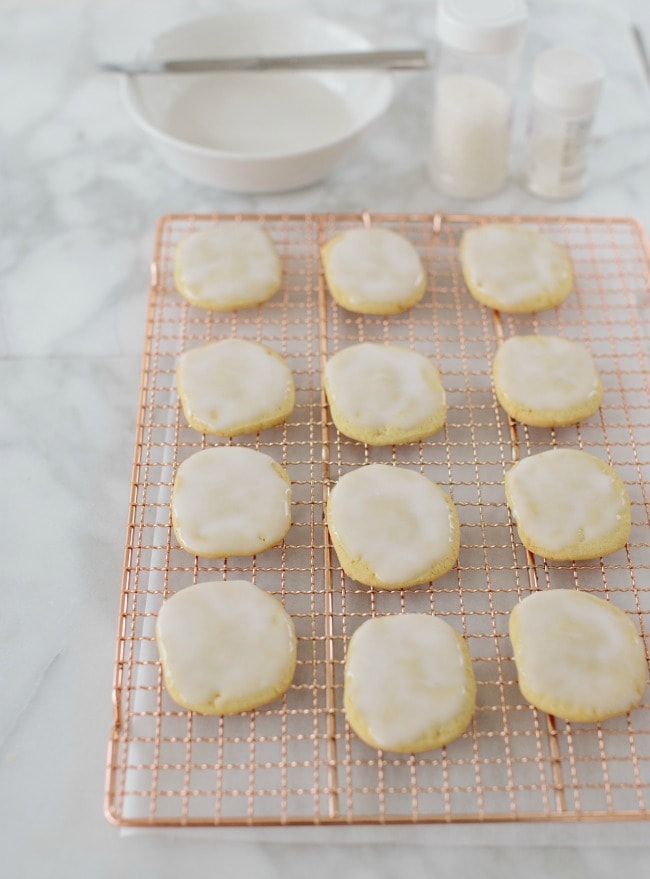 Ice Box Sugar Cookies with Ginger Sugar
Yellow pea flour is flavorful, so I feel less is more in this application. It has a slight grassy flavor, and I found toasting the flour helped tame the earthy taste. Yellow pea flour does not taste great raw, so the raw dough will not be one to nibble on. However, the finished cookies have a unique, delicious flavor.
1 cup (227g) unsalted butter
2 cups (396g) granulated sugar, plus ½ cup (for rolling)
2 large eggs
2 teaspoons pure vanilla extract
3 ¼ cups (462g) all-purpose flour
¼ cup (35g) yellow pea flour
1 teaspoon baking soda
¾ teaspoon salt
1 teaspoon ground ginger
Icing
1 cup (113g) confectioner's sugar
water
To Toast the Yellow Pea Flour:
Place the pea flour in a small skillet and toast over medium heat, stirring frequently, until the flour turns light golden brown and begins to smell 'toasty', 3-5 minutes. Take off the heat and move the flour to a small bowl. Set aside to cool. (Toasting the flour prior to using it can help mellow the flavor, which adds delicious taste without overpowering the cookies. Also note yellow pea flour does not taste great raw, so the raw dough will not be one to nibble on).
For the cookies
Adjust an oven rack to the middle position, and preheat the oven to 350F. Line several baking sheets with parchment paper.
In a medium bowl, whisk together the flours, baking soda, and salt.
In a bow of a stand mixer fitted with a paddle, cream the butter and 2 cups sugar together on medium until light and fluffy, 3-5 minutes. On low speed, beat in eggs and vanilla, and mix until combined. Add the flour mixture and mix on low until the dough forms a ball. Move the dough to a lightly floured surface, and shape into two 10-inch long rolls. Tightly wrap each roll in waxed paper. Chill the dough until firm, about 1 hour.
While the dough is chilling, mix together ½ cup sugar and 1 teaspoon ground ginger in a small bowl (if icing the cookies, skip this step).
Remove the dough from the waxed paper, and slice the log into 3/8-inch slices. Coat each side of the cookie in the ginger-sugar mixture (if icing the cookies, skip this step). Place the sliced pieces on the prepared pans, 12 cookies to a sheet. Bake for 8-10 minutes or until lightly browned. Let the cookies cool on wire racks.
For the icing
Mix the powdered sugar and 2 tablespoons water together. Add water, 1 tablespoon at a time, until the desired consistency is reached. Use a butter knife to ice the tops of cookies. Decorate with sprinkles and sugar as desired.