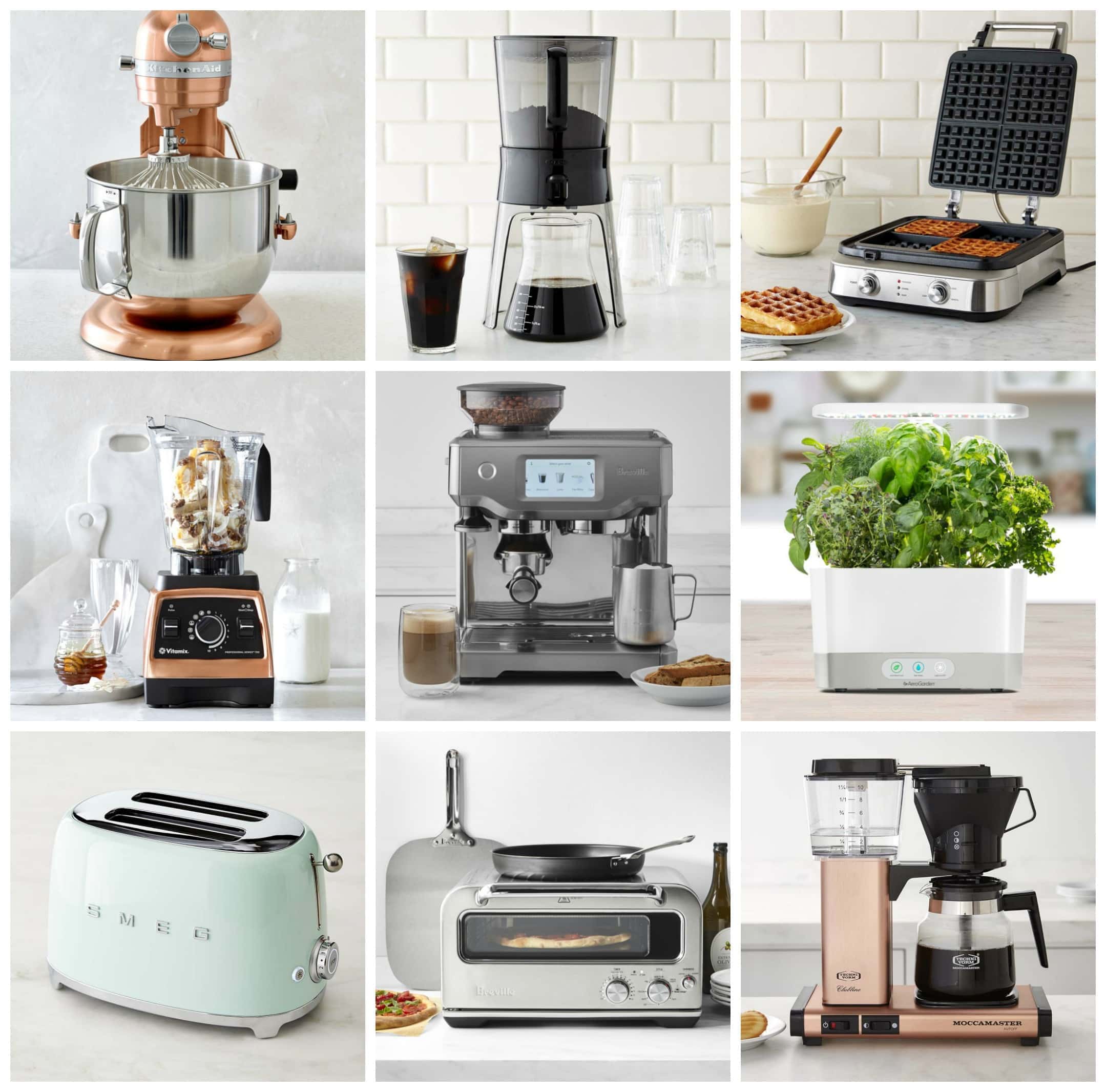 Part Two of my gift guide! (You can find Part One here.) Today is my favorite kitchen appliances, stocking stuffers, and book ideas.
***(Also: Holiday Playlists! On Spotify: My Holiday Mix from last year is here. My Classic Christmas Mix is here. And my Quiet Christmas Mix is here.) On Apple Music: Christmas Fun, Ease Into Christmas, Ease Into Christmas (Jazz and Classics Edition), and Christmas Albums.
KITCHEN APPLIANCES
Kitchen Aid Pro Line Stand Mixer – I have this mixer, and while its price tag is steep, it's well worth the money, especially if you do a lot of baking. The larger bowl is wonderful for bread and pizza doughs, and doubling recipes is no longer a pain.
Oxo Cold Brew – I'm a big fan of cold brew, and drink it all summer long. I've had a basic toddy maker (affiliate link) for 20+ years, and this brewer from Oxo is the same idea, with the added benefit of looking pretty on the counter.
Breville Waffle Maker – I've had this waffle maker for 6 months now and it's made waffle making much better! It's easy to use, waffles bake evenly, and there is even a drip tray to catch any batter that may spill over.
Vitamix – I've had this blender for over two years now, and it definitely is a cut above the rest. It's perfect for smoothies, but also makes soup silky smooth. I use it all the time.
Breville Barista Touch – An espresso machine is not a necessity, but dang, it is a nice luxury to have. I've had this machine for a year, and have stopped making drip coffee completely (just my cold press in the summer).
Aerogarden – This indoor garden is on my Christmas wish list – my brother-in-law has one and comes over all time with fresh herbs. Fresh herbs in the winter, right on my countertop? Yes, please.
Smeg Toaster – I love this toaster as a straight up toaster, but you can also get accessories for it, like this sandwich rack (affiliate link) for making toasted sandwiches.
Breville Pizza Oven – I don't own this pizza oven, but I have heard so many good things about it, and also have it on my Christmas wish list.
Technivorm Coffee Maker – If an espresso machine is out of the question, this coffee maker is a good alternative. It is beautiful, and makes a great cup of coffee.
STOCKING STUFFERS
Jane Austen Tote Bag – I'm a big fan of literary gifts (I prefer a stack of books to anything else for Christmas, honestly). There are so many fun 'bookish' gifts on Etsy, like the tote bag above (I also love these book page posters and poem posters).
Sweetapolita Sprinkles – Rosie's sprinkles are the best! I would love a stocking filled with these.
Baker's Appendix (affiliate link) – A wonderful little book that I use all the time, "with every metric conversion and ingredient substitution you could want, plus 18 recipes for basic, fail-proof cakes, frostings, and cookies–with variations that combine to make dozens of desserts."
Bushwick Kitchen Gingerbread Syrup (affiliate link) – I got a sample of this gingerbread syrup in the mail and it is so dang good (my entire family agreed!), and makes regular syrup seem incredibly boring. Bushwick kitchen has all kinds of other fun products as well, and their packaging is perfect for gift giving.
Turntable Kitchen Subscription – Turntable Kitchen pairing boxes are one of the best subscription services out there, especially for someone like me (who loves coffee + music). Also check out their Sounds Delicious subscription – bands reimagining their favorite albums.
Magnetic Poetry (affiliate link) – I am determined to bring magnetic poetry back, and our refrigerator is covered in it. I found this company that makes themed magnetic poetry – Star Wars, (affiliate link) Harry Potter, Lord of the Rings (affiliate link), Arrested Development (affiliate link), The Princess Bride (affiliate link), plus many other favorite TV shows and movies. Highly recommend.
Pocket Shakespeare (affiliate link) – I do have this mini copy of Romeo and Juliet in my purse, since one should never leave the house without a book along. There are also plenty of other Shakespeare plays to pick from: A Midnight Summer's Dream, Hamlet, Macbeth, the list goes on.
Bet Vodka – Bet vodka is a local company that makes very good vodka (I like it in this holiday drink here). They now carry mini bottles – perfect for stockings!
Alakef Coffee – My favorite coffee.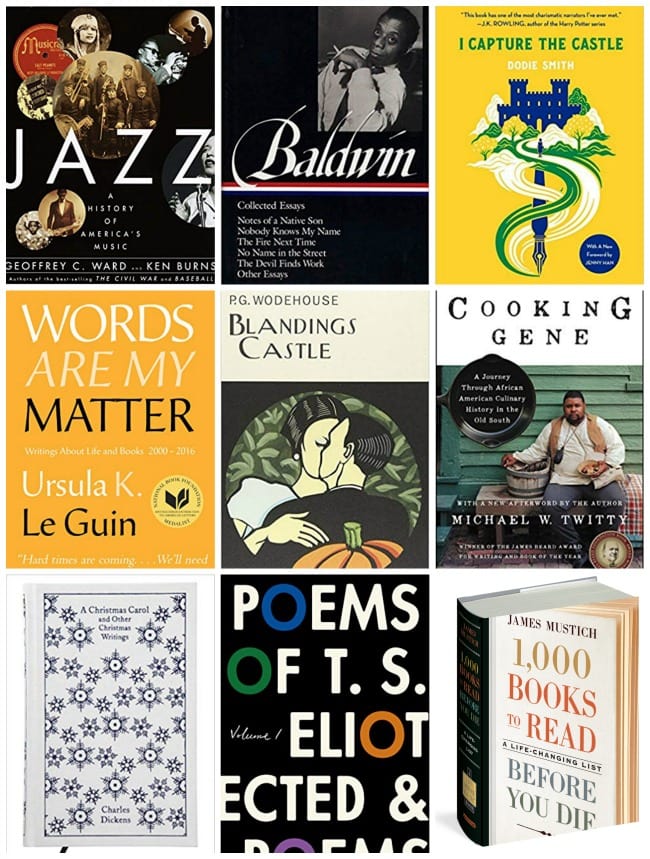 BOOK IDEAS
Ken Burn Jazz (affiliate link) – A great book on the history of jazz (there is also the documentary (affiliate link) to go with it).
Library of America Books (affiliate link) – A great series, focusing on famous American writers. Check out James Baldwin, Flannery O'Connor (affiliate link), John Steinbeck, Fredrick Douglass, Abraham Lincoln, American Poetry… there are hundreds to choose from!
I Capture the Castle by Dodie Smith (affiliate link) – I read this book for the first time this year, and fell in love with it immediately. It is charming and quirky, and I highly recommend it.
Words Are My Matter by Ursuala K. Le Guin (affiliate link) – Le Guin's essays are so thoughtful and beautiful.
Blandings Castle by Wodehouse (affiliate link) – I'm a big fan of Wodehouse, and read through the Blandings Castle series this past year; a total delight (the Jeeves series (affiliate link) is also worth reading).
Cooking Gene by Michael W. Twitty (affiliate link) – An important read, and also a James Beard book of the year winner.  "As he takes us through his ancestral culinary history, Twitty suggests that healing may come from embracing the discomfort of the Southern past. Along the way, he reveals a truth that is more than skin deep—the power that food has to bring the kin of the enslaved and their former slaveholders to the table, where they can discover the real America together."
A Christmas Carol by Charles Dickens (affiliate link) – Penguin classics has a clothbound collection of books, with gorgeous covers perfect for gift giving. Dickens is of course a classic (and this is a lovely collection), but also check out Great Expectations, (affiliate link) Moby Dick (affiliate link), Emma (affiliate link), Oliver Twist (affiliate link), Sherlock Holmes (affiliate link), Dracula (affiliate link), and The Count of Monte Cristo (affiliate link).
Collected and Uncollected Poems by T.S. Eliot (affiliate link) – I love T.S. Eliot, and this is a good collection and commentary of his work.
1,000 Books to Read Before You Die by James Mustich (affiliate link)- Not sure what to read? Here's a book about books! I'm working my way through this one now, and have so many books on my must-read list.