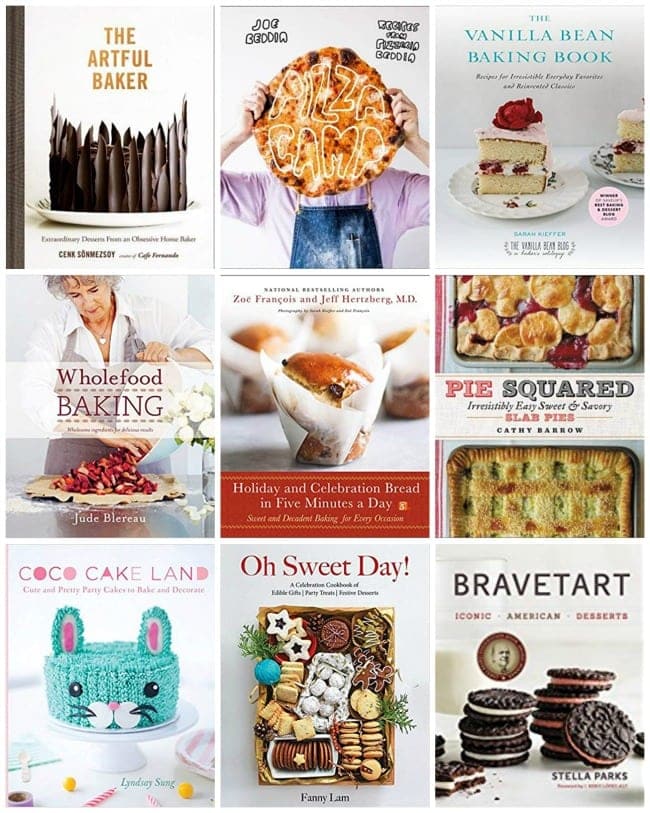 I have a two-part gift guide for you. Today is my favorite baking books of the year and favorite kitchen items. I'll be back soon with more!
***(Also: Holiday Playlists! On Spotify: My Holiday Mix from last year is here. My Classic Christmas Mix is here. And my Quiet Christmas Mix is here.) On Apple Music: Christmas Fun, Ease Into Christmas, Ease Into Christmas (Jazz and Classics Edition), and Christmas Albums.
FAVORITE BAKING BOOKS
The Artful Baker by Cenk Sönmezsoy (affiliate link) – This book is the "inspiring story of a passionate home baker, beginning with his years after graduate school in San Francisco and showcasing the fruits of a baking obsession he cultivated after returning home to Istanbul." The book is filled with gorgeous photos and incredible baking creations.
Pizza Camp by Joe Beddia (affiliate link) – I have been highly enjoying this cookbook – the recipe for Beddia's pizza crust is incredible, and the pie fillings and topping combinations are creative and delicious.
The Vanilla Bean Baking Book by Sarah Kieffer (affiliate link) – Yes, I snuck my own book in here. But, it does contain all my favorite recipes, and I use them all the time in my own kitchen. You can find my Pan-Banging Chocolate Chip Cookies in here, but my other favorites are Pumpkin Scones, Burnt Honey Buttercream, Quick Danish Dough, and Peach Caramel Pie.
Wholefood Baking by Jude Blereau (affiliate link) – The first time I ever looked through one of Jude's books was at the Blue Heron Coffeehouse – Larry and Colleen always have a great collection of cookbooks they are inspired from, and they were big fans of her work. I always know to trust their insight, and fell in love with Wholefood Baking for myself. Many of the recipes are gluten, nut and dairy-free and use whole and semi-refined flours and sugars. Jude also gives advice on how to convert your favorite recipes using whole ingredients.
Holiday and Celebration Bread in Five Minutes a Day by Zoe Francois and Jeff Hertzberg (affiliate link) – Another great bread book from the Bread in 5 team. I was lucky enough to work with Zoe on this one, and did many of the photographs for the book. I've also taste tested many of the recipes (such as these panettone swirl buns), and they are all spectacular.
Pie Squared by Cathy Barrow (affiliate link) – I love pie baking books, and this one is no exception. Barrow made a whole book of slab pies, and it is one to have on your shelf. I especially like the Danish Slab Pie, but there are many other recipes as well: seventy-five foolproof recipes, along with inventive decoration tips that will appeal to baking nerds and occasional bakers alike.
Coco Cake Land by Lyndsay Sung (affiliate link) – the cutest cake book! I am in love with all of Lyndsay's cakes, and this book has so many of them among the pages. "You'll find blue bears, pink cats, pandas, and foxes, along with buttercream rosettes, drippy ganache, and rainbow layers. With base recipes for cakes and frostings, tutorials on decorative piping and creating fondant features, as well as instructions for crafty finishes like washi tape flags and paper toppers, this book has everything you need to create colorful, cute, and completely unique cakes."
Oh Sweet Day! by Fanny Lam (affiliate link) – A lovely collection of baking recipes, edible gifts, and party food. "Fanny uses simple, familiar ingredients to create delectable desserts that are too lovely to eat and too delicious not to." Perfect for the Holiday season.
Brave Tart by Stella Parks (affiliate link) – Here it is, the baking book of 2018. Stella's book is a masterpiece, with so many recipes that won't steer you wrong. "Yet BraveTart is much more than a cookbook, as Stella Parks delves into the surprising stories of how our favorite desserts came to be, from chocolate chip cookies that predate the Tollhouse Inn to the prohibition-era origins of ice cream sodas and floats." (Also, my grandmother's last name is Parks; maybe we're related?)
A few others I love: Bake From Scratch has a lovely volume of recipes; also a magazine subscription would be a great gift. Cherry Bombe Magazine would also be another great gift.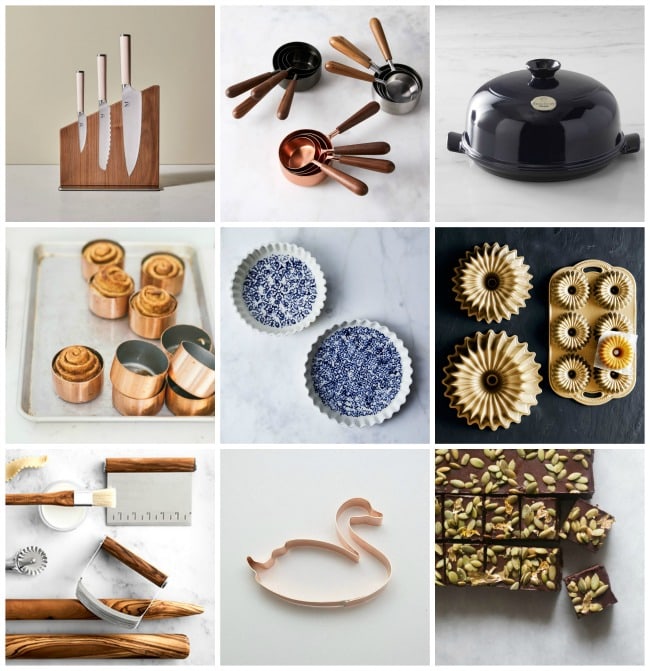 KITCHEN FAVORITES
Material Knives – I've owned a set of Material Knives for a year now, and I can honestly say they are my favorite to work with. They have three layers of Japanese steel, a razor sharp edge, are perfectly balanced, and have a comfy grip. Also, you can get them in pink! (Don't worry, they have other colors too, if pink isn't your thing.)
Measuring Cups with Teak Handles – I have a pair of these and they are absolutely beautiful. I found them a few years ago at a local gift shop, but now they are also available online. "A hit mashup of metal and warm-toned wood, these acacia-handled beauts are pretty enough to hang up in plain sight but they'll also nest up in a pinch and stow away in a baking drawer."
Emile Henry Bread Cloche – I love my bread cloche, and use it often when making boules. "Crafted in France, the ceramic baker absorbs and retains heat evenly while redistributing the steam released by the dough as it cooks. This yields an artisanal round loaf with a moist and tender interior, a light crumb and a chewy evenly browned crust."
Mauviel Mini Souffle Molds – I adore these molds, and use them for so much more than souffles; I've made cinnamon buns, caramel rolls, and pumpkin muffins in them. They help caramelize the sides while keeping the centers soft, and are beautiful to work with.
Stoneware Pie Plates – I've been dreaming about these beautiful pie plates for years; maybe Santa will finally bring them this December.
Nordic Ware Brilliance Bundt Pan – "Inspired by faceted gems, this Bundt pan creates a cake that will dazzle guests at birthday parties, holiday gatherings and baby showers. The cast-aluminum pan features an exclusive nonstick finish, so the cake releases with its details intact, ready for a simple glaze or a dusting of confectioners' sugar."
Baking and Pastry Tools from Williams Sonoma – A gorgeous collection of baking tools; perfect for the baker on your list.
Fussy Pup Copper Cookie Cutters – (affiliate link) Lovely copper cookie cutters in so many unique designs! Swans, dragons, puppies, rainbows, silhouettes, as well as many Christmas related cutters.
Edible Gold Leaf Sheets – (affiliate link) A beautiful way to decorate your holiday baking (as seen above on Zoe's No-Bake Pepita Crunch Bars, which would also be a great treat to bake this Christmas).