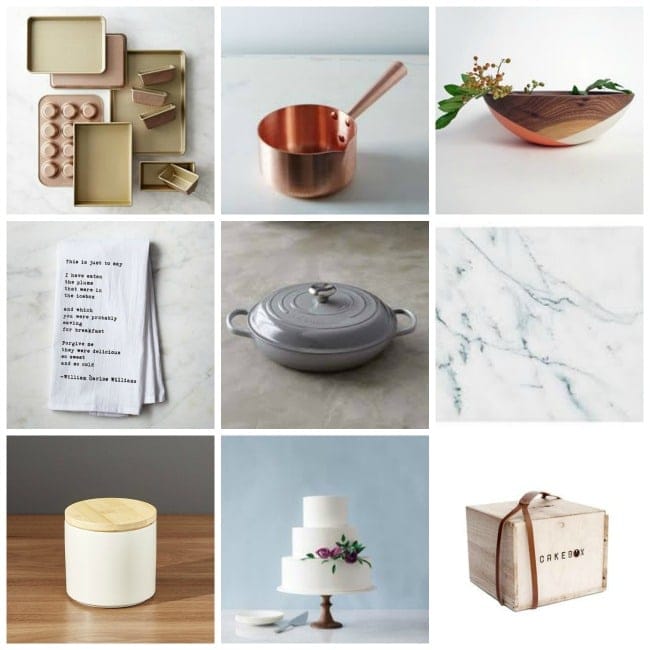 Part two of my gift guide, featuring my kitchen favorites!
KITCHEN FAVORITES
There are a lot of kitchen items that are my favorites. Too many items, probably. But here's a little list of some things I love – some practical, some just because.
Goldtouch Pans – Williams-Sonoma's goldtouch line is my favorite for baking. Falling somewhere between light and dark metal, they keep baked good from over baking, while still giving them some browning.  I love them especially for layer cakes (8-inch pans) and brownies (9×13).
Copper Sugar Saucepan – Maybe not a necessity, but this gorgeous pan by Mauviel is sure nice to have on hand. I use it for making Italian buttercream, mostly.
Walnut Wood Bowl – I've known Araya, owner of Willful, for awhile now, and have always been obsessed with her beautiful wood bowls. This one is a particular favorite. I use them as serving dishes, and in the kitchen baking. She also has lovely smaller ones here.
'This Is Just To Say' Tea Towel – William Carlos Willams on a tea towel? Yes, I want that hanging in my kitchen always.
Le Creuset Cast-Iron Braiser – I have expressed my love for this braiser pan many times, but it really is my most loved, most used pan. I highly recommend it. I have one in white, but I think this grey is beautiful, too.
White Marble Slab – If you don't have a good surface for rolling out dough, I highly recommend getting a marble slab. I use mine all the time. It keeps the dough chilled longer, and cleans up easily. Also, it's much, much cheaper than installing marble counter tops.
Silo Canisters – I really love these canisters. They look great, they are stackable, and they keep food fresh. I have flour, sugar, oats, chocolate chips, and all kinds of other goodness in mine.
Aheirloom Cake Stand – I have two of these cake stands, and use them all the time. They come in all different sizes and base shapes, and make a decorated cake look even more gorgeous.
Cakebox – I love all the wooden carrying boxes from this company. And who doesn't want to be gifted a big, beautiful box filled with chocolate cake?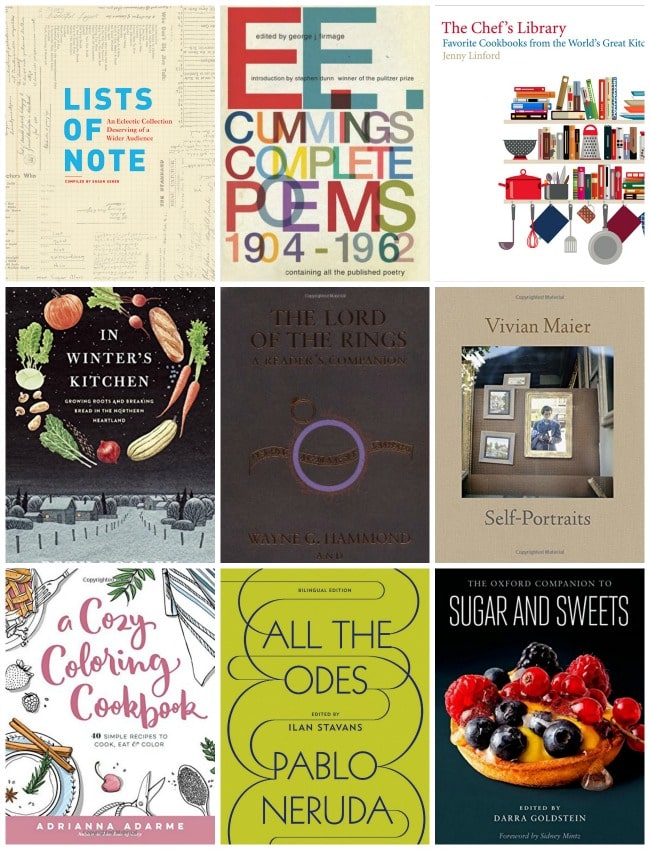 FAVORITE BOOKS (NOT COOKBOOKS)
Lists of Note by Shaun Usher – A fun and interesting collection of… lists. But not just any lists, lists by Albert Einstein and F. Scott Fitzgerald and JFK's secretary. Usher also wrote Letters of Note, which is another great book, and both make perfect gifts for just about anyone.
Complete Poems by e.e. cummings – I fell in love with poetry in 9th grade, after reading a section on Mr. cummings in my English text book. His poems are thoughtful, playful, and fun, but also serious and unafraid at times, too. Here are all his poems, in one volume.
The Chef's Library by Jenny Linford – Ever wonder what cookbooks line the shelves of your favorite chef's kitchen? Now you can get a glimpse. A great coffee table book, and after paging through it, I've added too many cookbooks to my wish list.
In Winter's Kitchen by Beth Dooley – A thoughtful look at the food movement in the Heartland. 'Using the story of one thanksgiving meal, Dooley discovers that a locally-sourced winter diet is more than a possibility: it can be delicious.' This book inspires one to not only think, but to also get in the kitchen and cook.
The Lord of the Rings Reader Companion by Wayne G. Hammond and Christina Scull – This book is amazing – a detailed look at the 'literary and historical influences on the development of The Lord of the Rings, connections between that work and other writings by Tolkien, errors and inconsistencies, significant changes to the text during its fifty years of publication, archaic and unusual words used by Tolkien, and words and passages in his invented languages of Middle-earth.' Complete nerdery. And I mean that as a compliment.
Vivian Maier: Self-Portraits – I love Vivian Maier's photography – her street photography and self-portraits are incredible. This book is a beautiful collection, and paging through it always inspires me to pick up my camera. If you don't know of her work, I highly recommend checking out the documentary about her work.
A Cozy Coloring Book by Adrianna Adarme – Have you ever wanted to color in your food photography? Well, now you can. Adrianna's lovely coloring book is the perfect way to spend snowy winter afternoons by the fire. Both my daughter and I are smitten with it.
All The Odes by Pablo Neruda – Another lovely poetry collection. Neruda's Odes are my favorite – everything has an ode,  from lemons and cats and socks to aging and common things and the present. The table is already set, | and we know the truth | as soon as we are called: | whether we're called to war or to dinner | we will have to choose sides, | have to know | how we'll dress | to sit | at the long table, | whether we'll wear the pants of hate | or the shirt of love, freshly laundered. – Ode to the Table
The Oxford Companion to Sugar and Sweets by Darra Goldstein – A must-have for any food lover, and especially one partial to sweets. 'The Companion takes readers around the globe and throughout time, affording glimpses deep into the brain as well as stratospheric flights into the world of sugar-crafted fantasies. More than just a compendium of pastries, candies, ices, preserves, and confections, this reference work reveals how the human proclivity for sweet has brought richness to our language, our art, and, of course, our gastronomy.' I'm always reading it.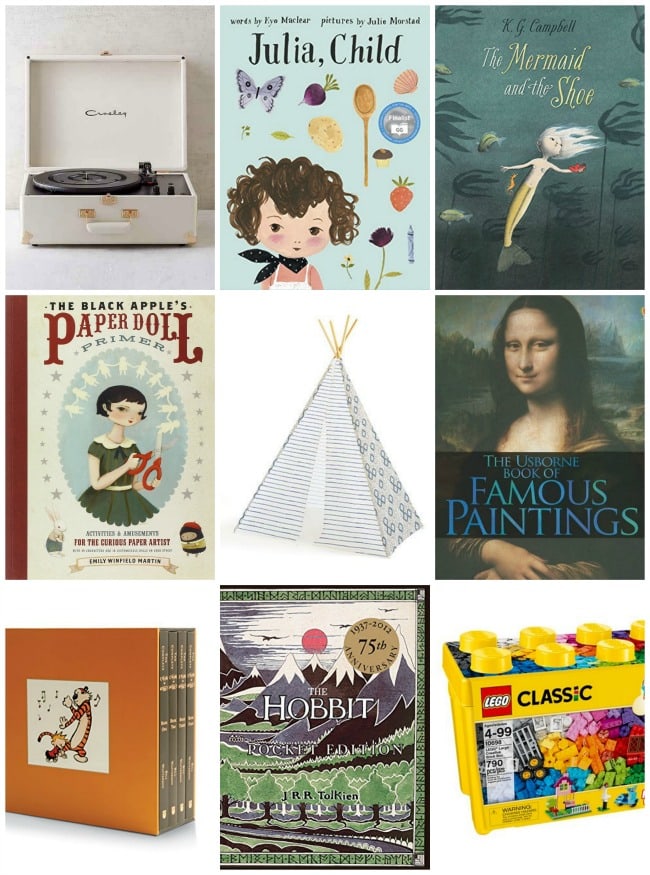 KIDS GIFTS
Portable Record Player – I acquired this portable record player recently, and my kids have loved listening to music and stories on it. I pick up old vintage records at the thrift store here and there, and they have a little collection of favorites. We move it around a lot – in the summer, it stays on the porch and in the winter, we have it tucked away by the Christmas tree. This model is pretty but pricey; there are plenty of cheaper ones out there, too.
Julia, Child by Kyo Maclear – One of my favorite kids books. The illustrations are done by Julie Morstad, and, like everything else she illustrates, they are gorgeous. The book imagines Julia Child and her dear friend, Simca, as children in the kitchen.

The Mermaid and the Shoe by K.G. Campbell – Another beautiful book. about Minnow the mermaid, who is trying to figure out what sets her apart from all her super-talented sisters.
The Black Apple's Paper Doll Primer by Emily Martin – The loveliest paper dolls you ever saw, all tucked away in this little book. You might want to buy two copies – one for cutting, and one for looking through on quiet afternoons with your littles.
Kids Tent from Minted – Imagine the loveliest spot to curl up in? Piled high with blankets and pillows and all your favorite books? As a child I would have gone crazy over a space like this, and I'm planning on surprising my kids with one this holiday season. We'll snuggle in and and read our favorite books from above, as well as to take time to read about Native Americans and what it was like to live in our own state of Minnesota before white settlers appeared. This book looks like a good starting point. (Please note: the cut off for ordering a pre-styled tent is December 21st.)
Usbourne Book of Famous Paintings – Usbourne has some fantastic educational books, and this is one of my daughter's favorite past times. She loves to paint and draw, and often pages through this book for inspiration. The paintings are shown in full, along with information on the artist, the paint/mediums/techniques used, and any historical context that is important. I love reading it with her because I learn something new every time.
The Complete Calvin and Hobbes by Bill Watterson – My husband recently bought this collection for my kids – he was an avid Calvin and Hobbes fan as a child, and wanted the comics to be a part of their world. They spend hours pouring over the books – a lot of it still goes over their heads, but the drawings are engaging, and it's sparked a lot of interesting conversation about what people believe and how the world works. I've enjoyed rereading them again, too.
The Hobbit by J.R.R. Tolkien – I couldn't not include a Tolkien book. Plus, I am reading this for the first time to my children, and they are enjoying it so much, I had to encourage all of you to do the same if you haven't yet. A classic.
Classic Legos – My son is obsessed with legos, and spends much of his free time building anything and everything. For a few years it's been impossible to find anything but sets for a specific line (star wars, ninjago, etc)- and while those are fun, often my kids just want to free build. My daughter pointed this huge box out to me recently – it even contains pink and purple legos, and it might just end up under the tree.
Also, don't forget about my Holiday playlist over on Spotify!