January is almost over, and I've officially caught my first cold of 2016. Somehow I squeaked through the first half of winter without one, but alas, I'm currently curled up on the couch with a box of kleenex. This means, however, I can perhaps do some catch up in internet land. It's been slow around here (you, ah, might have noticed) as I've been finishing up work on my cookbook.
A little bit of blog news: The United Nations is celebrating the International Year of the Pulse, and I've just taken the Pulse Pledge, committing to eat pulses once a week for the next year. Pulses are beans, chickpeas, lentils and dried peas; leguminous crops that are good for your health and good for the environment.
I'll be posting recipes involving them periodically this year, incorporating pulses not only in my savory cooking, but baking recipes as well. That may sound scary, but I promise it's not.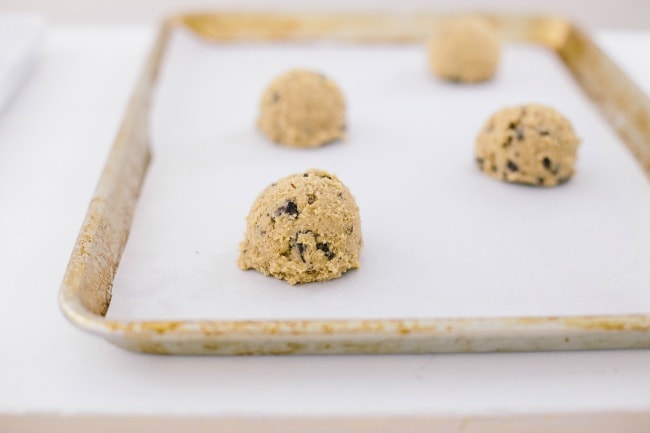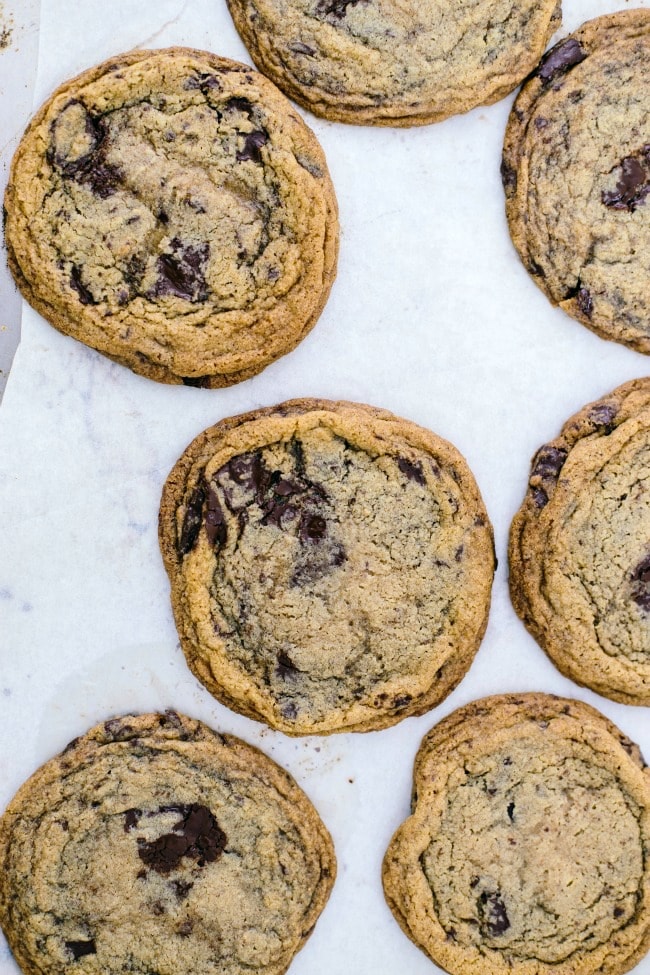 Chocolate Chip Cookies made with Chickpea Flour
I was interested in the Pulse Pledge for two reasons. First, writing a cookbook based completely on sweet treats means my diet this past year has been less than stellar. Of course, we all know it's not the cookbook's fault, but nevertheless, I'm looking to eat healthier.
Pulses are a good place to start, and I want to integrate them into my meals. Second, trying to incorporate legume flours into baking recipes is an interesting challenge, and I decided I'm up for it. I'm not looking to totally replace all-purpose flour in my baked goods, but wanting to add pulses to our diet in a simple way that will taste delicious and not be a lot of extra work.
Flour is an easy way to do this, and so far I've had good luck adding a few different flours to recipes I already love.
My first recipe is this chocolate chip cookie, made with the addition of chickpea flour (also called garbanzo bean flour). Chickpea flour has strong flavor, and is usually used in savory baking and cooking.
I did some research and recipe testing to discover that the harsh notes in this flour can be tamed by a few baking items:
brown sugar
molasses
chocolate
cinnamon
I also found that toasting the flour prior to using it can help mellow the flavor, which adds delicious taste without overpowering the cookie. I revamped a favorite recipe with good results. So good, in fact, that my kids each gobbled one up and said they were delicious, and my father-in-law took some to a group meeting and reported back that they were gone in minutes and everyone had great things to say about them.
So! here's a good way to add pulses to your diet. If the Pulse Pledge sounds interesting to you, you can read more about it here. It's a 10 week commitment, and it doesn't require elaborate baking: a serving of hummus and a bowl of soup are good ways to take them in, too.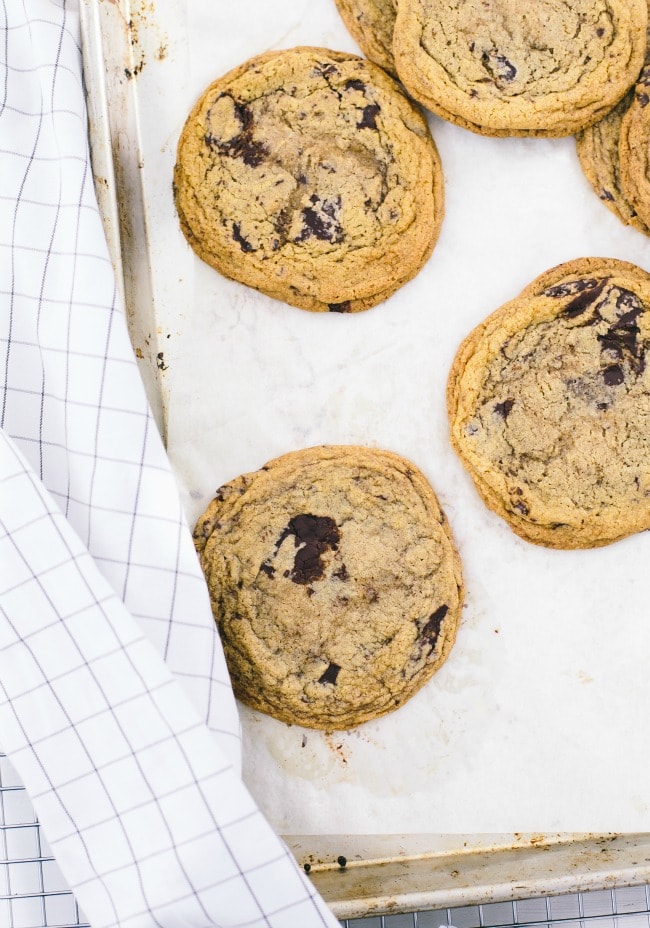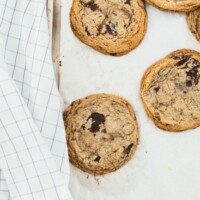 Unique Chocolate Chip Cookies (made with chickpea flour)
Chickpea flour is flavorful, so I feel less is more in this application. It has a slight grassy flavor, and I found toasting the flour and using brown sugar and molasses helped tame the earthy taste. Chickpea flour does not taste great raw, so the raw dough will not be one to nibble on. However, the finished cookies have a unique, delicious flavor.
Print
Pin
Rate
Ingredients
1/3

cup

34g chickpea flour

1 3/4

cups

249g all-purpose flour

½

teaspoon

baking soda

¾

teaspoon

salt

1

cup

226g unsalted butter, room temperature

1 ½

cups

297g brown sugar

¼

cups

50g granulated sugar

1

tablespoon

molasses

1

tablespoon

water

1 ½

teaspoon

pure vanilla extract

1

large egg

6

ounces

170g bittersweet chocolate, chopped into bite-sized pieces
Instructions
Preheat the oven to 350°F and adjust an oven rack to the middle position. Line two baking sheets with the dull side of tinfoil.

Place the chickpea flour in a small skillet and toast over medium heat, until the flour turns light golden brown and begins to smell 'toasty', 3-5 minutes. Take off the heat and move the flour to a small bowl. Set aside to cool.

In a small bowl, whisk together the all-purpose flour, cooled chickpea flour, baking soda, and salt. Set aside.

In the bowl of a standing mixer, beat the butter on medium until creamy. Add both the sugars, and beat again until light and fluffy, about 3-5 minutes. Add the egg, vanilla, molasses, and water, and mix to combine. Add the flour mixture, and mix on low until combined. Add the chocolate and stir into batter.

Use a scoop or spoons to form balls, 3 ounces each (about 1/4 cup in a dry measuring cup). Place 6 on each baking sheet, and place the pan in the freezer for 15 minutes. When the cookies have chilled, bake the sheets one at a time (you can put the second sheet in the freezer while the first sheet is baking). Halfway through baking, rotate the pan. Bake until the cookies' edges are set and golden brown, and the center is still underdone, 12-15 minutes. Remove from the oven and set the pan on a wire rack to cool. Let cookies cool completely on the pan.
Notes
When the edges of your cookie begin to set and the center is puffed (about 8 minutes into baking), lift the pan slightly in oven and let fall back down. This will help to create a nice ridge on the edge of your cookies.
Using the dull side of tinfoil to bake these cookies is a little trick I learned after hearing Alice Medrich speak. The tinfoil helps make for an extra crisp, golden brown bottom. Parchment paper can also be used with good results.