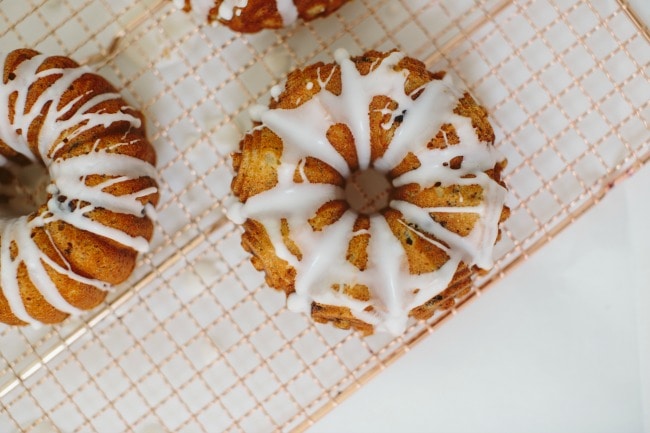 Somehow summer is sneaking out the back door. Once again, I'm not ready for the seasons to change, and I'm hanging on to every last berry and stone fruit, every ray of warm sunlight with all my might. I'm just not ready to stop baking with seasonal summer fruit. I've also rediscovered my love of the Bundt – buttery cake made in a pretty pan works for me. Plus, they are acceptable at all times, as they can be used for breakfast, brunch, snacking, or dessert. I've made these particular poppy seed bundts with cherries and poppy seeds, a combination I fell in love with after reading Yossy's beautiful cookbook. These mini cakes are moist, with faint lemon flavor and plenty of sweet cherries.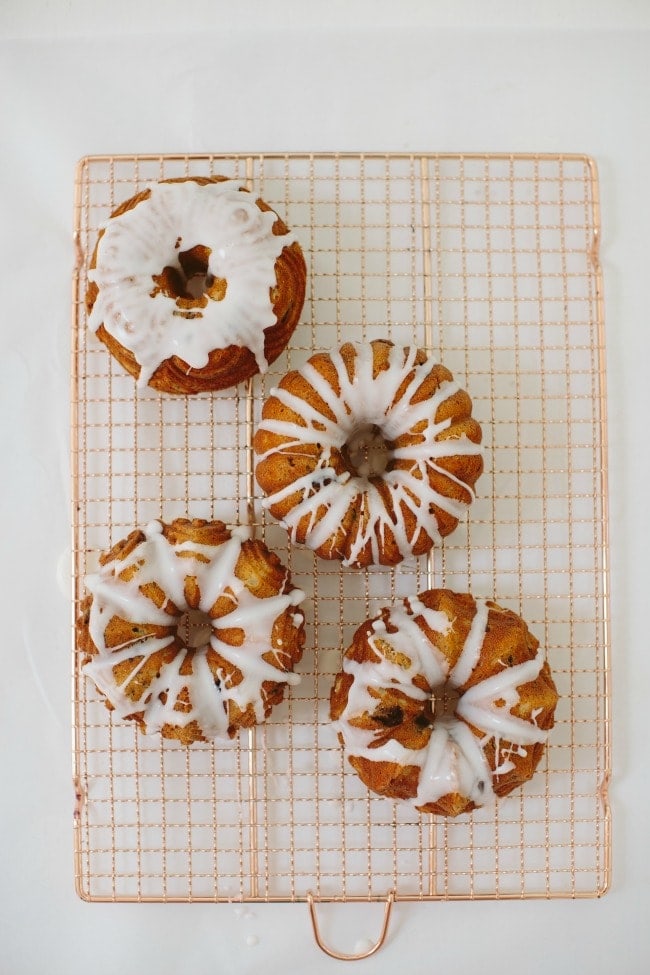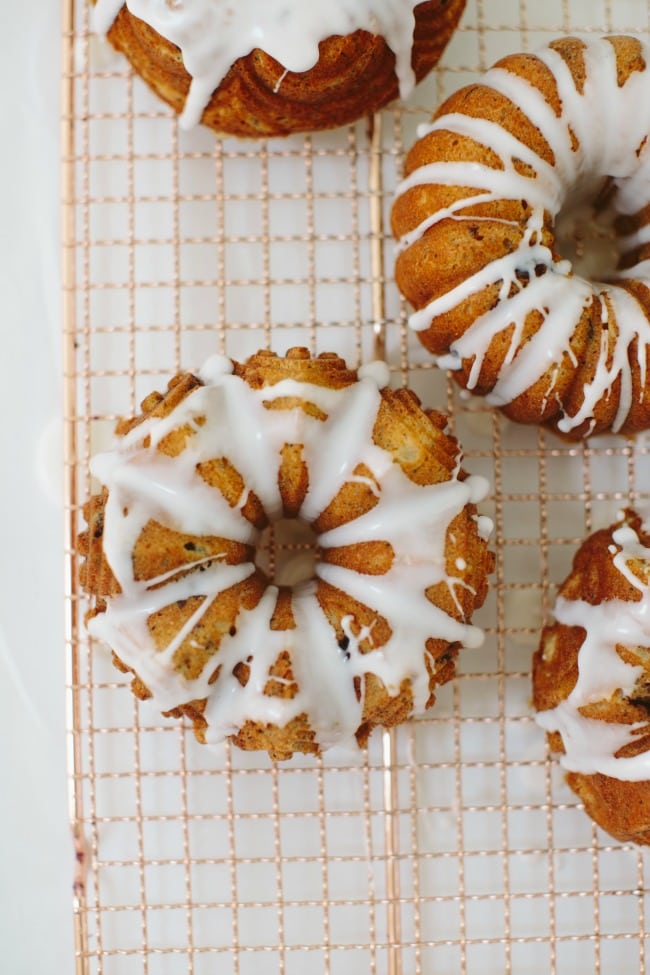 These Bundt cakes are also another baking recipe I've created as a Pulses Ambassador this year. The United Nations has declared 2016 the International Year of the Pulse, and I've taken the Pulse Pledge, committing to eat pulses once a week for the next year. Pulses are beans, chickpeas, lentils and dry peas; leguminous crops that are good for your health and good for the environment. I'll be posting recipes involving them periodically this year, incorporating pulses not only in my savory cooking, but baking recipes as well. I'd love for you to join me! If the Pulse Pledge sounds interesting to you, you can read more about it here. It's a 10 week commitment, and it doesn't require elaborate baking: a serving of hummus and a bowl of soup are good ways to take them in, too. Also check out my Vanilla Lavender Cupcakes.
This post was sponsored by USA Pulses & Pulse Canada. All opinions are my own.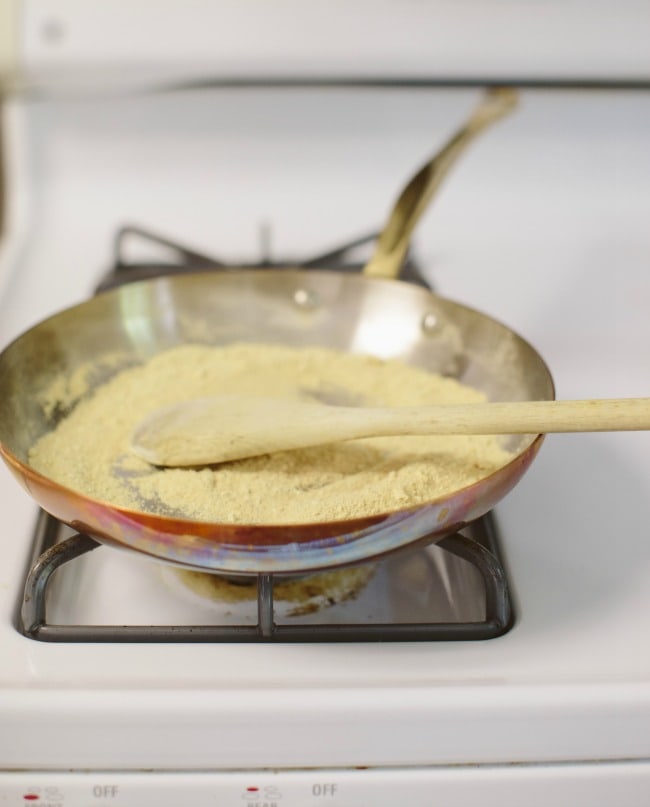 Cherry Poppy Seed Bundt Cakes with Yellow Pea Flour
This recipe is inspired both by these mini bundts from Heartbeet Kitchen, and this pound cake from Yossy's new book. It is slightly adapted from Nordic Ware. I used this mini bundt pan from Nordic Ware – I had a little batter left over, and baked the rest in another small pan I had.
2 ½ cups (355g) all-purpose flour
1/3 cup (47g) yellow pea flour (store bought or homemade, see below)
1 ½ teaspoon baking powder
¼ teaspoon baking soda
½ teaspoon salt
3 tablespoons poppy seeds
1 cup unsalted butter, room temperature
1 ¾ cup (347g) granulated sugar
Zest of one lemon
4 large eggs, room temperature
1 teaspoon vanilla
2 tablespoons lemon juice
1 tablespoon kirsch (optional)
½ cup whole milk
½ cup sour cream
2 cups sweet cherries, pitted and chopped
To Toast the Yellow Pea Flour:
Place the pea flour in a small skillet and toast over medium heat, stirring frequently, until the flour turns light golden brown and begins to smell 'toasty', 3-5 minutes. Take off the heat and move the flour to a small bowl. Set aside to cool. (Toasting the flour prior to using it can help mellow the flavor, which adds delicious taste without overpowering the cake. Also note yellow pea flour does not taste great raw, so the raw dough will not be one to nibble on).
Adjust an oven rack to the middle position. Preheat oven to 350°F. Grease 4-5 mini Bundt pans, or one 12-cup Bundt pan.
In a large bowl, whisk together the flours, baking powder, baking soda, salt, and poppy seeds.
In a bowl of a stand mixer fitted with a paddle, beat the butter on medium for one minute. Add the sugar and lemon zest mix again until light and fluffy, 2-3 minutes. Add the eggs one at a time, mixing well after each addition and scraping down the bowl as needed. Add the vanilla, lemon juice, and kirsch (if using), and mix on low until combined. Add half of the flour mixture, and mix on low until combined. Add the sour cream and milk, and mix again until combined. Add the remaining flour mixture and mix on low until just combined. Add the cherries and mix on low until just combined.
Pour into the prepared pans and bake for 25-35 minutes or until toothpick inserted in center comes out clean. Cool 10 minutes in pan. Turn out onto rack. Cool another 10 minutes before glazing.
Glaze
1 cup (113g) confectioner's sugar
2-4 tablespoons water
Place the confectioner's sugar in a bowl and two tablespoons of water. Use a fork or whisk to combine, adding more water until the desired consistency is reached.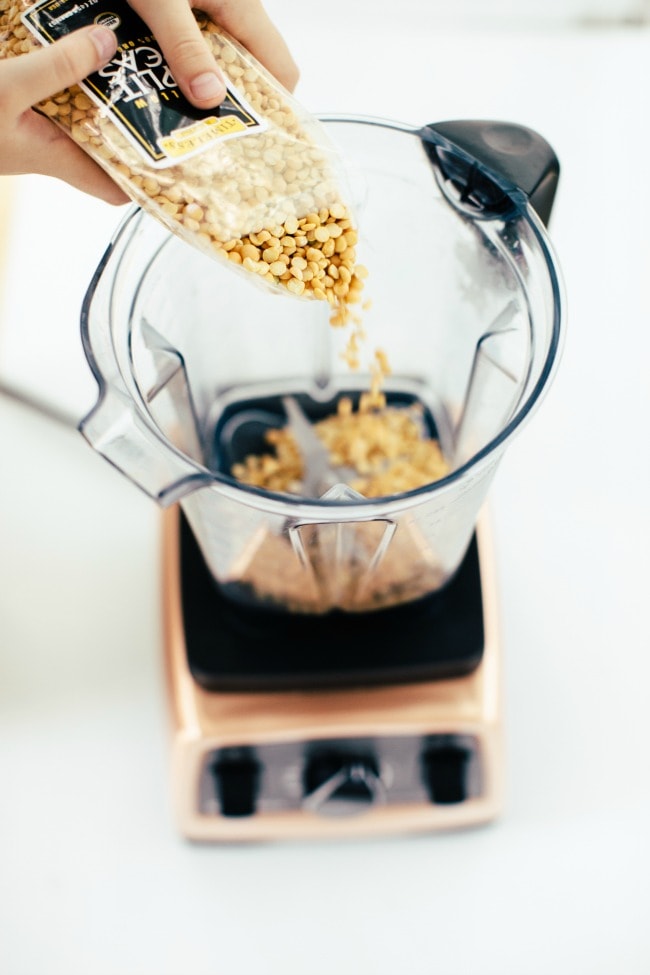 Making your own pea flour
If you have a high powered blender, making your own pea flour is easy to do at home. Add a bag of peas (about two cups) to your blender, and grind until the peas are broken down and a flour forms. I put my flour in a heavy duty ziplock bag and store in the freezer until needed.
Thanks to Williams-Sonoma for providing the Vitamix.
Thanks to Mauviel for the copper skillet.