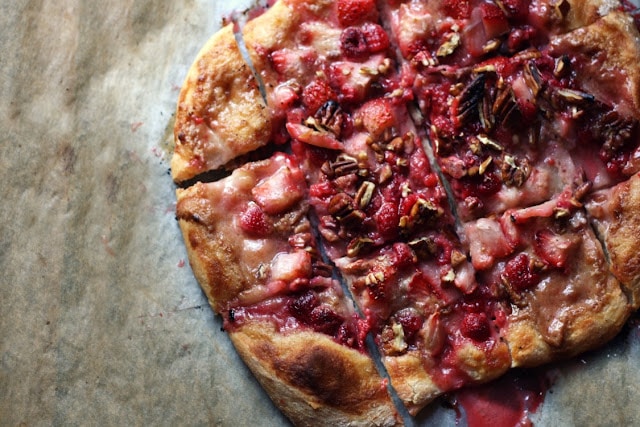 You're probably thinking 'Really? You're trying to pass this off as breakfast?' And my answer is 'Yes, I am.' Does my breakfast consist of some kind of bread and cream cheese every morning? Yes. Do I sometimes throw some fruit in there so I don't feel guilty? Yes. Do I ever wish I could change things up and make something more exciting? Yes. So here you go: breakfast pizza.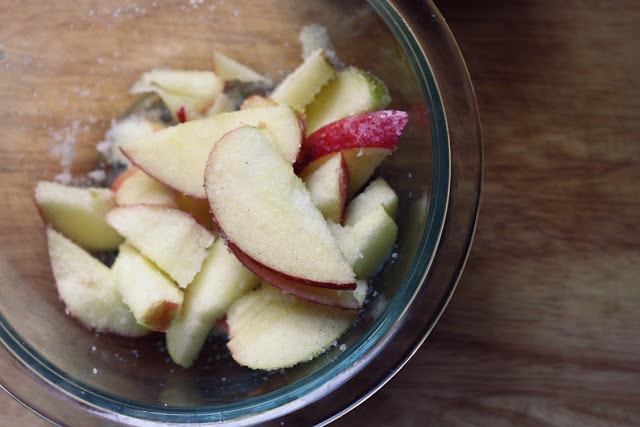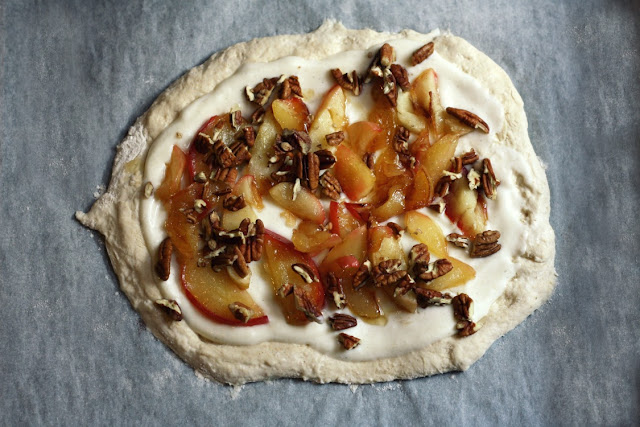 I was inspired by several recipes I saw for breakfast pizza, but wanted to make this an uncomplicated affair. I used the
no knead bread
I have ready in the fridge, to keep things simple.
Crème fraîche
mixed with a little
vanilla bean sugar
or cinnamon spread nicely over that, and I topped it off with some fruit and toasted nuts. Everything baked up nicely: the crust was chewy like a good pizza should be, and the sweet fruit and tangy filling was a perfect compliment. Good Morning.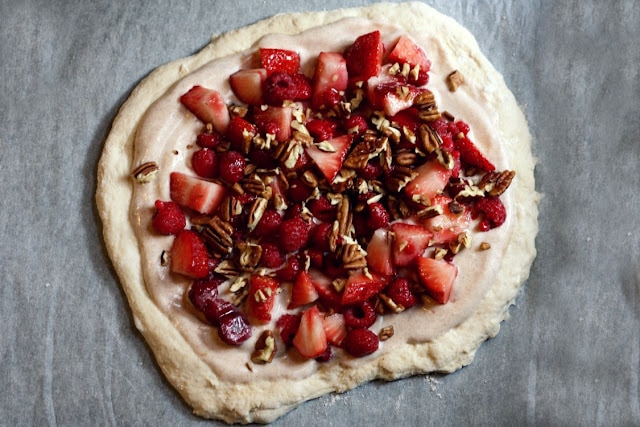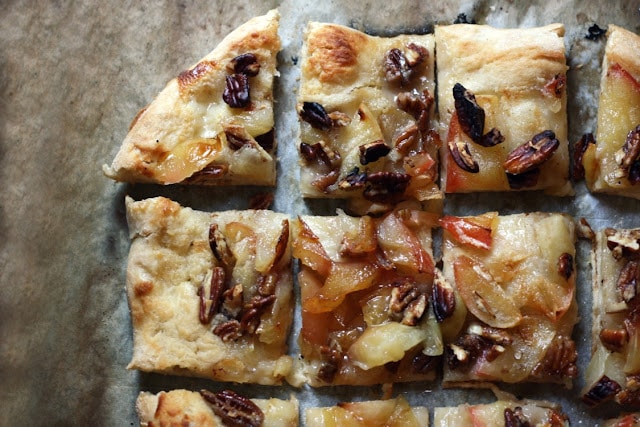 Breakfast Pizza
inspired by Cook Without A Book by Pam Anderson
This pizza can be changed up a lot. If you are looking for something healthier, substitute a whole wheat dough and low fat cream cheese. I used the no-knead dough, and pulled off one heaping cups worth of dough for each pizza. If you are using other pizza dough, one pound will yield 4 pizzas – cut dough into four equal pieces.
filling [enough for 2 pizzas]
1/2 cup [4 ounces] crème fraîche or cream cheese, room temperature.
2 tablespoons honey or sugar
1/2 teaspoon cinnamon or other spice
pizza dough [one pound will make 4 pizzas. see above note for more details.]
2-3 cups fruit [fresh or frozen will work here]
1/2 cup nuts [optional]
Preheat oven to 500 degrees. Place a pizza stone on lowest rack. Mix the cream cheese with honey or sugar and cinnamon or other spices if using. Using your hands, shape pizza round into an large oval on a piece of parchment paper. Spread cream cheese over dough, leaving a small border around the edge. Scatter fruit and nuts over the cream cheese. Using a pizza peel or unrimmed baking sheet, slide parchment paper onto the pizza stone. Let pizza bake until crust is crisp and golden and fruit is bubbling, 13-15 minutes. Drizzle with extra honey if desired.
*The two pizzas pictured are Roasted Apple Honey and Mixed Berry with Cinnamon. I sauteed the apples slices in 1 tablespoon of butter for a few minutes, and used honey for a sweetener. For the Mixed Berry Pizza, I used a combination of raspberries and strawberries and vanilla bean sugar for a sweetener.