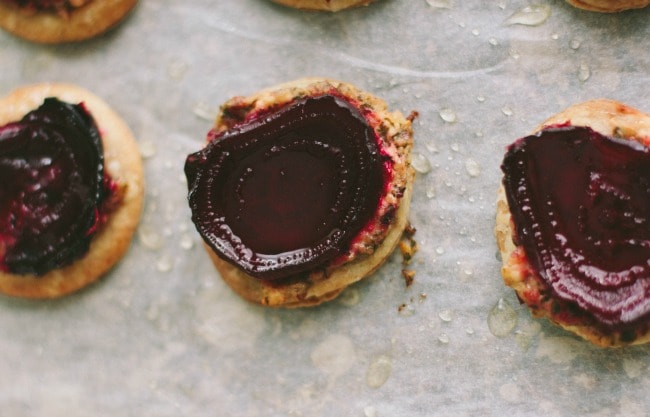 This morning the sun is shinning bright; we bundle up and make our way out to a quiet spot. It is still cold here, but Spring is whispering: her voice in the steady drips from gutters and rooftops. My family walks in single file down a well-worn path of snow; it is barely white but we still hear a faint crunch as our boots tread it. The children talk quietly, pointing out fallen trees and cooing birds. I am walking slowly, last in line. My husband walks before me leaving slushy prints, and I spend a few moments trying to walk in them, feeling such accomplishment when my feet fit just right. My children call to me, worried I am too far behind. It's okay, I answer back, I'm here. As the words leave me I am flooded with  images: faces of our dear ones who no longer have marks to leave in the snow. I feel a rush of panic white-wash me and find I am standing still, so far behind the others. But just then the wind rushes in, and the wind knows me. It slaps against me, so cold, and I am awake again. I look up as it makes its way to the trees; it pushes itself against them, and they bend towards me, they cover me. It is a moment to breathe, to hide, ground myself. Then it is gone. The sky is peering at me again, the sun is so bright, and I find myself squinting. I look down as my son comes to me, his tiny boots in the snow, his soft blue mitten in my hand. He doesn't speak, but I hear him. The adventure is this way, and he leads me on.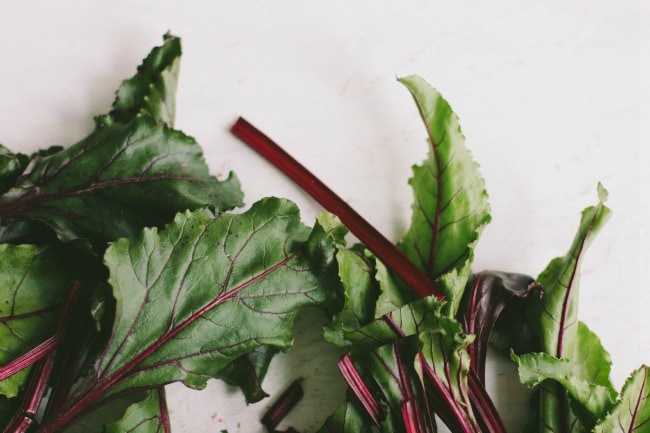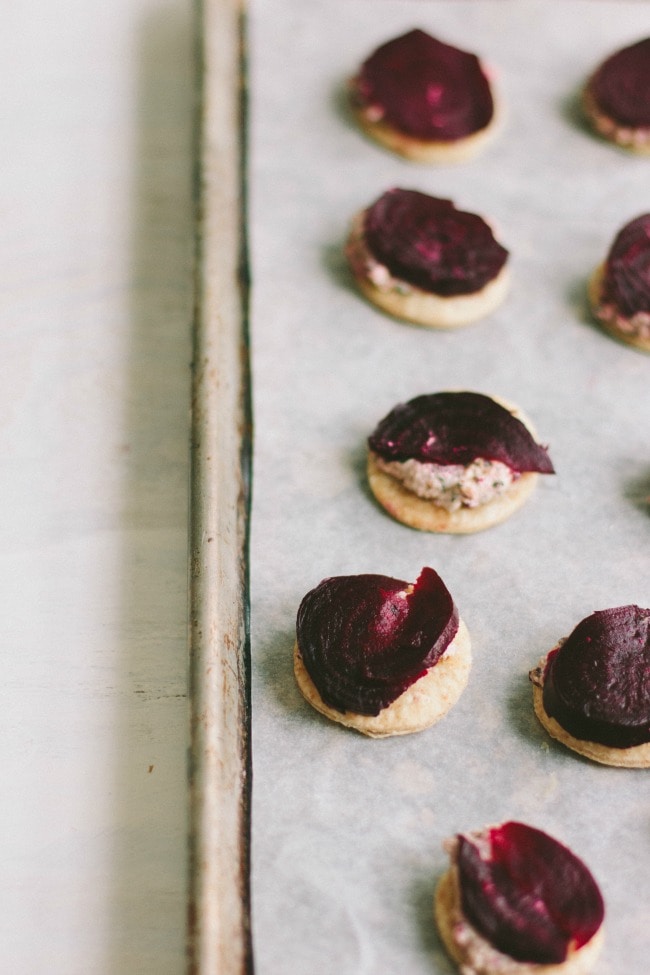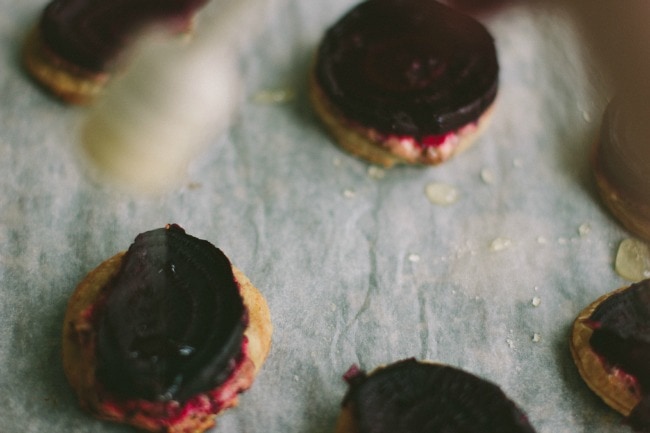 Beet Tartlets with Beet Greens Pesto, Goat Cheese, and Honey on Spelt Pastry
I can only give a guess-tamate on how many tartlets this makes; my children were helping cutting out rounds, and we didn't make as many as we could have. I'm going to guess you will get about 30-35 two-inch tartlets from one round of dough. If you slice your beets very thin, you should be fine with 3-4 beets for one round, also. I only had a few rounds larger than the 2-inch round, but if you have various size biscuit cutters you can cut them to fit your beets to size.
These little tartlets are delicious! The spelt dough puffs up almost like puff pastry, and it is so flaky and buttery. The beet pesto is slightly bitter, but the goat cheese, beets, and honey round it out nicely, making a delicious bite.
roasting the beets
1 bunch of beets (3-4), greens removed and set aside
Trim the beets and wash. Wrap each beet in foil and place on a baking sheet. Bake in a 450 oven for about one hour, until beets are fork tender. Unwrap from foil and let cool. Slice beets into very thin rounds and set aside.
beet greens pesto
This makes much more than is needed, but it can be used on many more things! (Combine it with a little goat cheese and spread on pizza, toss with pasta, add a tablespoon or two to scrambled eggs, spread on sandwiches…) I also didn't add any garlic here – I didn't think it was necessary for these tarts. If you are just going to make the pesto for something else, I would suggest a clove of garlic also.
2 cups beet greens, chopped
1/2 cup walnuts, toasted
1/4 cup grated Parmesan
1/3 cup olive oil
juice from 1/2 lemon
good pinch of salt and pepper
Place ingredients in a food processor and pulse until chopped and combined well.
goat cheese spread
This should be enough spread for one-round-of-dough-worth of tarts.
6 ounces goat cheese, soft
2-4 tablespoons beet greens pesto
Put the goat cheese in a bowl and add 2 tablespoons of pesto. Mix, and add more as desired.
crust
adapted from Good to the Grain by Kim Boyce
I only used one round of dough; the other can be frozen and kept for up to a month. It freezes very well; just remove from the freezer the night before using and keep in the fridge to thaw.
1 cup spelt flour
1 2/3 cup all-purpose flour
1 tablespoon sugar
1 teaspoon salt
12 tablespoons unsalted butter
1/2 cup ice water, as needed
Place the flours, sugar, and salt in a large bowl, and whisk together. Cut the butter into one-inch pieces and add to the bowl. Using your hands or a pastry cutter, work the butter into the flour until it is the size of small peas. Add 1/4 cup of the ice water to the flour mixture, and mix together with a spatula just to moisten the flour. The dough needs to come together in one lump, with a few small, shaggy pieces. If the dough is too dry to come together, add ice water 1 tablespoon at a time until it is ready.
Flour your work space, and transfer the dough to it. Fraisage the dough.
to fraisage the dough
[also, a You Tube video here]
Turn out the dough onto a lightly floured work surface and gather into a rectangular shaped pile. Use the heel of your hand to smear the dough against the work surface. Continue to smear until all the dough has been worked. Gather into a pile again, and repeat. Separate the dough into two equal pieces, wrap each piece in plastic and chill for one hour [or up to 3 days]
to assemble and bake
Preheat your oven to 350 and line two baking sheets with parchment. Roll out the chilled dough into a 1/4 inch-thick round. Using a biscuit cutter (I used a 2 inch cutter), cut out rounds and place them on the baking sheets. Bake the rounds for 6-7 minutes, just until the dough starts to brown (it should be very light) and starts to puff up. Remove from the oven and let cool slightly. Top each round with a teaspoon of the goat cheese spread, and then top each one with a sliced beet, pressing the beet down gently into the spread. Bake 8-10 minutes more, until the pastry edges are light golden brown. Place sheet pans on a wire rack to cool, and then drizzle each round lightly with honey.