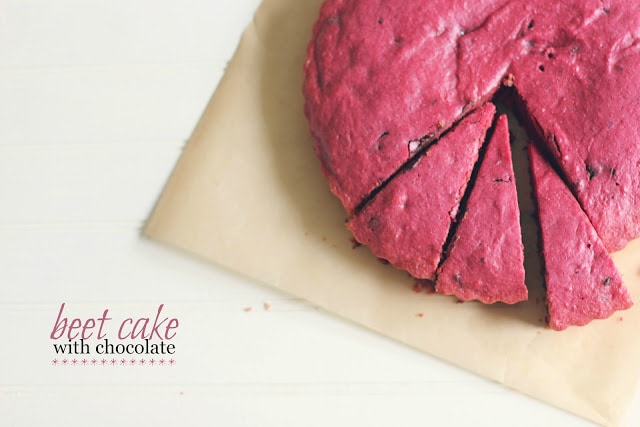 My four year old daughter anxiously turns to me at the dinner table, exclaiming, 'Are my teeth purple yet? Are they purple?' She is grinning, shoveling more and more beets into her mouth, swishing the small pieces around her teeth and tongue and lips, hoping by doing so her entire face will turn a beautiful hue of purply-pink. I can't help but laugh at her excitement, knowing somehow in her mind this root vegetable is magically turning her into some enchanted fairy tale figure, smothered in royal make-up.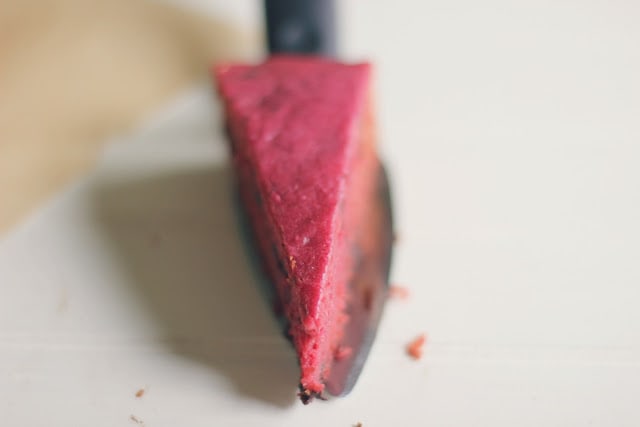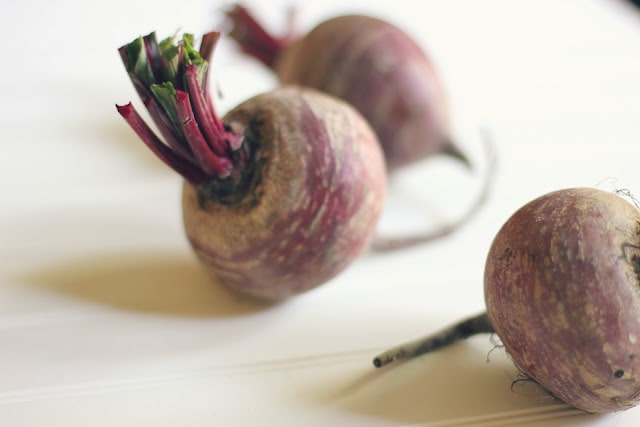 Sadly, that's where our beet adventures usually end. This vegetable makes a great lipstick, but otherwise is passed over by my family, no one caring for it's bold sweetness, it's intensity. So beets are mine to enjoy alone. I love them roasted, warm or cold, in salads and on pizza, but I wanted to celebrate them, make them into a sweet treat, not hidden and muted, but shining and brilliant.
This cake is all about the beets. It's color proudly displays that purple flesh, muted to a bright pink, and it's flavor sings loudly of that insistent and forceful underground beauty. And, as I'm sure you know, chocolate compliments almost everything well, taming things only towards the end of each bite, and adding color and texture. I didn't mind that no one wanted to share this with me. Oh no, I didn't mind one bit.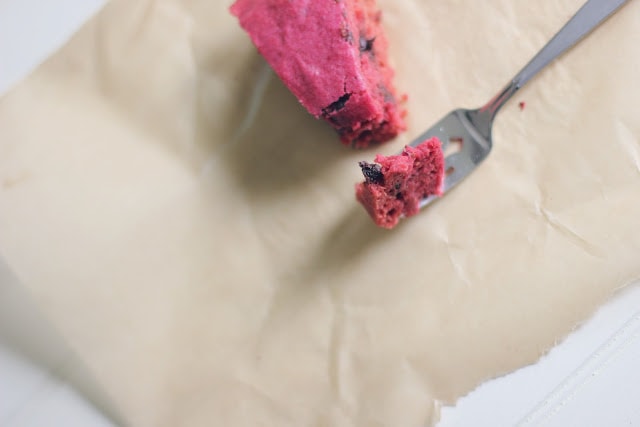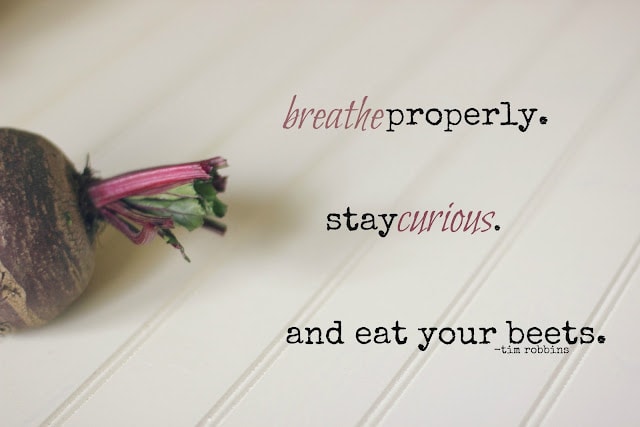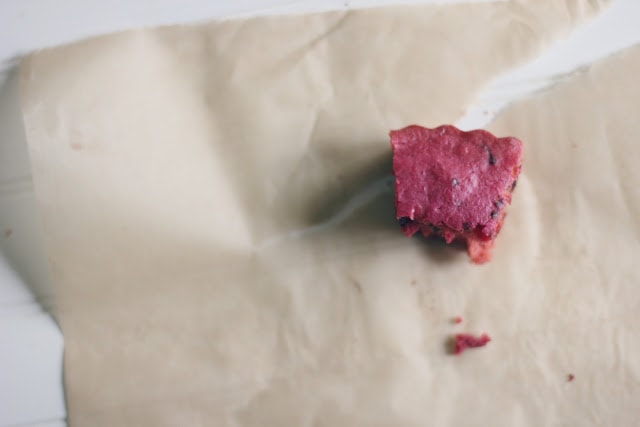 Similar recipes you may enjoy
beet and honey pizza with whole wheat cracker crust 
beet cake with chocolate
If you only sort of like beets, this cake will probably not be for you. This cake is all about beets – the flavor is strong, and mixes fantastically with the chocolate. I loved this cake the first and second day, and it was so-so on day three [but still made a very good breakfast].
*whenever I've made this I've just roasted two medium beets, and used whatever they gave me in the cake. It's usually around a 1/2 cup, but a little more is just fine.
2 medium beets, roasted and pureed [a little over 1/2 cup]*
2 tablespoons honey
1 cup all-purpose flour
1 cup whole wheat flour
1/2 cup sugar
1 1/2 teaspoons baking powder
1/2  teaspoon salt
3 eggs
3/4 cup canola oil
3/4 cup buttermilk milk
1 teaspoon vanilla
6  ounces bittersweet chocolate chopped into 1/2-inch pieces
Trim the beets and wash. Wrap each beet in foil and place on a baking sheet. Bake in a 450 oven for about one hour, until beets are fork tender. Unwrap from foil and let cool.
Lower oven to 350. Grease a 9 inch tart pan .
Whisk the dry ingredients into a large bowl and set aside.
Place the cooled beets in a food processor with the honey, and process until smooth. Add the oil, buttermilk, eggs and vanilla and process until smooth. Transfer mixture to a large bowl, and fold the dry ingredients into the wet, gently mixing until combined. Add the chocolate and mix to combine. Pour the batter into the tart pan, spreading evenly and smoothing the top.
Bake for about 40 minutes, until a skewer inserted into the center comes out clean. Let cake cool in the pan, and gently remove. Cake will keep at room temperature, covered, for two-three days.