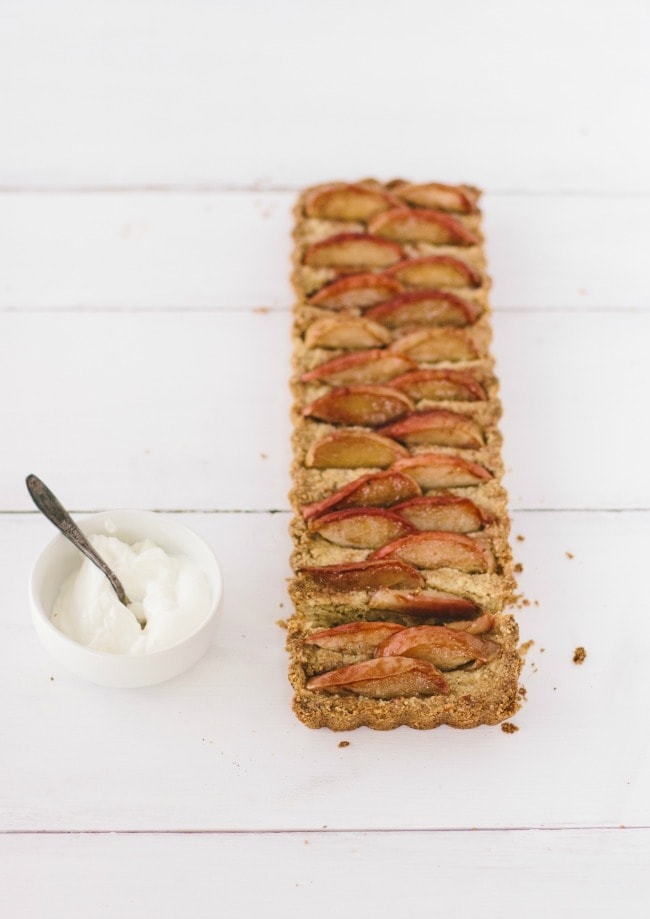 You might have noticed I've had a slew of cookbook giveaways here lately. This summer my inbox was filled with announcements for new cookbooks, and offers to send me a copy or two. I could hardly say no; they were all books I had on my wishlist. Also, getting books in the mail might just be the best thing ever.
It also happened to work out well for my personal life – we were in the middle of a move when the emails rolled in, and here was a string of books with beautiful recipes I could pick from and post about. After our move we settled in to our home only to have major troubles: I was allergic to the musty air in a basement crawl space, and having asthma-like attacks because of it. The last two months have been terribly stressful; so many visits to the doctor, dozens of people in and out of our house trying to give us advice and sell us something that may or may not work, side effects and allergic reactions to medication, and burning anxiety that has kept me up at night, many nights. I've spent most my life not thinking about breathing, and after having the feeling of not catching a breath for days, it was all I could think about. That, and of course, what happens if that next breath just isn't there? Analyzing your thoughts on the afterlife at 2 in the morning night after night only triggers panic, I've come to discover.
Ah the breath of life is simple. It's in and out and in again.* There were kind arms to turn over into, someone to catch me those late nights when I thought I might just roll out of my bed and off of this earth. So we're here, trying to remember how to breathe. Luckily this week has brought some calm, some real help. A doctor's visit with answers, and ten whole days with no medication. Some words to hold tight to. In the midst of it all is the simple fact that things don't always work out just the way you think they should. Those days may be frustrating as hell, but I'm thankful I'm here to spend those minutes just the same.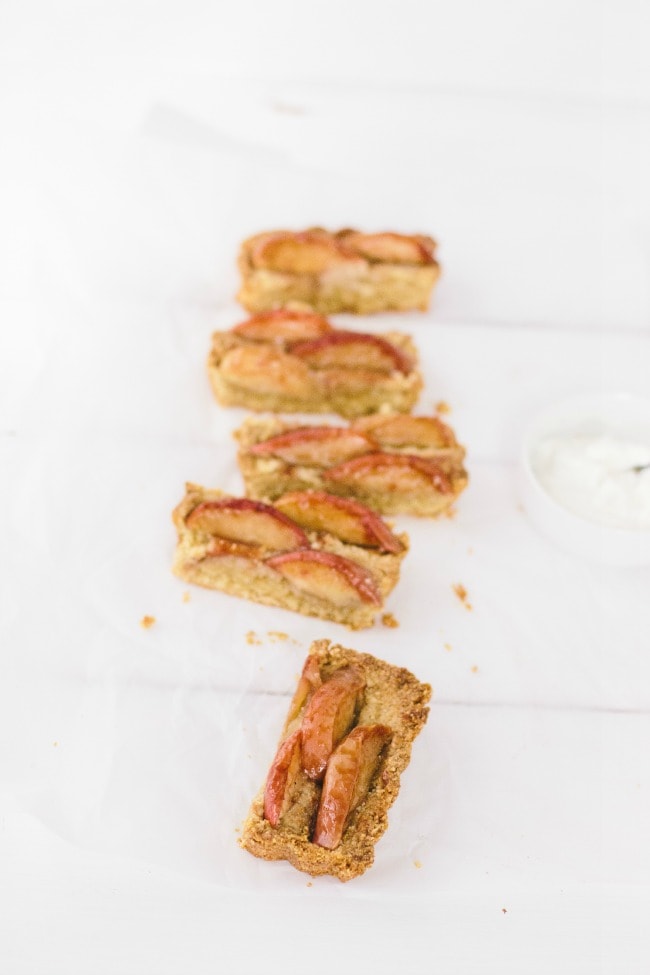 "This business of being a human being is infinitely more fraught than I was led to believe. When my son Sam figured out at 7 years old that he and I were not going to die at the exact same moment, he said, 'If I had known that, I wouldn't have agreed to be born.' That says it for me. It's hard here, and weird. The greatness of love and laughter, the pain of loss, the bearing of one another's burdens, are all mixed up, like the crazy catch-all drawer in the kitchen." – Anne Lamott
(To enter the giveaway for the At Home in the Whole Foods Kitchen Cookbook: leave a comment on this post with your name and email. I'll pick a winner next week!)
*In 9th grade I had the coolest English teacher ever (Mr. C), who was in a band called Cool Hand Luke (not the one you are thinking of). On good days we could convince him to pull out his guitar in class and sing us songs his band was working on, and that line is from one of his songs. After all these years those lyrics have stuck with me; that tune showing up at the funniest times and helping me remember to slow down and just take a breath.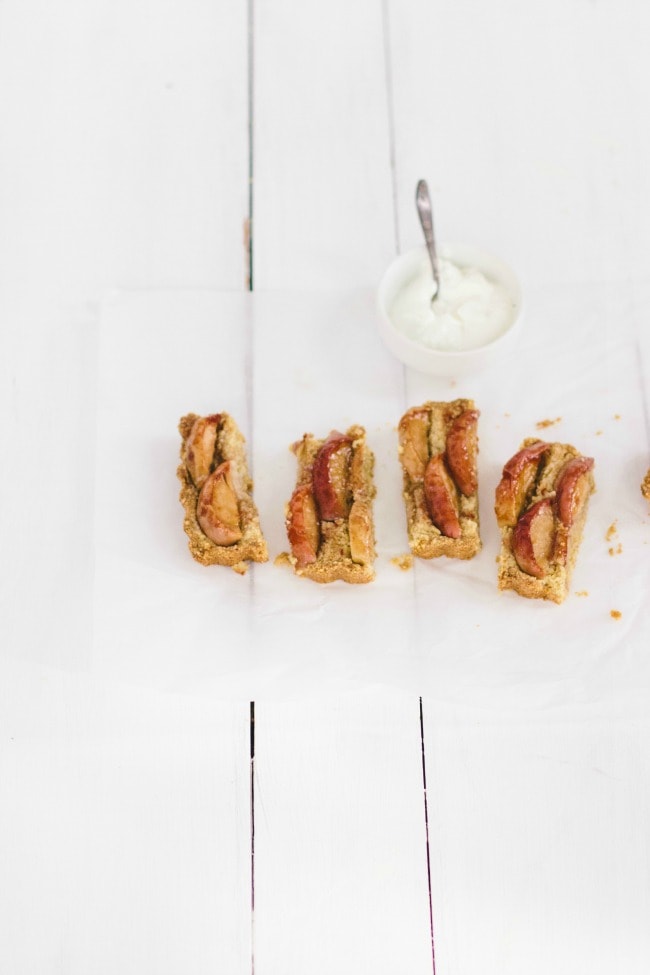 Apple Almond Tart
from At Home In The Whole Food Kitchen by Amy Chaplin
Also: about this book! It's amazing. "A sophisticated vegetarian cookbook with all the tools you need to be at home in your kitchen, cooking in the most nourishing and delicious ways—from the foundations of stocking a pantry and understanding your ingredients, to preparing elaborate seasonal feasts" is the description on Amazon, and I have to agree. It's a book to curl up with in the afternoons. The photographs are beautiful, and there is so much information and helpful tip on it's pages. It's a book that makes you want to eat better; live better.
This tart is tasty, with almond flour, ground oats, and natural sweeteners. The tart in the photograph I baked in a long rectangular pan, and cut the recipe in half. It makes a lovely healthy breakfast or afternoon snack.
1 tablespoon melted extra virgin coconut oil
1 1/4 pounds Gala, Pink Lady, or other red-skinned apples (about 4 small apples), sliced into 1/2-inch pieces
2/3 cup plus 1 tablespoon maple syrup, divided
4 teaspoons vanilla extract, divided
1 1/2 cups regular rolled oats
2 1/2 cups almond meal
1/2 cup barley flour
1 1/2 teaspoons baking powder
1/2 cup extra virgin olive oil
1/2 teaspoon almond extract
2 tablespoons apricot jam
Preheat the oven to 350. Grease a 9 x 9-inch square pan and line it with parchment paper, covering the bottom of the pan and an inch up the sides.
Warm the coconut oil over medium heat. Add the apples and saute them for 5 minutes, or until golden brown in spots. Stir in 1 tablespoon of the maple syrup, and 2 teaspoons vanilla. Continue to cook the apples for 6-8 minutes (lower the heat if they begin to brown), cooking until the apples are soft, but not falling apart. Remove from the heat and set aside.
Process the oats in a food processor until the are finely ground, about 30 seconds. Transfer the oats to a bowl and mix in the almond meal, barley flour, and baking powder. In a separate bowl, whisk together the remaining 2/3 cup maple syrup, remaining 2 teaspoons vanilla, olive oil, and almond extract. Pour the liquid into the oat mixture and stir gently to combine. Lightly press the batter into the prepared pan and bake for 15 minutes. Remove the pan from the oven and arrange the apples in 4 rows over the surface, leaving a 1/2-inch border around the edge. Lightly press the apples into the tart and return to the oven for another 20-25 minutes (or until the edges are golden brown). Remove from the oven and allow the tart to cool completely in the pan. Invert the cake onto a flat plate or cutting board, peel off the parchment, and reinvert onto a serving plate.
To make the glaze, place the jam in a small pot over medium heat and stir until melted, about 1 minute. Remove from the heat and use a pastry brush to lightly brush the glaze over the apples. Cut into 8-16 squares, and serve at room temperature.