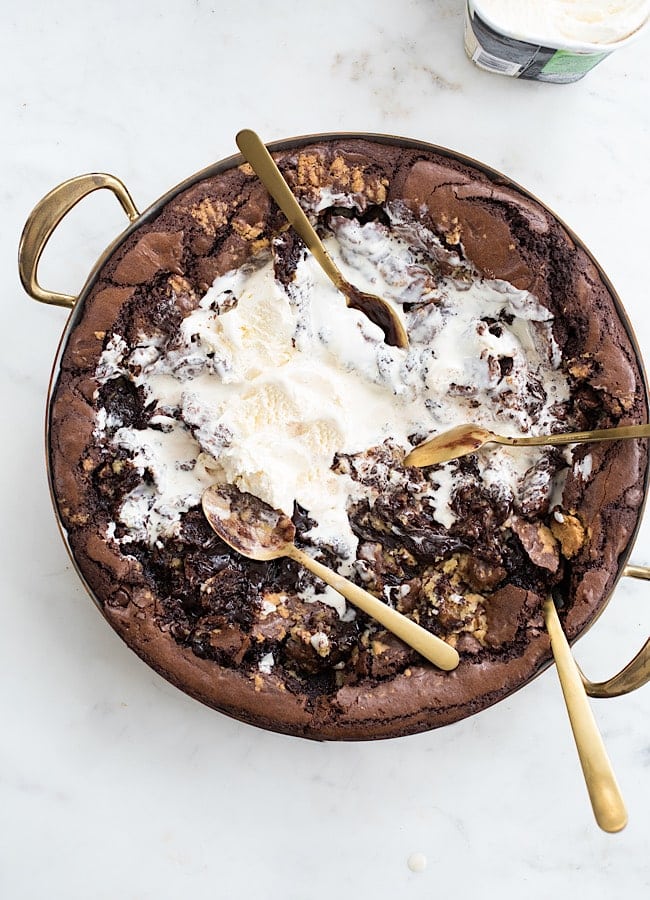 100 Cookies is out in the world today! I want to thank you so much for all your support – both in baking from the website and purchasing my books! I am sharing this Brown Butter Chocolate Chip Cookie Brownie Skillet to celebrate – it is a mash-up of two recipes from the new book, and although it's rather decadent, it is also delicious.
A few book related things:
*Rick Nelson over at the Star Tribune interviewed me last week about the book – you can read that here.
*My Strawberry-Creme Fraiche Bars are up over on ChowHound.
*Heated Magazine has a few recipes from my new book up on their site, including Neapolitan cookies and Toasted Sesame Pan-Banging Cookies.
*Kate from Wood + Spoon made my Sugar Cookie Raspberry Ripple Ice Cream Sandwiches!
*Michelle from Hummingbird High made my Neapolitan Cookies.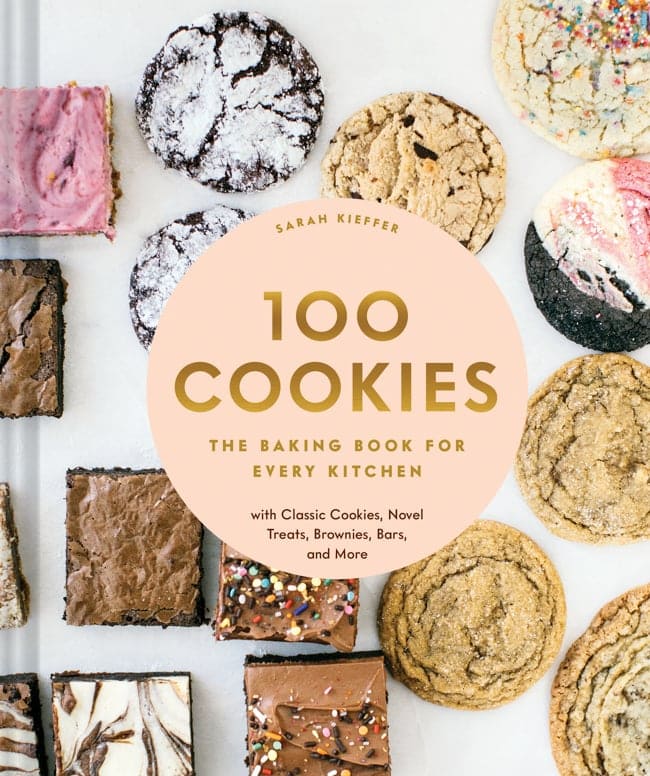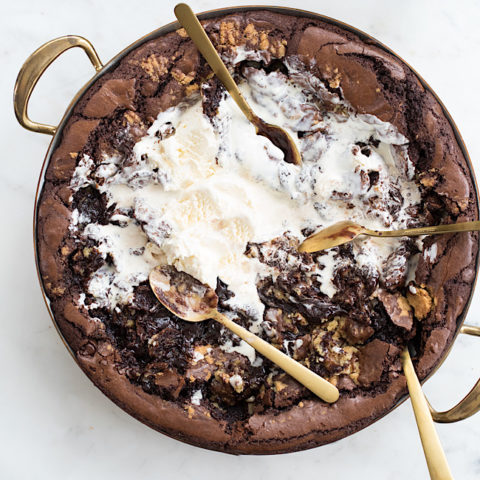 Chocolate Chip Cookie Brownie Skillet
This dessert could also be titled "Is this really necessary?" but after trying a bite I think you will agree that yes, it is. The combination of my favorite brownies mixed with my favorite chocolate chip cookies and then topped with vanilla ice cream is as decadent and indulgent as you would imagine, but also brings to mind a favorite childhood Blizzard flavor (chocolate chip cookie dough, of course!).
Ingredients
Brown Butter Chocolate Chip Cookie Dough
2 cups [284 g] all-purpose flour
1 teaspoon baking powder
1/2 teaspoon baking soda
12 tablespoons [1 1/2 sticks or 170 g] unsalted butter, at room temperature
3/4 cup [150 g] granulated sugar
3/4 cup [150 g] packed brown sugar
1 tablespoon pure vanilla extract
3/4 teaspoon salt
1 large egg plus 1 large yolk
Brownie Batter
1 1/2 cups [213 g] all-purpose flour
1 teaspoon baking powder
3/4 teaspoon salt
4 large eggs, at room temperature
1 1/2 cups [300 g] granulated sugar
1/2 cup [100 g] packed brown sugar
1/2 cup [112 g] canola oil
2 teaspoons pure vanilla extract
6 oz [170 g] bittersweet chocolate, chopped
8 tablespoons [1 stick or 113 g] unsalted butter
1/4 cup [25 g] Dutch-process cocoa powder
Instructions
Adjust an oven rack to the middle of the oven. Preheat the oven to 350°F [180°C]. Grease a 10 in [25 cm] skillet or baking pan.
In a small bowl, whisk together the flour, baking powder, and baking soda.
Slice 4 tablespoons [57 g] of the butter into four pieces, and place them in a large bowl. Melt the remaining 8 tablespoons [113 g] of butter in a medium skillet over medium-high heat. Brown the butter until it is dark golden brown, and is giving off a nutty aroma, 2 to 3 minutes. Pour the browned butter (and any bits of browned butter stuck to the bottom of the skillet) into the bowl with the room temperature butter, and stir until all the butter is melted and combined. Stir in the granulated and brown sugars, vanilla, and salt with a rubber spatula, mixing until combined.
Whisk in the egg and the yolk until fully combined, about 45 seconds. Pour the flour mixture into the bowl and use the spatula to combine (it may take a minute to incorporate all the dry ingredients).
In a small bowl, whisk together the flour, baking powder, and salt.
In a large bowl, whisk together the eggs, granulated and brown sugars, oil, and vanilla.
Place the chocolate and butter in a small, heavy-bottom saucepan set over low heat and melt together, stirring frequently to prevent the chocolate from scorching. Continue cooking until the mixture is smooth. Off the heat, add the cocoa powder to the chocolate and whisk until completely combined. Add the chocolate mixture to the sugar-egg mixture and whisk until smooth. Add the flour mixture and stir with a spatula until just combined.
Pour the brownie batter into the prepared pan. Dollop half of the cookie dough over the top of the brownie batter, and use a knife to mix it into the dough (the dough is dense and a little crumbly, so this won't be pretty swirls, just delicious bits of cookie dough).
Bake for 28 to 35 minutes, until the sides of the brownies have set, the top is starting to crackle and look glossy. For a very fudgy, molten chocolate center, bake until a wooden skewer or toothpick inserted into the center comes out wet with just the beginning of crumbs. For a firmer texture, bake until a skewer inserted is not wet but should has a good amount of crumbs clinging to it.
Transfer the pan to a wire rack and let cool until just warm. Serve with ice cream if desired. Brownie can be eaten straight out of the pan, or scooped and served in individual bowls.
Notes
**Note that only half the cookie dough batter is used here; the rest can be mixed with 4 oz [113 g] of chopped chocolate, formed into 1.5 oz [45 g] balls, and baked at 350F [180C] for 9 to 10 minutes (see Brown Butter Chocolate Chip Cookies, page 30 in 100 Cookies).