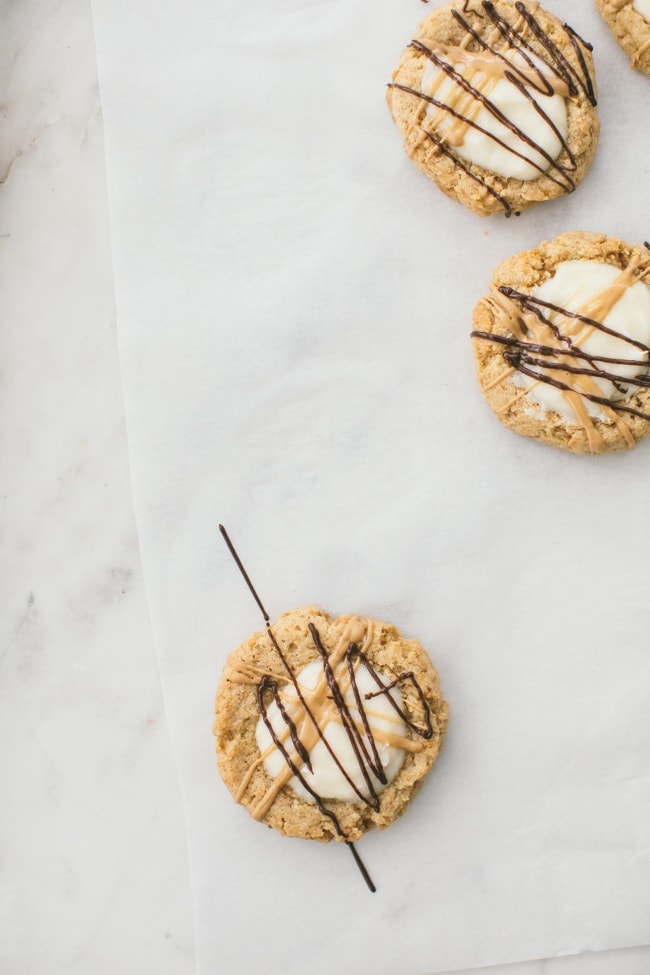 This past week I was on Twin Cities Live for their 12 Days of Cookies that airs each year around the holidays. I made these cheesecake cookies, and wanted to include them here as well because they are so delicious. On the show I didn't add the chocolate drizzle, but I made them again this weekend and liked the added touch. They are good either way (you could even swirl in some jam or curd to the filling).
Other recipes you may enjoy: Pan-Banging Molasses Espresso Cookies, Cranberry White Chocolate Rosemary Cookies, Holiday Cut-Out Cookies, Peanut Butter Brownies with Candied Cacao Nibs, Parsnip-Cardamom Cupcakes with Maple Cream Cheese Frosting.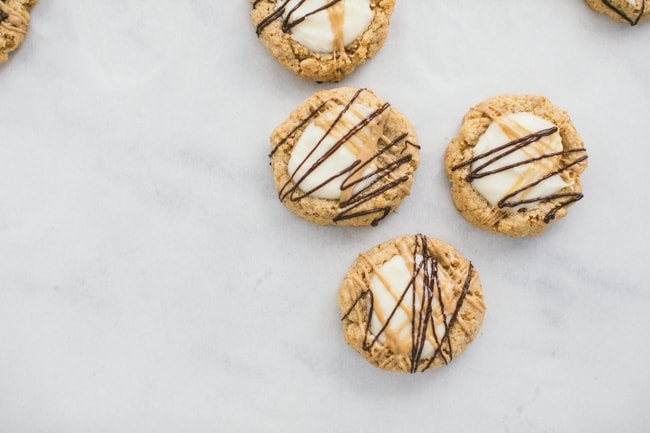 Cheesecake Cookies
This recipe is inspired by one I found on Pinterest – I wasn't able to locate the original author of it, as most of the sites linked to on Pinterest just included a photo of the recipe and piles of ads, and when I finally located the recipe it was on a 'copycat' site (their words). I made quite a few tweaks to the recipe I found, but the two are still somewhat similar in structure so here is my attempt to credit to the original author.
1 ¼ cup [125g] graham cracker crumbs
1 cup [142g] all-purpose flour
1 ½ teaspoons baking powder
¼ teaspoon salt
9 tablespoons unsalted butter, room temperature
½ cup [100g] granulated sugar
1 large egg
1 teaspoon pure vanilla extract
Cream cheese filling
8 ounces [226g] cream cheese, room temperature
1/3 cup [65g] granulated sugar
Pinch salt
1 to 2 teaspoons lemon juice
½ teaspoon pure vanilla extract
Melted caramelized white chocolate and bittersweet chocolate, for decorating
Adjust the oven rack to the middle position and preheat the oven to 350F [180C]. Line three baking sheets with parchment paper.
In a medium bowl, whisk together the graham cracker crumbs, flour, baking powder, and salt.
In the bowl of a stand mixer fitted with a paddle, beat the butter for one minute until creamy. Add the sugar and beat until light and fluffy, 2 to 3 minutes. Add the egg and vanilla and mix until combined, scraping down the sides as needed. Add the graham cracker mixture and mix until combined.
Make the cream cheese filling: in the bowl of a (clean) stand mixer fitted with a paddle, beat the cream cheese until smooth. Add the sugar and salt and beat again until creamy and perfectly smooth, 2 to 3 minutes. Add one teaspoon of the lemon juice and vanilla and mix until combined. Taste the filling; if you feel like the flavor needs to be 'brighter', you can add another teaspoon of lemon juice.
Scoop the dough into 1 oz balls, and use your thumb or a teaspoon and indent each dough ball, about ½ inch. Scoop a heaping teaspoon of the cream cheese into the center of each cookie.
Bake cookies 10 to 12 minutes, until light golden brown and fragrant. Remove the baking sheet from the oven and let the cookies cool on the sheets for 10 minutes before moving to a wire rack to cool. When the cookies have cooled, drizzle the chocolates across the top in a pattern of your choosing (I melted 2 ounces each of caramelized white chocolate and bittersweet chocolate, placed the melted chocolate in a pipping bag, and then cut the teeniest tiniest snip at the end of the bag for the piping. Note that the chocolate will want to instantly start pouring out, so keep the bag end titled up until ready to use.)