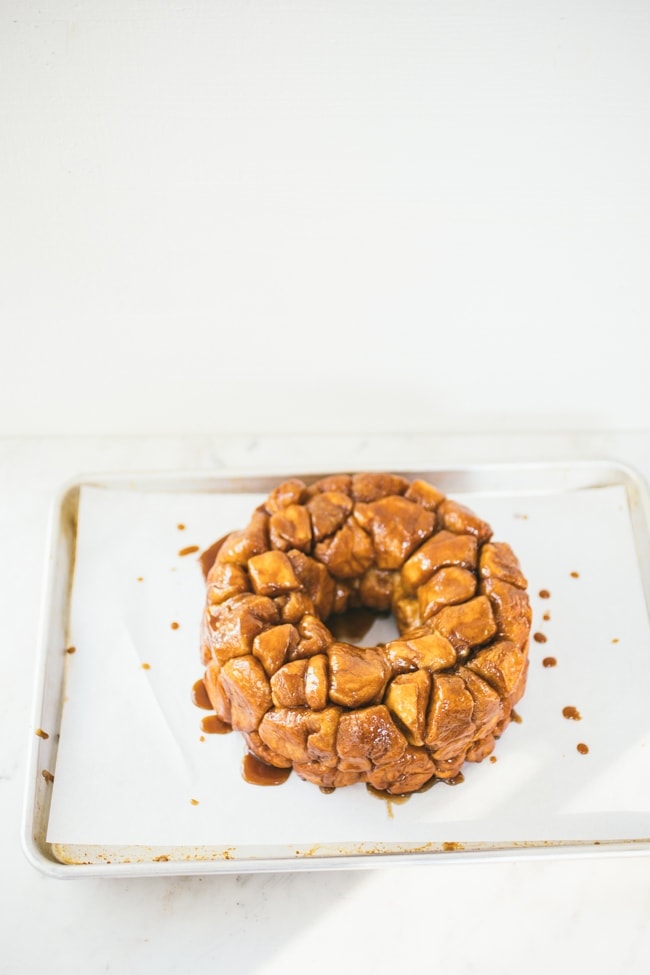 I have no recollection of the first time I tried monkey bread, but somewhere in my youth, or childhood, I must have done something good because it was included in my growing-up experience. Whenever my mom made it she used store-bought bread dough, which made assembling much easier (I never once saw a jar or packet of yeast in her kitchen). She'd roll small pieces of dough into balls and cover them in butter and sugar, throw them in a Bundt pan, and pop them in the oven. The house would fill up with that cinnamon-and-sugar scent that instantly evokes pleasure and stomach growls, and my siblings and I would pace in front of the oven door, constantly peeking inside to check on the progress. Finally the Bundt pan would emerge; the caramel would be bubbling and the dough balls busting out of the pan, and we would wait for the big flip. My mom would gear up with both oven mitts and close her eyes in a silent prayer as she turned the pan over onto a plate. Would it fall in one piece? We didn't care. She would yell at us, You still have to wait for it to cool! as we burned our fingers on the hot caramel, grabbing for any stray circles that refused to stay put. She'd limit our intake to three pieces each, but we'd sneak back in the kitchen when her back was turned, sneaking so many more.
***********************************
Shauna Sever's new book, Midwest Made, just came out, and it's a perfect baking book for the approaching holiday season. The intro describes the book as a love letter to America's heartland, and as someone who has grown up in and still currently lives in the midwest, I couldn't be happier to find a collection of favorite recipes all in one place. Highlights include: Secret-Ingredient Cherry Slab Pie, flaky Danish Kringle, Buckeye Bars, Lemon Angel Pie, and Caramel Apple Dapple Cake. I went with this Monkey Bread because of my coffee addiction, but my kids gobbled it up and didn't mind the coffee flavor at all. "There is a shocking amount of ground, heritage, and recipes to cover in a place so many people consider "fly-over country." But that's part of the beauty of the great Midwest. We like to lie low, and then out of nowhere, blow minds and take names with our hidden stories and talents. And then sort of play off the compliments. Dull shine at its very best."
Other recipes you may enjoy: Whole Wheat Monkey Bread, Coffee Caramel Ice Cream Pie, Espresso Bundt Cake, Chocolate Cake with Espresso Buttercream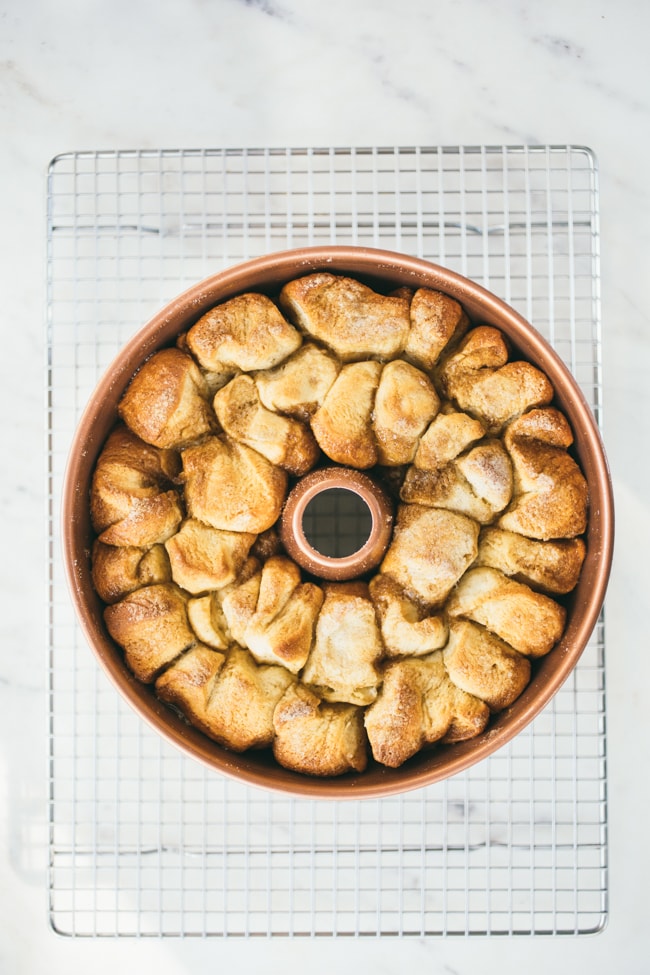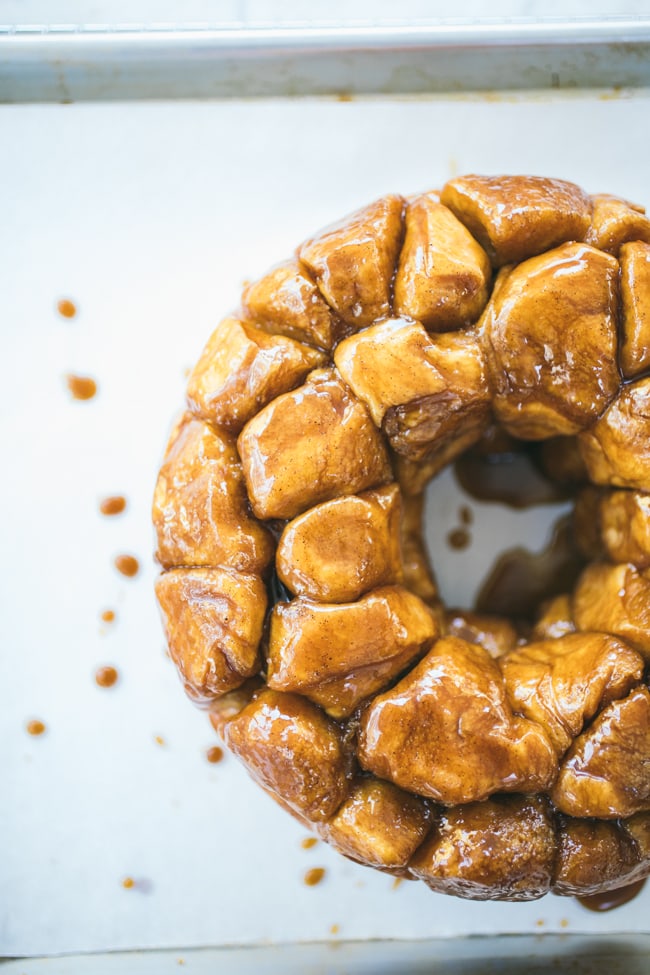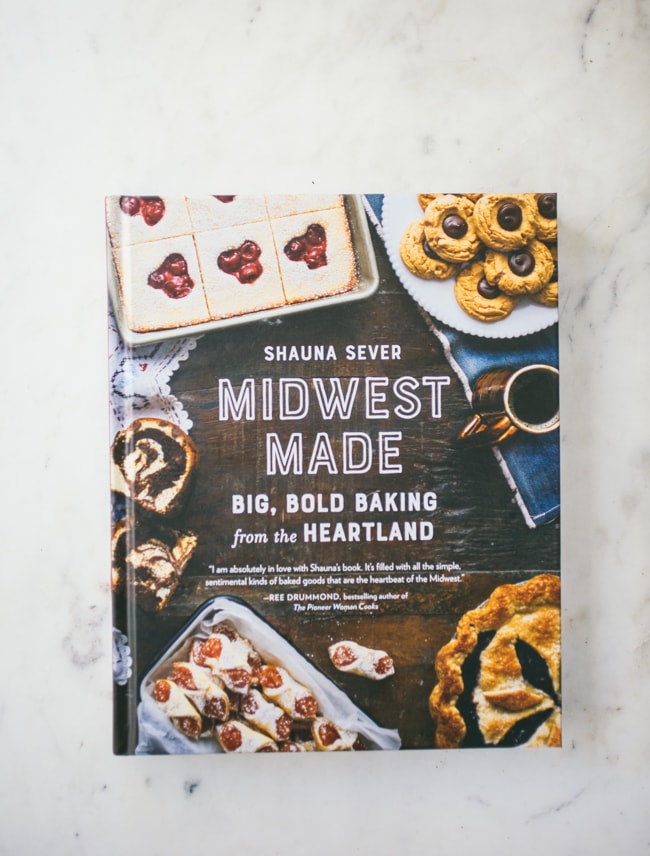 Coffee Caramel Monkey Bread
From Midwest Made by Shauna Sever
Note: I've also made this with my Sweet dough recipe , and it worked well. Shauna notes that you can also use 2 pounds of store-bought white bread dough from the freezer section.
Dough
2 1/4 teaspoon instant yeast
1/4 cup [57g] warm water (110F to 115F | 34C to 46C)
3 tablespoons [38g] granulated sugar, divided
1 cup [225g] well-shaken buttermilk, at room temperature
3 large egg yolks, at room temperature
4 tablespoons [57g] unsalted butter, melted and cooled
4 cups [512g] unbleached all-purpose flour
3/4 teaspoon fine sea salt
Coating
5 tablespoons [70g] unsalted butter, melted
3/4 cup [150g] granulated sugar
2 teaspoons ground cinnamon
1/4 teaspoon fine sea salt
Coffee Caramel
1/3 cup [75g] strong brewed coffee, hot or cooled
7 tablespoons [98g] unsalted butter, cut into 1/2-inch pieces
1 cup [225g] packed light brown sugar
1/2 teaspoon fine sea salt
1 teaspoon pure vanilla extract
For the dough
In the bowl of a stand mixer, whisk together the yeast, warm water, and a couple pinches of the granulated sugar. Let sit until the mixture is foamy, about 5 minutes. Whisk in the remaining sugar, buttermilk, egg yolks, and melted butter. Add the flour and salt. Mix with a wooden spoon to form a shaggy dough. Fit the bowl onto the mixer along with the dough hook. Knead the dough on medium speed until smooth and elastic, 6 to 7 minutes.
Lightly flour a work surface and turn the dough onto it. Knead the dough by hand several times. Spray the mixer bowl with nonstick cooking spray or oil it lightly. Place the dough in the bowl and cover tightly with plastic wrap. Let rise in a warm place until doubled in volume, 1 to 1 1/2 hours.
Spray a 10-inch [25cm] Bundt or tube pan generously with nonstick cooking spray. Using a kitchen scissors, snip the dough into small chunks and roll them into 1-inch [2.5cm] balls.
To assemble and bake
Pour the melted butter into a pie plate. In a medium bowl, whisk together the granulated sugar, cinnamon, and salt. Working in small batches, coat the dough balls with the melted butter, then toss them in the cinnamon sugar to coat. Fit the balls snugly into the prepared pan (the bottom of the pan will end up as the top when the bread is inverted, so arrange the first layer neatly). Cover with plastic wrap and set on a baking sheet. Let rise in a warm place until doubled, about 1 hour (or in the refrigerator overnight, 8 to 12 hours).
Position a rack to the center of the oven and preheat the oven to 350F [180C].
During the last half of the rising time, prepare the caramel: in a 2- to 2 1/2 quart saucepan over high heat, combine the coffee, butter, brown sugar, and salt. Bring the mixture to a full rolling boil, stirring often until the sugar is dissolved. Boil hard just until slightly thickened, about 2 minutes, depending on the size and depth of your pan. Stir in the vanilla. Let cool for about 10 minutes. Pour over the risen dough – it may not all sink down into the pan.
Bake until puffed and golden, 35 to 40 minutes (the internal temperature should register at least 190F [88C] on an instant thermometer). Tent with foil during the last third of the baking time. Let the bread cool in the pan on a wire rack for 10 minutes (no longer, to avoid sticking) before inverting onto a platter and serving warm.