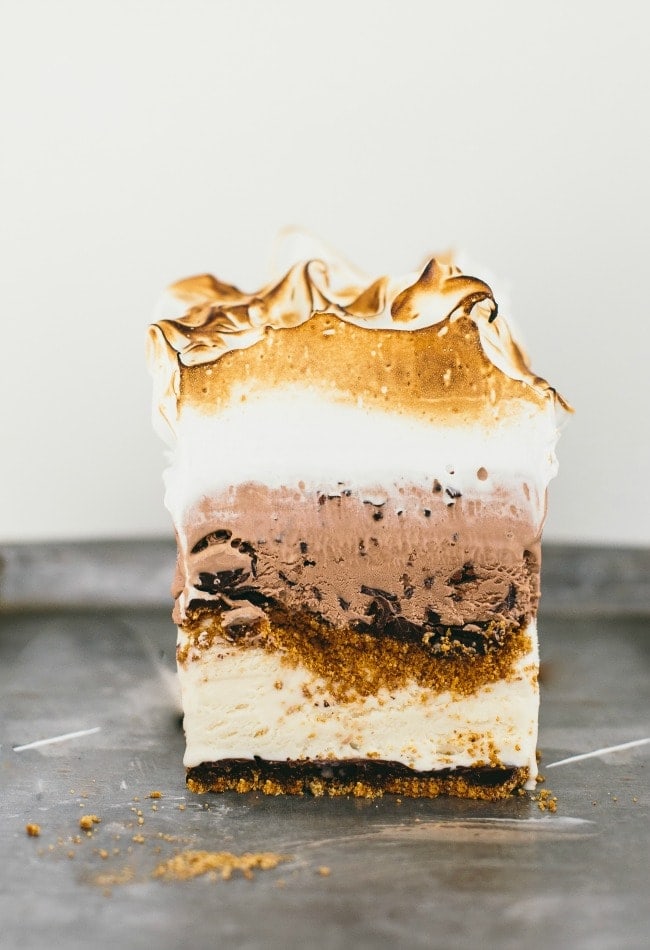 This recipe for S'mores Ice Cream Cake first appeared on my site in 2016. It's from my book, The Vanilla Bean Baking Book (affiliate link). I love it so much, I'm sharing again.
************************************
First of all, I want to say thank you, oh my goodness thank you, from the bottom of my heart. I had so many kind emails and comments and tweets yesterday; your support of my upcoming book is overwhelming. I wouldn't have this book without that support, and I am forever grateful to you, dear readers. Thank you for following along here, and for being so wonderful.
And, here's a recipe from the book! Today happens to be my birthday, one that I am slightly freaking out about, as I seem to be getting close to large numbers I didn't think were possible. I will be celebrating today, however, with this S'mores Ice Cream Cake. It's fairly simple to put together (especially if you go the store bought ice cream route), with a layer of toasted graham cracker crumbs, vanilla ice cream, more graham crackers, chocolate ice cream, and then a pile of meringue that is lightly toasted. An indulgent way to enjoy the fading of a near perfect summer vacation.
S'mores Ice Cream Cake
This ice cream cake is on the extravagant side, with layers of graham cracker crumbs, two kinds of ice cream, and a toasty meringue top. I like to serve it in very thin pieces, as less is more for this dessert. It's a showstopper for sure, perfect for summer birthday parties and special events. serves 6 to 8
A few notes: In the book, I have recipes for both the vanilla and chocolate no-churn ice cream. They are a bit different than the ones I have linked to below (I tweaked them just a bit in the book), but the previous recipe will work just fine here. Store bought ice cream will also work great – just fill half the pan with chocolate, and then the other half with vanilla.
Let the ice cream cake sit for a few minutes before trying to take it out of the pan. If it is frozen tightly in the pan, you can run a spatula around the outside, which will help loosen it. Two out of three times my cake sticks just a bit, but I've always gotten it out with a little bit of work.
1 recipe Vanilla No-Churn Ice Cream
1 recipe Chocolate No-Churn Ice Cream (omit fleur de sel)
1½ cups (150 g) graham cracker crumbs
2 tablespoons sugar
5 tablespoons (72 g) unsalted butter, melted and cooled
5 large egg whites
1 cup (198 g) granulated sugar
¼ teaspoon salt
2 teaspoons pure vanilla extract
Adjust an oven rack to the middle position. Preheat the oven to 325°F. Line a baking sheet with parchment paper and line a Pullman pan with a parchment sling. (You can also use a 9-inch loaf pan, but you will need to use less ice cream.)
In a medium bowl stir the graham cracker crumbs and sugar to combine. Add the melted butter and stir until evenly coated. Transfer the crumbs to the prepared baking sheet and spread them evenly across the parchment paper. Bake 8 to 10 minutes, until the crumbs are golden brown and fragrant.
Transfer the pan to a wire rack and let cool completely.
Use a measuring cup or spoon to press 1 cup (100 g) cooled crumbs evenly on bottom of the prepared Pullman pan or loaf pan. Top with the Vanilla Ice Cream, pressing it into an even layer. Sprinkle the remaining crumbs evenly over the ice cream and top with the Chocolate Ice Cream. Place the ice cream cake in the freezer and freeze for at least 6 hours or overnight before topping with meringue.
FOR THE MERINGUE TOPPING: Put about an inch of water in a medium saucepan and bring it to a gentle boil.
In the bowl of a stand mixer, stir the egg whites, sugar, and salt to combine. Place the bowl over the saucepan, being careful not to let the water touch the bottom of the bowl. Stir with a rubber spatula until the sugar is completely melted and reaches a temperature of 160°F, 4 to 5 minutes. While you are stirring, be sure to scrape down the sides of the bowl with the spatula—this will ensure no sugar grains are lurking on the sides and also help prevent the egg whites from cooking.
Remove the bowl from the heat and place it in the stand mixer fitted with a whisk. Whisk on medium-high until stiff, glossy peaks form, 8 to 10 minutes. The bowl should have cooled down to room temperature at this point. Add the vanilla and beat until combined.
Use the parchment sling to gently remove the cake from the loaf pan. Working quickly, remove the parchment paper and set the loaf cake on a serving platter.
Use a spatula to spread the meringue evenly over the top of the ice cream cake and, if desired, use a spoon to create curls. Hold a kitchen blowtorch 1 or 2 inches away from the cake and touch the flame down in between the curls. The curls will toast and brown (if the curls set on fire, you can blow them out). Slice the cake and serve immediately. (Because this is ice cream, an oven broiler won't work here to toast the meringue – you will just have a melted puddle. If you don't have a blow torch, you can serve the cake without toasting it – it will still taste delicious.)