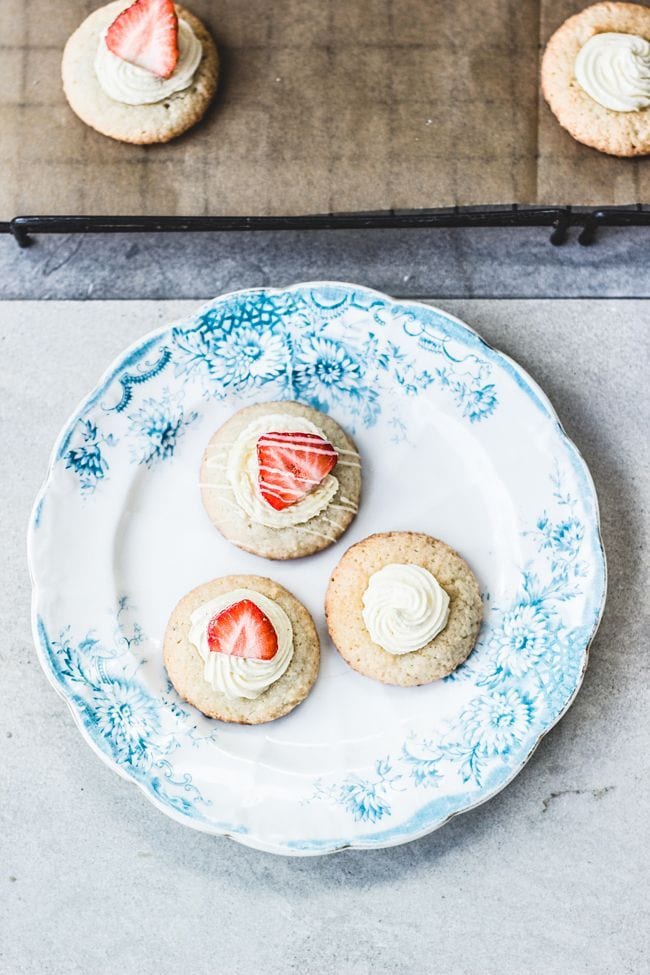 It's the summer of fun! For reasons before mentioned, I am lining up guest posts for this summer. Up next is Izy from Top With Cinnamon. I've been enamored with Izy's photographs for awhile now, and when I found out she was 17 years old, I was even more impressed. I wish I would have had this much ambition (and had been this cool) in high school. This woman is going places.
Hi guys! I'm so happy to be guest posting here on Sarah's gorgeous blog, which I've been a fan of for such a long time. From the beautiful writing and photography to her Instagram feed and inspiring Pinterest boards, Sarah is one of my favourite bloggers around, especially as here on Vanilla Bean there's no shortage of baked goods!
I am a baker at heart, so it's always hard for me when the summer hits, full force, with the enveloping heat and humidity. It makes it hard to bear standing around in a kitchen for an hour, whilst an oven blazes by your side. But what is a baker to do? I try to stick to recipes where the baking is a minimal part of the recipe. Cookies tend to do the trick as the baking time is usually only around 10 minutes. Now, we all know gooey chocolate chip cookies will always be amazing, but I don't really want to be stuffing my face with warm cookies when it's hot out. I want a cookie that's best at room temperature, or maybe even cold from the refrigerator. This opens up a whole new level of cookie creation, people.
Here in London, the Tennis Season is upon us. Queen's first, and soon the well known Wimbledon Tennis will start. Now you may be wondering why I'm talking about tennis when I was just talking about cookies, but stick with me on this one!
During Wimbledon matches, the classic pairing of strawberries and cream is served to the spectators. It's refreshing, cool and summery-sweet. I took inspiration from this and translated it to cookie form! I piped vanilla whipped cream into a chewy, thumb-printed amaretti cookie, and topped it with a sliced strawberry. I also drizzled some white chocolate onto some of them, kind of overkill, but it looks nice (haha).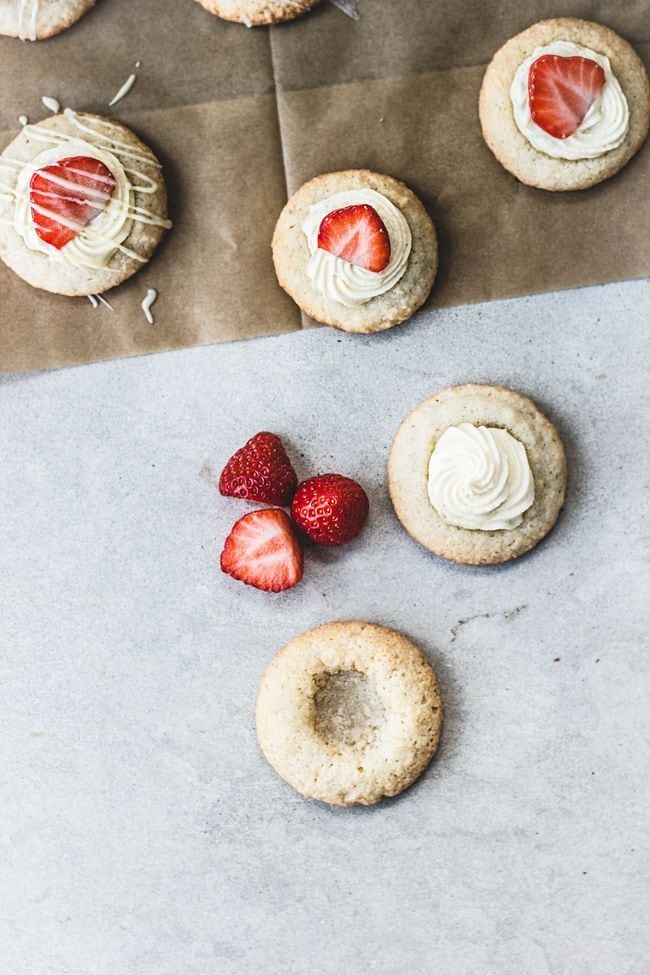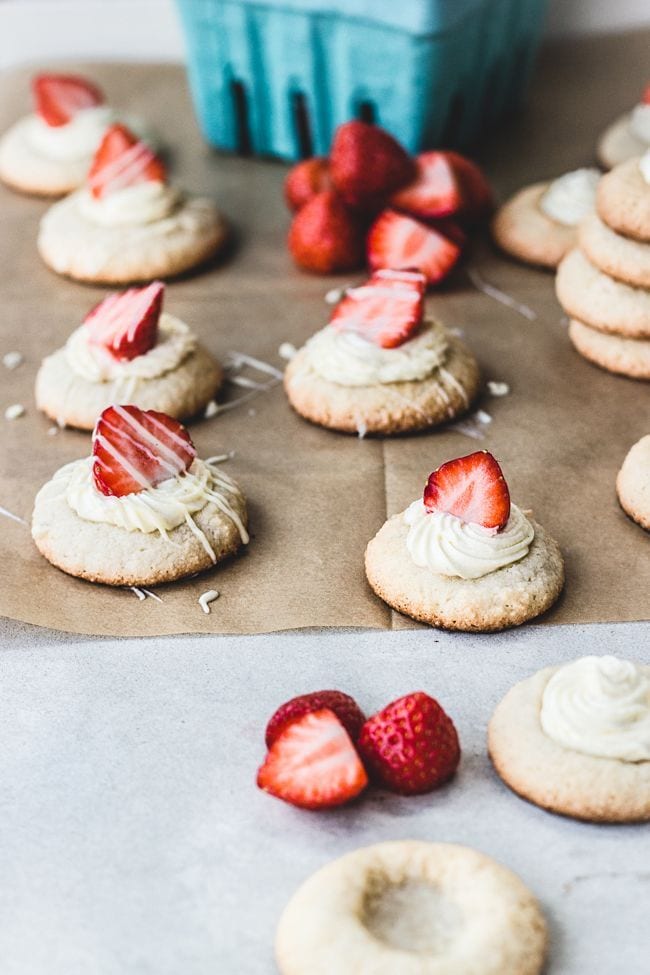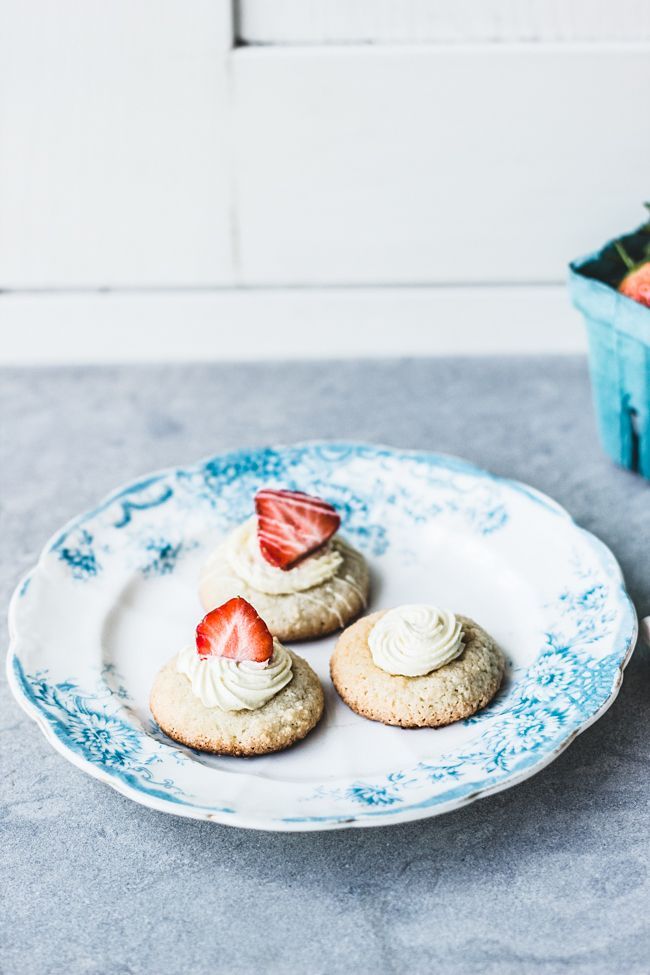 Strawberries & Cream Amaretti Cookies (gluten free)
Notes:
-when blending the almonds and sugar, make sure you don't over process the mixture as it will start to clump up, and turn into almond butter.
-when whipping the cream, you know you NEED TO STOP whisking if it starts to appear grainy at all (this is a sign you are over whisking it, and you'll soon have a lump of butter sitting in a puddle of buttermilk! If it does start to become grainy, immediately stir in some un-whisked heavy cream to bring it back together, then stop mixing as soon as it has been incorporated).
-if you're feeling the extra fancy vibe and want to drizzle on white chocolate to the cookies, go for it! (it doesn't really translate in flavour, and is more effort, so I haven't included it in the recipe steps, but for anyone that's interested here's what I did…) I melted some white chocolate over a bainmarie, transferred it to a sandwich bag, and cut off the very tip of one corner of the bag. I then used it like a piping bag to drizzle the chocolate over the cookies.
1 1/2 cups blanched almonds
1 cup powdered sugar
1/2 cup granulated sugar
1 tsp almond extract (optional)
3 egg whites
1 cup heavy cream
1 tsp vanilla paste or vanilla extract
10-15 small strawberries, hulled, washed and halved
Preheat your oven to 300 F. Line a cookie sheet with parchment paper.
In a food processor, combine the almonds with the powdered sugar, 1/4 cup of the granulated sugar and the almond extract. Blend until you get a fine almond meal texture (you'll have to scrape down the sides every now and then).
In a large bowl, whisk the egg whites whilst slowly pouring in the remaining 1/4 cup of granulated sugar. Continue to whisk until you can make stiff peaks in the mixture. Add the ground almond mixture to the whisked egg whites and fold in until fully incorporated (you don't have to be toogentle, but make sure you don't knock all the air out of the mixture when doing this).
Transfer the batter to a piping bag with a wide, plain tip and pipe 2″ diameter domes onto the lined cookie sheet (or you can just drop the batter by heaped teaspoons onto the baking sheet). Bake for 10-12 minutes until the edges are just starting to become golden.
When you remove the cookies from the oven, immediately push in the domed centre using the end of a wooden spoon or pen, making an indent about the size of a thumb print. Let the cookies cool on a wire rack.
In a large bowl combine the heavy cream and vanilla paste/extract and whisk until it become just thick enough to hold its shape. Transfer to a piping bag with a medium star tip, and pipe swirls of whipped cream into the indent of each cookie (again, you could also just use a teaspoon to dollop the cream into the cookies). Top each cookie with a halved strawberry and serve immediately, or refrigerate until just before serving.