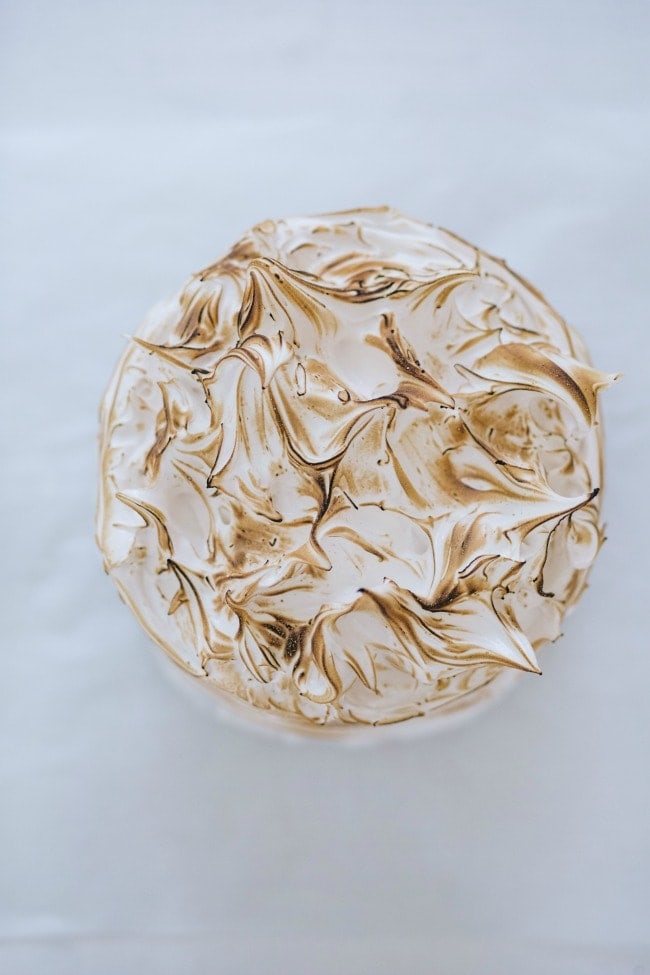 We shall not cease from exploration
And the end of all our exploring
Will be to arrive where we started
And know the place for the first time.
Through the unknown, remembered gate
When the last of earth left to discover
Is that which was the beginning;
At the source of the longest river
The voice of the hidden waterfall
And the children in the apple-tree
Not known, because not looked for
But heard, half heard, in the stillness
Between the two waves of the sea.
Quick now, here, now, always–
A condition of complete simplicity
(Costing not less than everything)
And all shall be well and
All manner of things shall be well
When the tongues of flame are in-folded
Into the crowned knot of fire
And the fire and the rose are one.
Little Gidding V,
Four Quartets.
— T.S. Eliot (1943)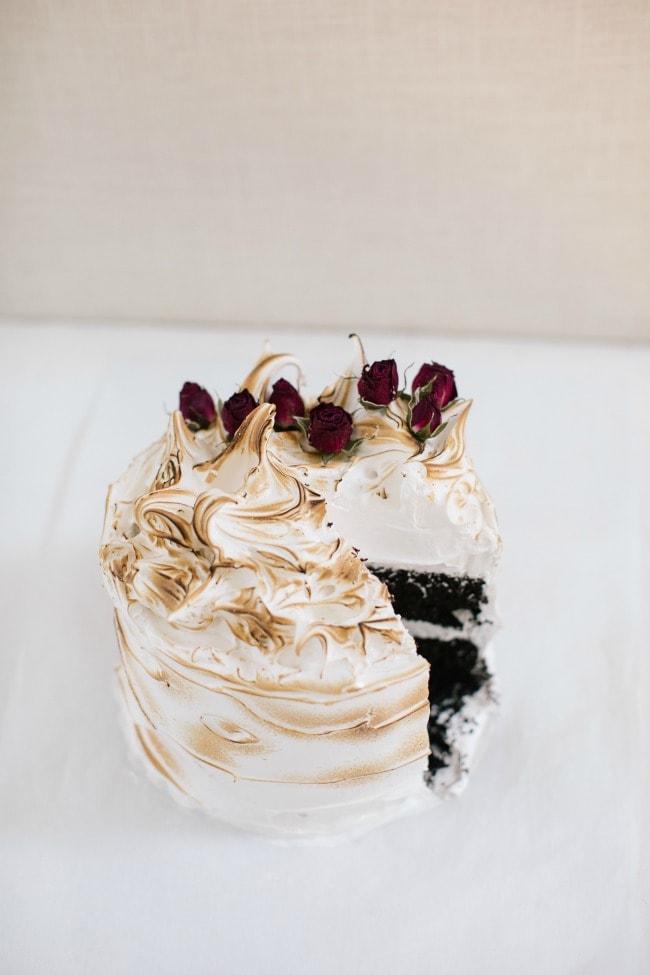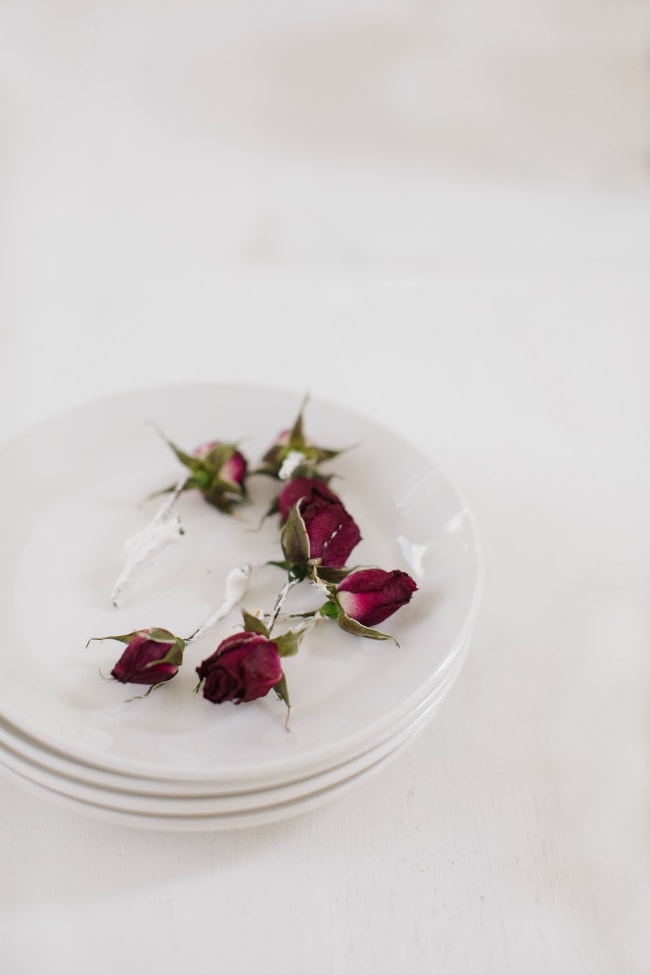 Somehow I am turning 40 this week. I've gotten over the freaking-out part of things (that happened at 39) and I've moved into some 'next phase of life' business. I've found I like myself better the older I get (although I will give a nod to my therapist here – her help is part of why aging has been going so well!), and almost-forty has given me confidence I didn't know I possessed. Often when I am afraid to do something, or stand up for myself, a simple reminder that 'you're forty years old. You can totally do this,' has been very helpful. I guess I'm officially an adult or something now.
My husband turns forty right around this time as well, and we also celebrate our 15-year wedding anniversary, so it's sort of an epic end of summer for us. I try not to remember the signs hanging up at my parents' 'over-the-hill' parties: halfway to heaven isn't something I want to focus on quite yet. Although I'll admit there are moments each month, as the year quickly passes yet again, that the unknown, whatever is after all of this, is a more present, lurking thought. Sometimes it's joyful, and hopeful, other times I quickly shove it away, not ready to deal with my fear. Either way, it's a reminder to not waste time, to speak up for what is right, and to enjoy all the days I have this side of the hill. Love doesn't just sit there, like a stone, it has to be made, like bread; remade all the time, made new. -Ursula K. Le Guin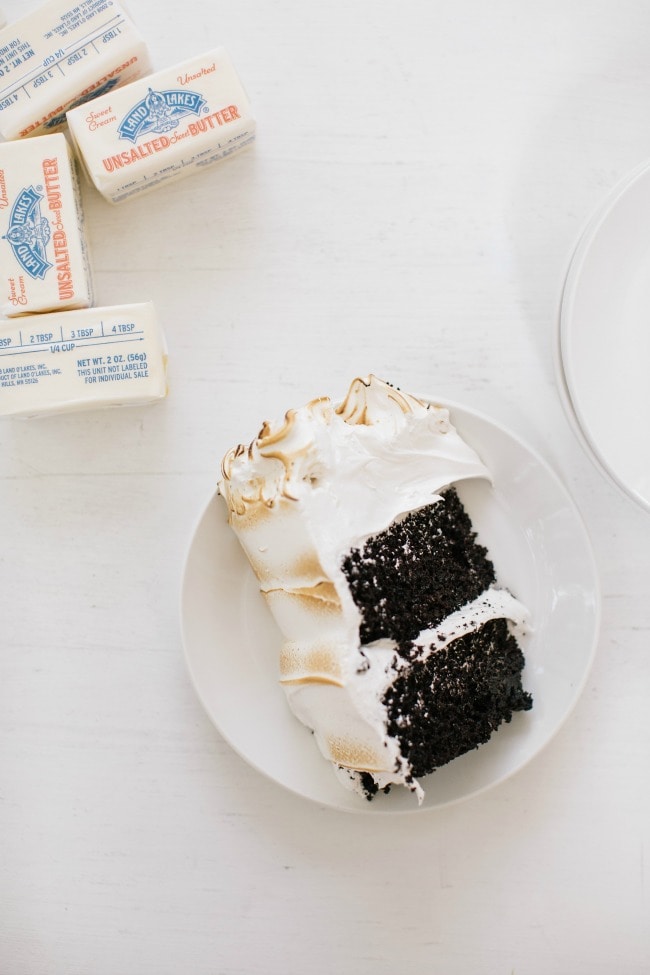 I made a small birthday cake for myself this year. The chocolate cake is a scaled down version of the chocolate cake from my cookbook, with sour cream instead of buttermilk, and butter added in place of some of the canola oil. I really liked how it turned out. I've teamed up with Land O'Lakes for a few posts over the rest of the year. I've been a big fan of their butter for years; I love how my baked goods turn out with it, and as they are a Minnesota-based company, it seemed like a natural fit. I use their unsalted butter in my baking, and find the flavor to be heads and shoulders above other grocery store brands.
The seven minute frosting is a nod to my Grandma Ethel, who used to make a version of  this quite frequently (though she never toasted the top of hers), and as a child I thought it was the worst thing ever – I didn't understand how anyone could ruin a perfectly good cake with it. My opinion has changed drastically over the years (another positive of aging, I guess), and I thought it would be a good accompaniment to the chocolate cake. I did share some with my family, and they liked it, too.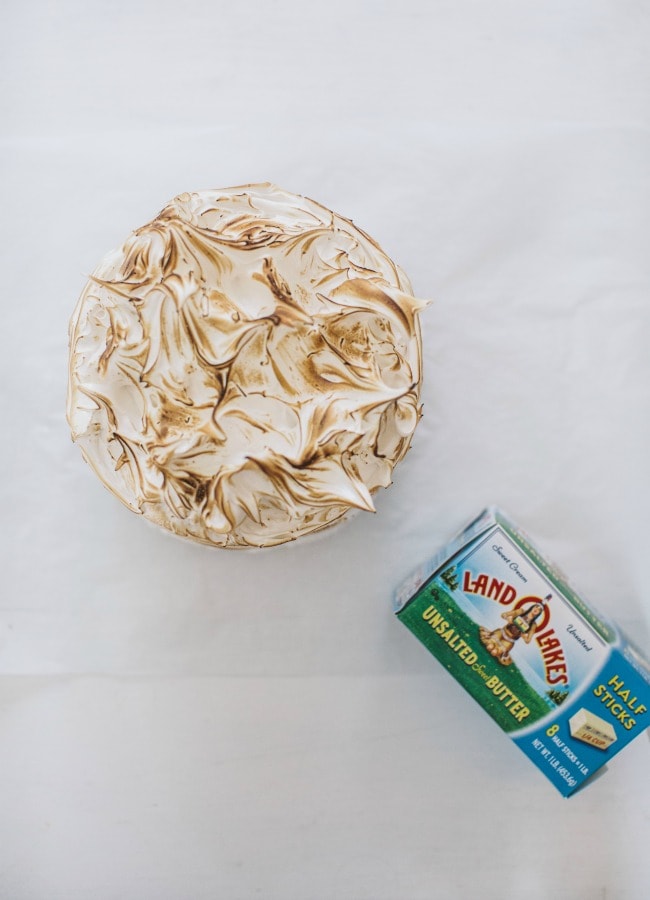 This post is sponsored by Land O Lakes. As always, all opinions are my own.