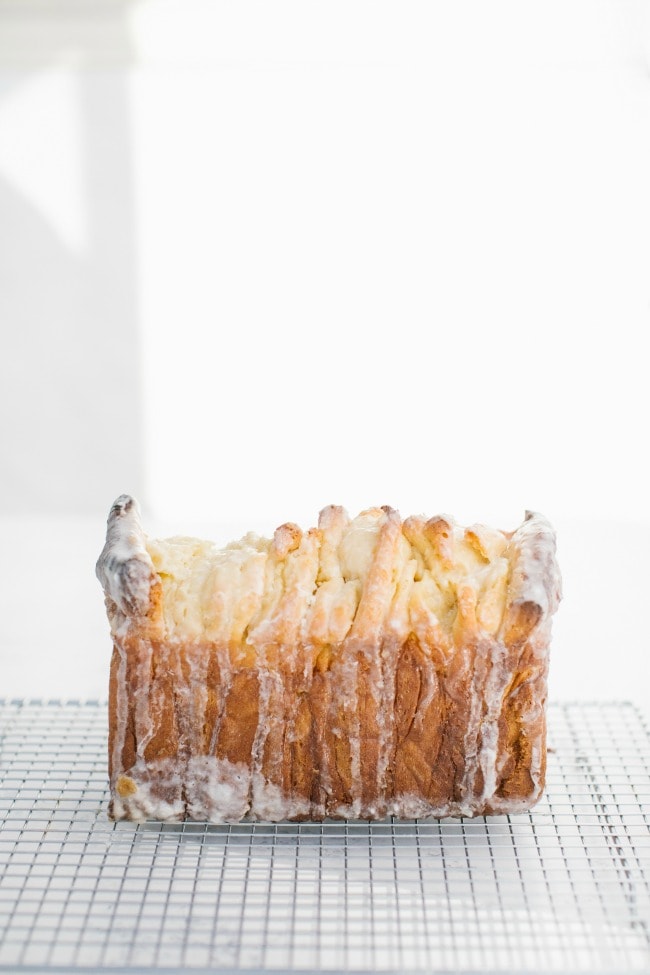 'Rush hour, and the short order cook lobs breakfast
sandwiches, silverfoil softballs, up and down the line.
We stand until someone says, Yes? The next person behind
breathes hungrily. The cashier's hands never stop. He shouts:
Where's my double double? We help. We eliminate all verbs.
The superfluous want, need, give they already know. Nothing's
left
but stay or go, and a few things like bread. No one can stay long,
not even the stolid man in blue-hooded sweats, head down,
eating,
his work boots powdered with cement dust like snow that never
melts.'
–Minnie Bruce Pratt, Breakfast
It's National Poetry Month! If you haven't ever been to Poets.Org, I highly recommend going over and spending some time reading -it's a wonderful resource. You can search poems by poet and themes (I just searched 'eating' and came up with some wonderful poems), and you can even create your own anthology of favorite poems (and no, this isn't sponsored! I just love this site).
But, on to lemon bread. I posted a photo of this pull-apart bread on Instagram and had many people asking for the recipe, so here it finally is! The bread is baked in a Pullman pan which makes it so tall, and the longer bake time caramelizes the sides of the bread. Lemon icing is then poured over the top, and the result is pure deliciousness.
Lemon Pull-Apart Bread
Dough recipe from my cookbook, The Vanilla Bean Baking Book.

A few notes: a Pullman pan is needed here, because there is so much dough, and also to ensure tall pieces. I haven't tried splitting the dough in half, filling each half, cutting the dough into pieces, and baking it in two 9 x 5 pans, so I can't suggest that with full confidence, but I think it should work. I absolutely love baking with a Pullman pan and use it for all my quick breads and breads, so I suggest getting one if you don't have one.
The foil sling is a necessity – because there is a lot of dough, the bread takes longer to bake, and the sides get very dark brown. Because of the sugar filling, the sides will get beautifully caramelized, but with no sling or a parchment sling, I found the sides got too dark; almost burnt. The foil helps protect them. For even lighter sides, you can wrap foil around the bottom of the pan as well before you put it in the oven. The top will also start browning, and I put a piece of foil loosely over it halfway through baking. I love the caramelized sides, but if you are looking for a completely soft pull-apart bread (almost like a cinnamon roll), this isn't the recipe for that.
The dough can be used right away (after the initial 2-hour rise) if needed.
Dough
4 large eggs, room temperature
3/4 cup whole milk, warm (100-110F)
1/4 cup honey
4 cups (568g) all-purpose flour
2 1/4 teaspoon instant yeast
2 teaspoons salt
10 tablespoons (1 1/4 sticks | 142g) unsalted butter, room temperature, cut into 1-inch pieces
Filling
3/4 cup (149g) granulated sugar
2 tablespoons lemon zest
Pinch salt
2 tablespoons unsalted butter, melted and cooled slightly
Icing
2 cups (226g) confectioner's sugar
2 tablespoons crème fraîche
2 tablespoons lemon juice
1 teaspoon pure vanilla extract
Pinch salt
For the dough
Grease a large bowl.
In a large liquid measuring cup, combine the eggs, milk, and honey.
In the bowl of a stand mixer fitted with a paddle, mix the flour, yeast, and salt and stir on low to combine. Add the egg mixture and mix on low to combine. With the mixer on low, add the butter, one piece at a time. When all the butter has been added, increase the speed to medium and beat the butter into the dough, until all the little butter pieces are incorporated, 1 minute. Transfer the dough to the prepared bowl. The dough will be very sticky and you will need a spatula to scrape the dough into the bowl.
Cover the bowl with plastic wrap and let rise for 30 minutes. Place your fingers or a spatula underneath the dough and gently pull the dough up and fold it back over itself. Turn the bowl and repeat this folding again. Continue 6 to 8 more times, until all the dough has been folded over on itself. Re-cover the bowl with plastic and let rise for 30 minutes. Repeat this series of folding 3 more times, for a rise time of 2 hours and a total of 4 foldings. Tightly cover the bowl with plastic wrap and refrigerate overnight or up to 72 hours.
To assemble
In a small bowl, mix together the sugar, lemon zest, and pinch salt.
Lightly flour your work space, then roll the dough into a 20-by-12-inch rectangle with the short edge facing you. With a pastry brush, spread the melted butter evenly over the dough. Sprinkle the lemon sugar over the dough and press to coat evenly.
Using a pastry wheel or pizza cutter, cut the dough crosswise into 5 strips (about 12 by 4 inches each), then stack the five rectangles on top of each other.
Slice the stack of rectangles crosswise to create 6 equal strips (about 4 by 2 inches each). Fit these layered strips into the prepared loaf pan, cut edges up, and side by side (it will be a tight fit, but that's okay). Loosely cover the pan with plastic wrap and let the dough rise in a warm place until almost doubled in size, 45-60 minutes.
Adjust an oven rack to the middle position, and heat the oven to 350F. Line a 9 x 4 x 4-inch Pullman pan with a foil sling (see note). (You may want to place a baking sheet underneath to catch any possible drips.)
Bake the bread until the top is golden brown, 40-60 minutes, or registers 190-195F on an instant thermometer. Check bread half way through baking – if the top is browning too quickly, place a piece of foil over the top.
Transfer the pan to a wire rack. Immediately pour 1/2 the icing over the bread, then let sit for 15 minutes.  Use the foil sling to gently remove the loaf from the pan, then drizzle the remaining icing over the loaf. Let cool slightly before pulling apart and eating. Best eaten the day it's made. (You can find more detailed instructions on how to shape the bread in my Instagram stories.)
Icing
In a medium bowl, combine all the ingredients and stir together until combined and smooth. If the icing seems too thick, add more lemon juice, one tablespoons at a time. If it is too thin, add more confectioner's sugar one tablespoon at a time.