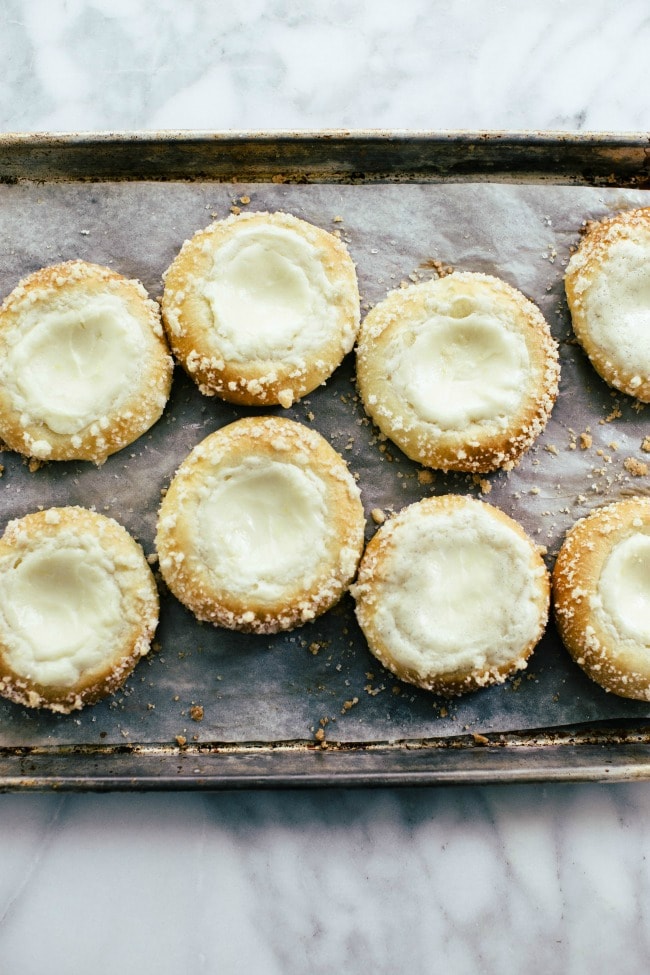 I'm addicted to kolaches. Any and all kinds, but especially these pictured here. Kolaches were brought to Texas by Czech immigrants and now have a cult-like following, for good reason. Almost a Danish pastry, they are made with a brioche-like bread dough instead of laminated layers; their centers filled with creamy sweet cheese and the slightest hint of lemon. When I first came across them in Bread Illustrated (America's Test Kitchen's new bread book) I instantly walked to my kitchen cupboards and took out all the ingredients needed: flour, yeast, butter, cream cheese, milk, sugar, lemon. While I worked the dough on my counter top, my mind jumped to purchasing a nearby corner bakery for the sole purpose of filling with kolaches. There would be trays lined with rows and rows of beautiful circles, all topped differently: cream cheese, chocolate and white chocolate, jam and fresh fruit, extracts, vanilla bean, meringue, whipped cream, ice cream. They would compete with local doughnuts shops for breakfast, boasting both simplicity and extravagance in every dozen sold.
Of course, such day dreams are not able to become reality at this point, but each bite I take convinces me otherwise. Maybe one day, Minneapolis. Maybe one day.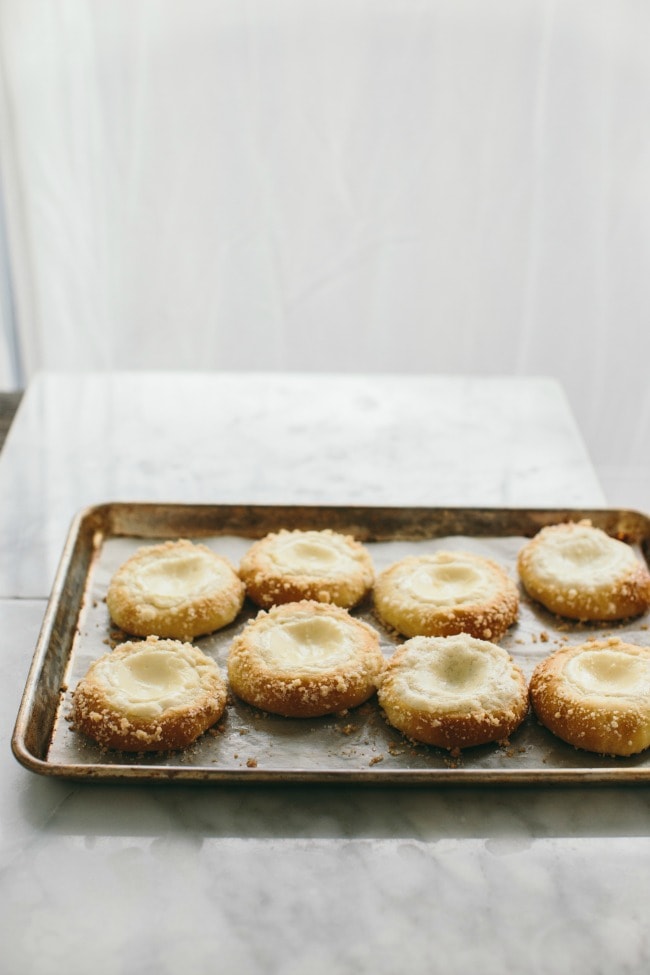 Kolaches
From Bread Illustrated by America's Test Kitchen
If you are not crazy about ricotta, you can omit it and use 12 ounces of cream cheese instead.
dough
3 1/2 cups (17 1/2 ounces)all-purpose flour
2 1/4 teaspoon instant or rapid-rise yeast
1 1/2 teaspoons salt
1 cup whole milk
10 tablespoons unsalted butter, melted
1/3 cup (2 ounces) sugar
1 large egg plus 2 large yolks
cheese filling
6 ounces cream cheese, softened
3 tablespoons sugar
1 tablespoon all-purpose flour
1/2 teaspoon grated lemon zest
6 ounces (3/4 cup) whole-milk or part-skim ricotta cheese
streusel
2 tablespoons plus 2 teaspoons all-purpose flour
2 tablespoons plus 2 teaspoons sugar
1 tablespoon unsalted butter, cut into 8 pieces and chilled
1 large egg, lightly beaten with 1 tablespoon water and pinch salt
for the dough
Whisk flour, yeast, and salt together in bowl of stand mixer. Whisk milk, melted butter, sugar, egg, and egg yolks in a 4-cup measuring cup until sugar has dissolved. Using a dough hook on low speed, slowly add milk mixture to flour mixture and mix until cohesive dough starts to form and now dry flour remains, about 2 minutes, scraping down the sides as needed. Increase speed to medium-low and knead until dough is smooth and elastic and clears sides of bowl but still sticks to bottom, 8 to 12 minutes.
Transfer dough to a well-floured counter. Using your well-floured hands, knead dough to form a smooth, round ball, about 30 seconds. Place dough seam side down in a lightly greased large bowl, and cover tightly with plastic wrap. Let rise until doubled in size, 1 to 1 1/2 hours. (Unrisen dough can be refrigerated for at lease 8 hours or up to 16 hours; let dough sit at room temperature for 1 hour before shaping.)
make the filling
Using stand mixer fitted with paddle, beat cream cheese, sugar, flour, and lemon zest on low speed until smooth, about 1 minute. Add ricotta and beat until just combined, about 30 seconds. Transfer to bowl, cover with plastic, and refrigerate until ready to use.
make the streusel
Combine flour, sugar, and butter in bowl and rub between fingers until mixture resembles wet sand. Cover with plastic and refrigerate until ready to use.
finish the dough
Line 2 rimmed baking sheets with parchment paper. Punch down dough and place on lightly floured counter. Stretch the dough into an even 16-inch log. Cut the log into 16 equal pieces (about 2 1/4 ounce each) and cover loosely with greased plastic. Working one piece of dough at a time (keep remaining pieces covered), form into rough ball by stretching dough around your thumbs and pinching edges together so that the top is smooth. Place the ball seam side down on a clean counter and, using your cupped hand, drag in small circles until dough feels taut and round.
Arrange dough balls seam side down on prepared sheets, spaced about 1 1/2 inches apart. Cover loosely with greased plastic and let rise until increased in size by about half, 1 1/2 to 2 hours.
Adjust oven racks to upper-middle and lower-middle positions and heat oven to 350 degrees. Grease and flour bottom of a round 1/3-cup dry measuring cup. Press the cup firmly into the center of each dough round until the cup touches the sheet to make indentation for filling. (Reflour the cup as needed to prevent sticking.)
Divide filling evenly among kolaches (about 1 1/2 tablespoons each) and smooth with the back of a spoon. Gently brush the edges with egg mixture and sprinkle with streusel. (Do not sprinkle streusel over filling.) Bake until golden brown, about 25 minutes, switching and rotating sheets halfway though baking. Transfer kolaches to wire rack and let cool for 20 minutes. Serve warm.