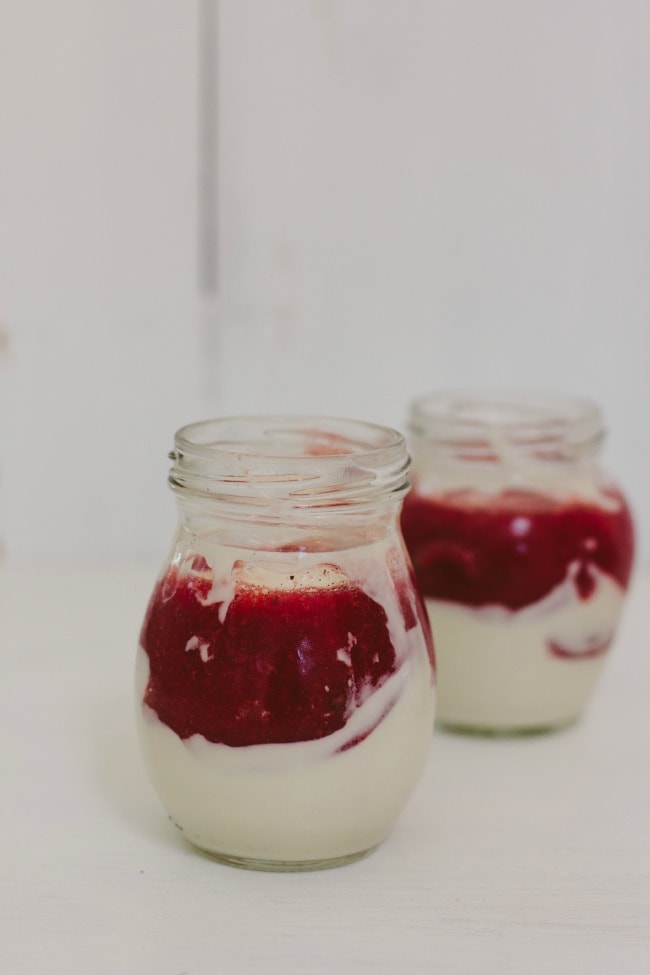 A few months ago I got a copy of Anya Kassoff's book, The Vibrant Table (if you aren't familiar with Anya's work, she runs the beautiful site Golubka Kitchen). I immediately went out to my back porch with a cup of coffee and read it cover to cover. The book is focused on Anya's always vegetarian, mostly vegan, and sometimes raw kitchen. The photographs are gorgeous, and I've been challenged by trying new ingredients and ways of approaching food. "Raw food holds a special place in my heart. It helped me heal after I had unexpected health issues after the birth of my second daughter. My older daughter encouraged me to start a food blog for documenting my raw escapades. Golubka, the blog, quickly developed into a passion…"
This Strawberry Oat Milk Smoothie was first on my list to make. Strawberries are blended with cacao nibs, vanilla bean seeds, and honey, then swirled into homemade oat milk. What a way to start the morning.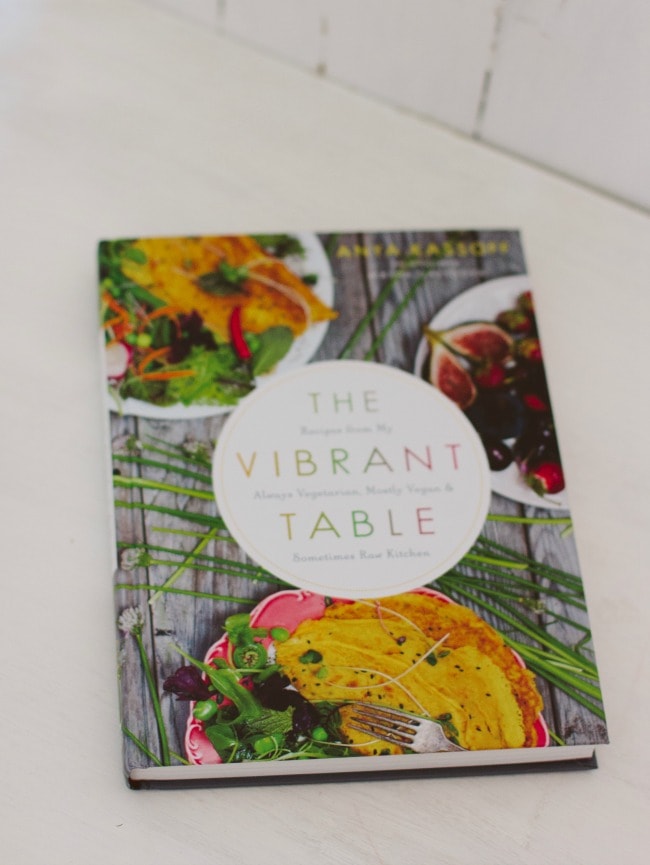 Somehow the months slipped by, and in between a move, catching up on work, and discovering I am allergic to my new house (asthma attacks I haven't had in 20 years!), I am finally now getting to a post and a giveaway. So if you would like a chance to win this beautiful book, leave a comment below with your name and email. I'll be picking a winner next week.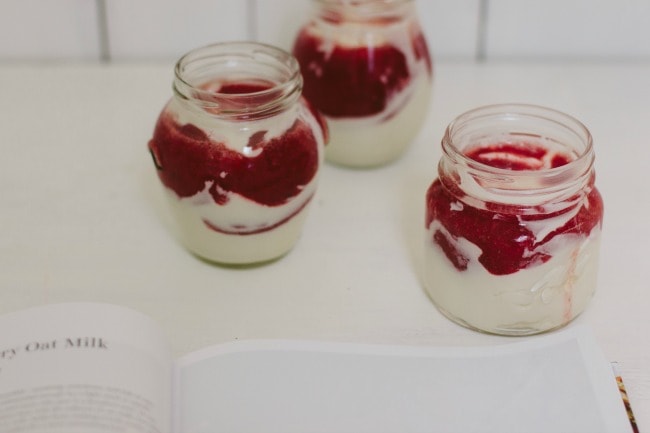 Strawberry Oat Milk Smoothie
From Vibrant Table
Anya also has a beautiful video and another strawberry milkshake recipe here on her site. If you don't have time to make the oat milk, yogurt makes a good substitute – just top it with the strawberry layer.
For the Oat Milk
1 cup (200 g) oat groats, soaked overnight in purified water
2 1/2 cups (600 ml) purified water
For the Oat Layer
1 cup (240 ml) oat milk
1 tablespoon honey
Seeds of 1/2 vanilla bean
1 few ice cubes
For the Strawberry Layer
About 2 1/2 cups (14 oz, 400 g) fresh strawberries
1/2 cup (110 ml) oat milk
2 tablespoons honey
Seeds of 1/2 vanilla bean
1 tablespoon cacao nibs
1 cup ice cubes
To Make the Oat Milk
Drain and rinse the oat groats. In a high-speed blender, combine the oats with the purified water and blend until smooth. The oat milk will keep refrigerated for up to 3 days. Shake or stir well before drinking.
To Make the Oat Layer
Combine all the oat layer ingredients in a high-speed blender and blend until smooth. Set the mixture aside while you make the strawberry layer.
To Make the Strawberry Layer
Combine all the strawberry layer ingredients in a high-speed blender and blend until smooth.
To Assemble
Starting with the oat layer, pour in enough to fill about one-third of the glass full. Then add a bit more of the oat layer to finish the assembly. In order to prevent the layers from mixing too soon, pour each layer over the back of a teaspoon.