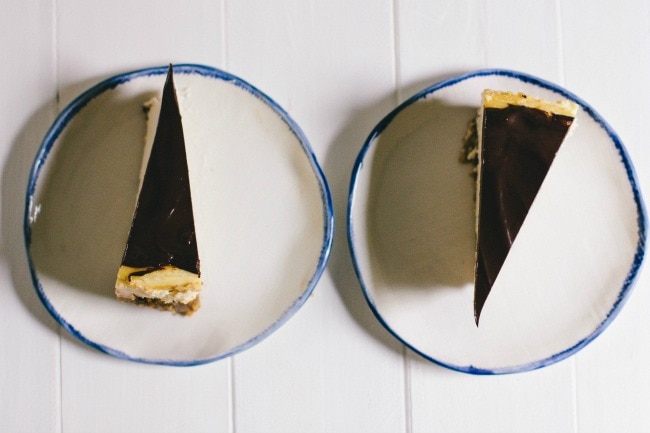 I was feeling very un-traditional for Thanksgiving this year, and so when my extended family celebrated our holiday dinner a bit early, I decided cheesecake was in order (sad note: I was too sick to attend said dinner, and sent the cake with my family while I stayed in bed). I made this cheesecake many times while working at the Blue Heron Coffeehouse, but it had been ten years since I had last made it and I was feeling a bit nervous about it (plus I was totally sick). But incredibly it was one of the prettiest cheesecakes I had ever made. Phew.
We made a simpler version of this cake at the coffeehouse; no frangelico or cacao nibs, just straight up cheesecake with a glossy chocolate glaze. It was much sought after; in fact, there was a group of international college students from China that came in daily just for this cheesecake. One woman would order two pieces cut into one big triangle, and a giant iced mocha to wash it all down. She told me she had never had cheesecake before she moved to America, and her eyes would light up every time she ordered her daily double slice. I was always rather awestruck at her afternoon indulgence, and could never decide if eating cheesecake all spring long was the best idea or the worst. Probably the best.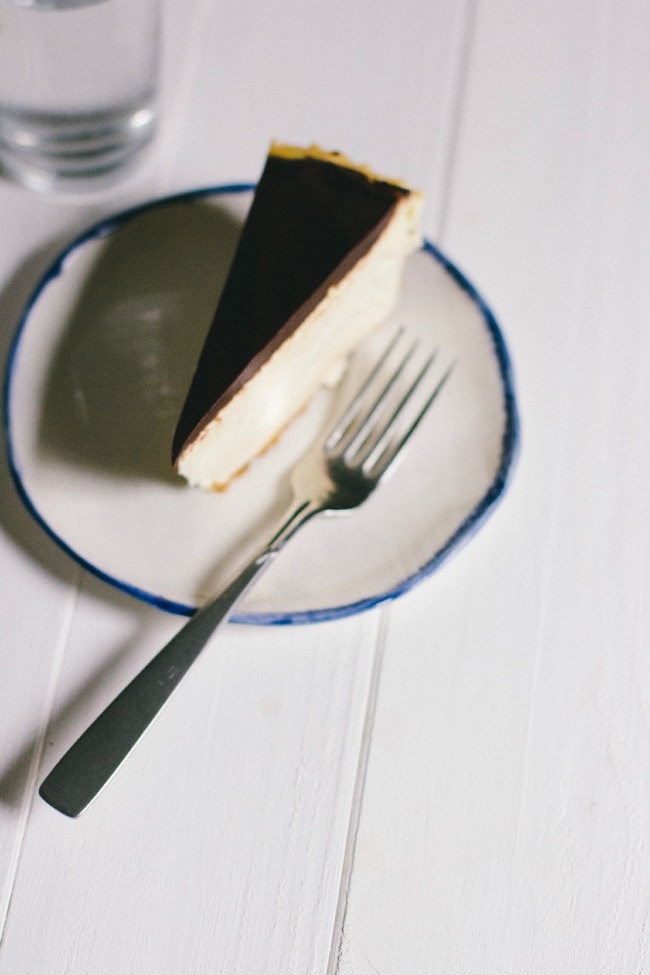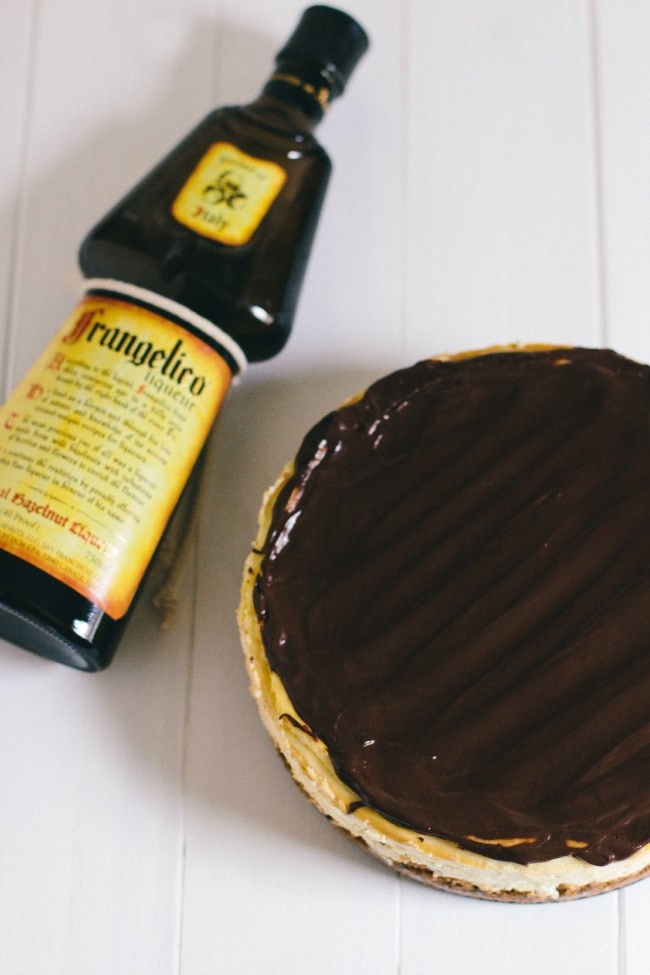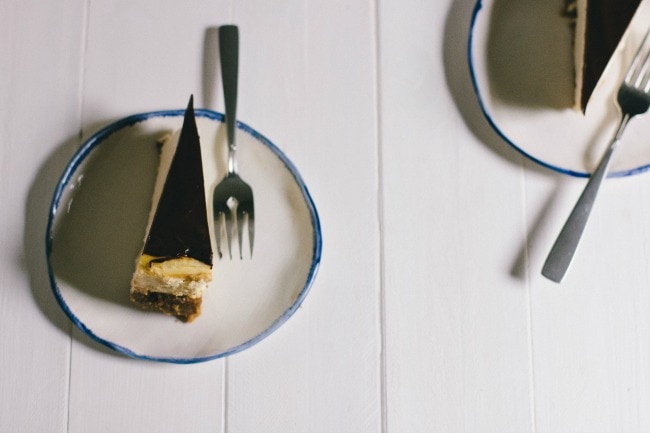 When Frangelico asked me if I'd like to do another post with them, my mind immediately flew to this cheesecake. I jazzed it up just a bit; adding frangelico (of course) and some cacao nibs to the crust. I like it just as much as the original, and my family agreed it was a perfect Thanksgiving dessert.
[This sponsored post is a collaboration with Frangelico. All opinions are my own (and I honestly enjoy baking and cooking with it). You can check out Frangelico online or on Facebook.]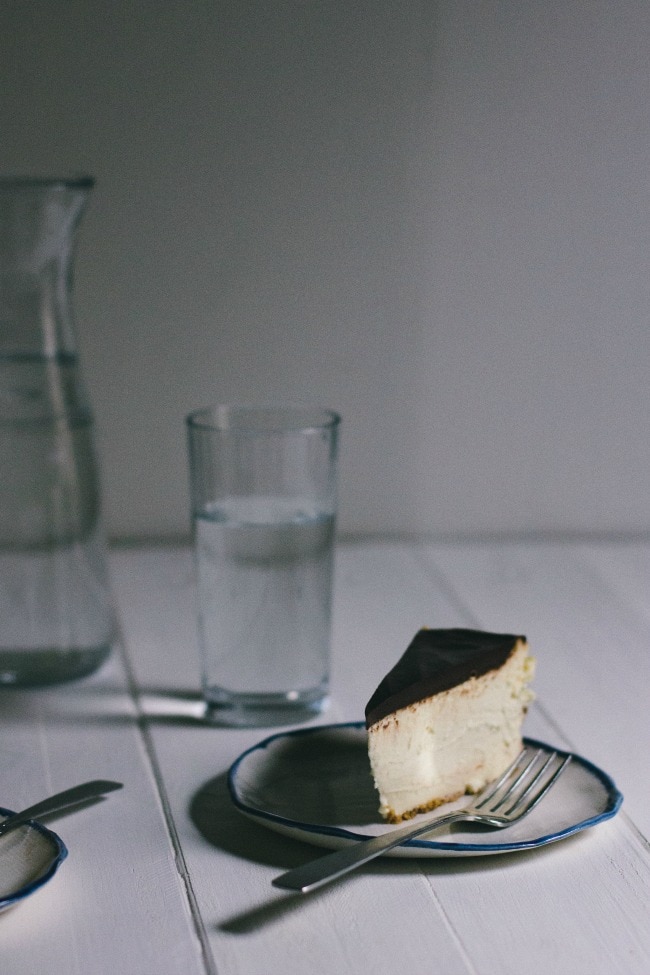 Frangelico Cheesecake with Cacao Nib Crust
I'm not sure the original source of this recipe – it was another one of those handwritten-recipe card-ones I have from college.
You will need a large food processor (13 cup+) in order to fit all the ingredients in it. I have a 13-cup Kitchen Aid Food Processor, and everything just fit. I did end up pouring the cheesecake batter out after mixing everything, and then processing it again in half batches just to make sure it was very smooth. You could also do this in a standing mixer with good results. The recipe originally calls for a 10-inch cheesecake pan; I used a 9-inch. It came almost right to the top, but I didn't have any trouble with it spilling over. I did have to leave it in the oven a few extra minutes.
crust
1/2 cup unsalted butter, melted
1/2 cup granulated sugar
2 cups graham cracker crumbs
1/4 cup cacao nibs, chopped small if they are larger pieces
cheesecake
4 large eggs
1 cup granulated sugar
3 cups sour cream
3/4 cup frangelico
4 teaspoons vanilla extract
32 ounces cream cheese, soft, and cut into small squares
4 tablespoons unsalted butter, melted
glaze
1/2 cup heavy cream
5 ounces bittersweet chocolate
1/2 teaspoon vanilla extract
For the crust: Preheat the oven to 325. Pour the sugar, graham cracker crumbs, and cacao nibs in a medium bowl and whisk together. Pour the melted butter over the top and stir with a spatula until combined. Press the mixture into a 10-inch springform pan (see note) and bake for 10 minutes, or until the crust is golden. Remove from the oven and set aside to cool (leave the oven on).
For the cheesecake: In a food processor (see note), mix the eggs, sugar, sour cream, frangelico, and vanilla together for 1 minute. Add the cream cheese a few pieces at a time and blend until smooth. Add the butter, and process again until combined. Pour the batter into the springform pan.
Fill a roasting pan with 16 cups of warm water, and place it on the floor of the oven (or the lowest possible shelf). Set the cheesecake on the middle rack and bake for 1 hour and 15 minutes. Turn the oven off and leave the cheesecake in with the door closed for 30 more minutes (or until the cheesecake reaches 150 degrees. You can check with a thermometer occasionally if desired). Remove from the oven and place on a wire rack, letting cool to room temperature. Cover the top of the cheesecake with parchment paper (just resting over the rim of the pan) and put in the fridge overnight, or for a least 8 hours.
For the glaze: In a small saucepan, heat the heavy cream and then add the chocolate. Stir until the chocolate is completely melted. Add the vanilla and stir until the glaze is smooth. Cool to room temperature. Remove the cheesecake from the springform pan and spread the glaze over the top.