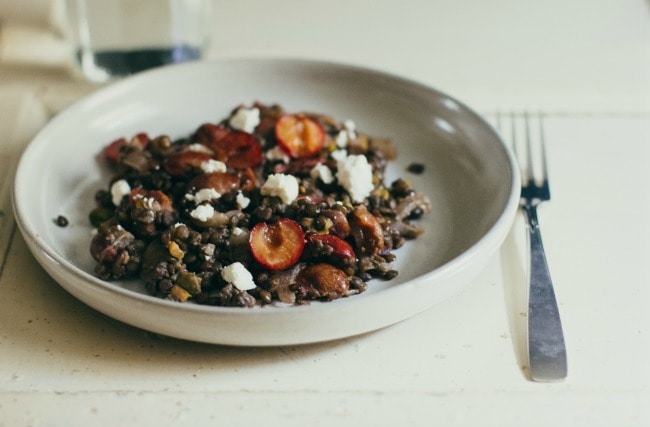 dive for dreams
or a slogan may topple you
(trees are their roots
and wind is wind)
trust your heart
if the seas catch fire
(and live by love
though the stars walk backward)
honour the past
but welcome the future
(and dance your death
away at this wedding)
never mind a world
with its villains or heroes
(for god likes girls
and tomorrow and the earth)
[e.e. cummings, ninety-five poems]
warm lentil salad with cherries, pistachios, and goat cheese
This salad (as well as this soup) is inspired by the Sprouted Kitchen's Braised Leeks + Muscovado Lentils. One of the keys to this dish is the hint of cinnamon added near the end – it adds a needed layer of flavor. But too much cinnamon, and you'll have some kind of lentil brown-betty-buckle, so start with just 1/4 teaspoon and add more as desired. I used tart, fresh cherries here, but sweet or dried would work just as well.
1 onion, sliced into half moons
2 tablespoons butter
1 tablespoon olive oil
salt and pepper
2/3 cup black or green lentils, rinsed
1 tablespoon honey
1 tablespoon vermouth (white wine vinegar  or rice vinegar will work also)
1/8-1/2 teaspoon cinnamon (see note)
1  cup cherries, pitted and chopped
1/3 cup pistachios, chopped
2 ounces goat cheese, crumbled
In a 12 inch skillet, melt the butter with the olive oil over medium heat. Sprinkle a good pinch of salt and pepper over the melted butter, then add the sliced onions and cook for 8-10 minutes until onions soften and begin to brown just slightly. Lower the heat to medium-low, and let the onions cook until soft and sweet, stirring occasionally, about 20-30 more minutes.
While the onions are cooking, put the lentils, about 1 1/4 cups water and a pinch of salt in a pot and bring to a gentle boil. Cook until the lentils are cooked through. (Add more water if needed, and cook off any excess water in the end.)
When the lentils are cooked, add them to the pan with the caramelized onions, and add the honey, vermouth, and salt and pepper to taste. Add the cinnamon, starting with 1/8 teaspoon, and adding more if needed (see note). Turn off the heat and add the cherries and pistachios and mix to combine. Sprinkle the goat cheese over the top and serve.