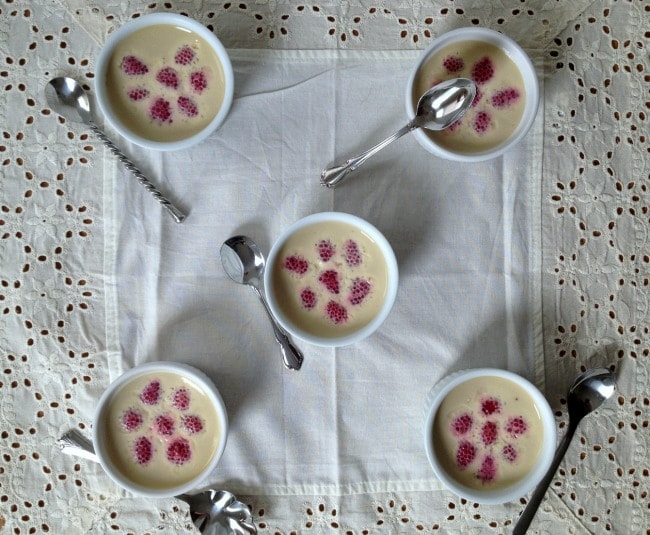 It's the summer of fun! For reasons before mentioned, I am lining up guest posts for this summer. Up next is Sacha from 729 Layers. Sacha has such a great space; her recipes are wonderful and she is such a great storyteller.

I know something about Sarah. She is the lucky owner of raspberry bushes that grow rather uninhibitedly on her property. I picture hands, both big and little, reaching and plucking at branches with abandon, filling bowls with rubies—with a couple of "ouches" and a lot of magenta-stained shirts in between. Summer. Fun.
I like my meals fresh and my produce abundant. I spend hours at my urban farmers' markets, picking from baskets and bushels and mason jars. I savor each bite, from early pea to late-summer plum. But I have never, outside of a farm or an orchard, had the satisfaction of picking something that I worked for, nurtured, or brought from the earth. Food of my own, with my own hands. I've never lived on properties where wild berries poke out of thorny bushes, or where honeyed stone fruits hang seductively from bee-swirling trees. No, I've grown nothing other than a few potted herbs. Growing up, my parents' thumbs were any color but green and once I was on my own, I found myself in Boston and in its neighboring towns, in rental situations that didn't allow for playing in the dirt. I'm still there. Still garden-less.
I guess that's why I appreciate our local farmers so much; they're doing the hard work that I can't do. But for this recipe, for this post, for Sarah, I did pick raspberries, and I picked them with care. My fingers never touched branches, but I picked them all the same. At the farmers' market, I picked up half-pints from every farmer selling them. And I tasted. I tasted my way through all of those half-pints until I found the raspberries I liked the best. Petit. Firm enough to hold their shape once baked yet juicy—juicy enough to stain without force. Sweet to start, with a slight lingering tartness that makes you remember them.
The losing half-pints certainly didn't go to waste. Any local raspberry is worth its weight in the jewels it resembles. Originally, these raspberries were intended for a fancy pastry in which they would be mashed and folded and no longer berries at all. I paused. I thought better. And they found themselves in these simple pink peppercorn custard cups. Pink peppercorns jive beautifully with any berry of the red variety. Here the peppercorns shine, flaunting their floral and fruity flavor and perfuming a rich-in-eggs-and-cream, but light-on-the-tongue custard punctuated with those whole, un-mangled raspberries. I like my custard cups topped with barely-sweetened whipped cream (yes, more cream, but remember, it's the summer of fun!). A welcome double-crunch comes in the form of candied pistachios. Their sweet nuttiness, strong fragrance, and bitter caramel coating slice sharply through the soft, not-too-sweet, cool and creamy custard.
For reasons that are not important, my summer has not been the peaceful one I would have hoped for. But every sticky-sweet Sungold tomato; every charred, olive-oil drenched plank of abundant zucchini; and, yes, every seedy, sweet-tangy, messy helping of raspberries has been enough to pull me through. One day, when I have a raspberry bush, I'll cherish every branch. I'll find meaning in its life—its life that faces more adversity, by way of heat, and rain, and burning sun, than I ever will. But for now, I'm picking my way.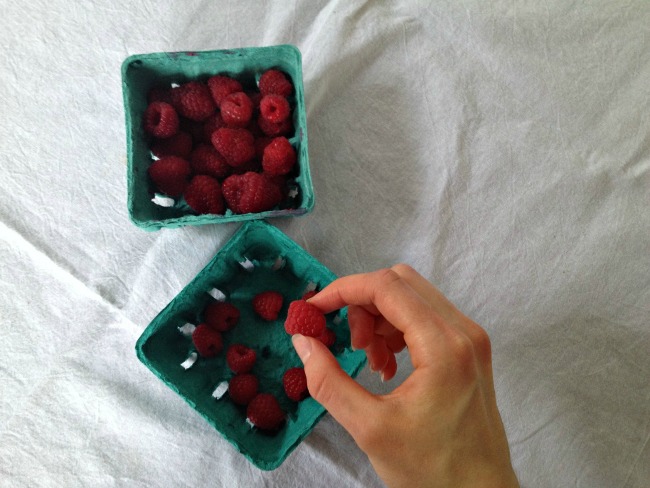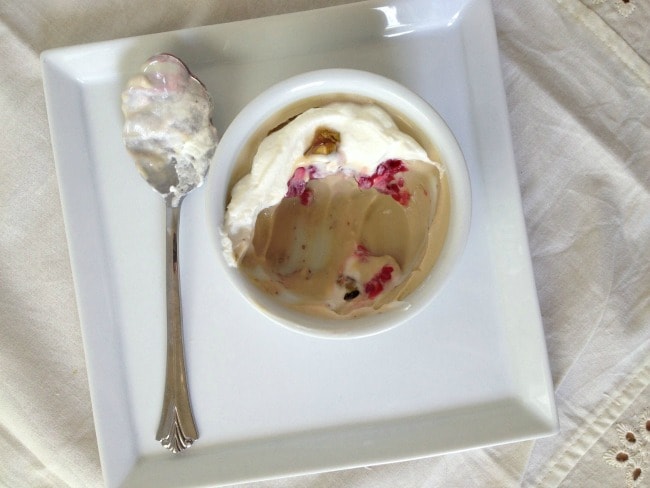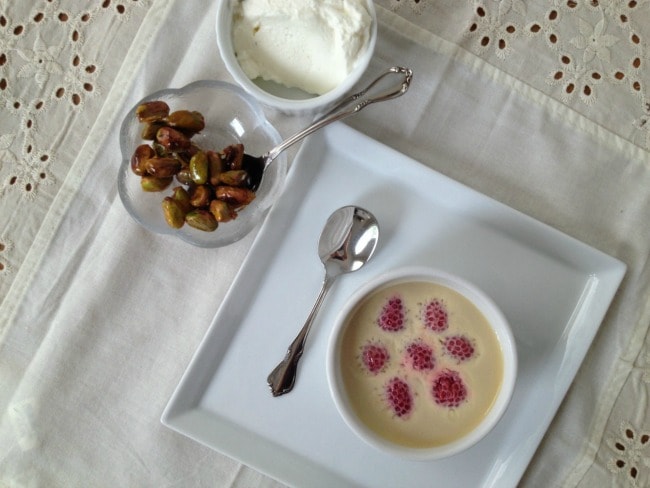 Raspberry–Pink Peppercorn Custard Cups
I like to "crush" the peppercorns by simply chopping them with a chef's knife. They're soft enough, and the knife breaks through them nicely so they release their aroma readily. While you can serve these the day after they are made like most custards, but they are really best eaten within just 12 hours of making them, as the berries can release too much moisture into the custard if let to sit a while.
518 grams (2¼ cups) heavy cream
230 grams (1 cup) whole milk
133 grams (2/3 cup) sugar
2 tablespoons pink peppercorns, crushed
¼ teaspoon salt
160 grams egg yolks (about 9 large yolks)
40-42 raspberries
Fresh whipped cream (optional)
Candied Pistachios (recipe below)
Bring 288 grams (1¼ cups) cream, milk, sugar, peppercorns, and salt to boil in small saucepan over medium heat. Remove from heat, cover, and let infuse for at least 30 minutes or up to 1 hour.
Adjust oven rack to middle position and heat oven to 300 degrees F. Bring full kettle of water to boil. Reduce heat to low once kettle comes to boil. Place folded dish towel or triple layer of paper towels on bottom of roasting pan (I used a petit roaster with all sides).
Whisk egg yolks together in bowl until smooth. Set remaining 230 grams (1 cup) cold cream in another bowl with fine-mesh strainer set over top of bowl. Rewarm infused cream mixture. Slowly pour about one-quarter of hot cream mixture into egg yolks, whisking constantly. Slowly pour remaining hot cream mixture into yolk mixture, whisking constantly, until combined. Pour cream-yolk mixture through fine-mesh strainer over cold cream and whisk to thoroughly combine.
Place 5 to 7 raspberries each in the bottom of eight 4- to 5- ounce or six 6-ounce ramekins (pictured). Divide mixture evenly among ramekins (you may have some leftover). Space ramekins evenly in prepared roasting pan and carefully pour contents of tea kettle into pan to come about halfway up ramekins. Immediately cover pan with aluminum foil and transfer pan to oven. Bake custards until they're set at the edges but centers jiggle and register 170 to 175 degrees F, 30 to 35 minutes. Let ramekins sit in uncovered water bath for 5-10 minutes then transfer ramekins to wire rack and let cool completely. Once cool, cover ramekins tightly with plastic wrap and refrigerate for at least 3 hours or up to 12 hours before serving. Top with freshly whipped cream, if desired, and chopped or whole Candied Pistachios.
Candied Pistachios
3 tablespoons sugar
1½ tablespoons water
¼ teaspoon salt
75 grams (½ cup) shelled pistachios
Line baking sheet with parchment paper. Heat sugar, water, and salt in 8- to 10-inch nonstick skillet over medium-high heat, swirling pan occasionally. When caramel becomes golden in color, reduce heat to medium, add pistachios and cook, stirring constantly, until nuts are toasted and fragrant and caramel is deep in color. Using rubber spatula, transfer nuts to parchment, spreading them out as best as possible. Let cool completely before using.