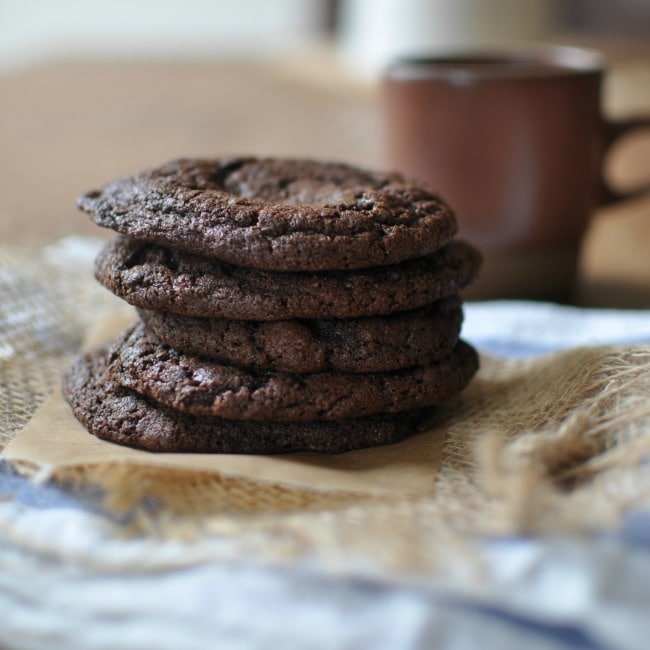 It's the summer of fun! For reasons before mentioned, I am lining up guest posts for this summer. Up next is Kasey from Turntable Kitchen. I love Kasey's space; her recipes are and writing are thoughtful and beautiful. Also, curated food and music pairing boxes? Genius.
I have a penchant for starting and ending my day with something sweet. Some people might say that a baked good or dessert is 'too sweet' or 'too rich' and I can respect that. But there is, in my worldview, no such thing as being 'too chocolate-y.' I have a sneaking suspicion that Sarah would agree.
When I was pregnant with my daughter, I found myself baking more than ever. Anything doughy and crumbly seemed to please me and I like to think, her, too. There is a pause that happens when you bite into a rich chocolate cookie that sort of allows your mind to stop and every ounce of your energy to channel towards chewing and inhaling. I needed those moments so much while I was pregnant and in the early days of motherhood when chewing was a welcome distraction from everything else.
Baking cookies this past winter was no small victory for me. It allowed to feel some control over my new life. The new normal. As winter turned to spring which turned to summer, baking has remained a consistent activity for me, reminding me that working with my hands in the kitchen, measuring out flour and creaming butter, is still rest.
Conveniently, around the time I was craving lots of baked goods, I acquired the Blue Bottle cookbook which has undoubtably and somewhat surprisingly, become one of my favorite cookbooks. I have made Blue Bottle Saffron Snickerdoodles (and Saffron Biscotti), fudgesicles, and now these cookies.
They are my adaptation of Blue Bottle's Double Chocolate Cookie, the epitome of a rich, gooey, chocolate cookie. It can be eaten alone, layered with some ice cream, or mixed into a sundae. The addition of almond meal, which I have been sneaking into virtually everything I bake these days, helps make these cookies incredibly moist and tender.
It's so lovely to be a guest on Sarah's beautiful blog today. She has been an inspiration to me both as a writer as well as a mother. One day, I hope we can chat in real life over coffee and cookies, and maybe some of her raspberry cacao nib sugar buns…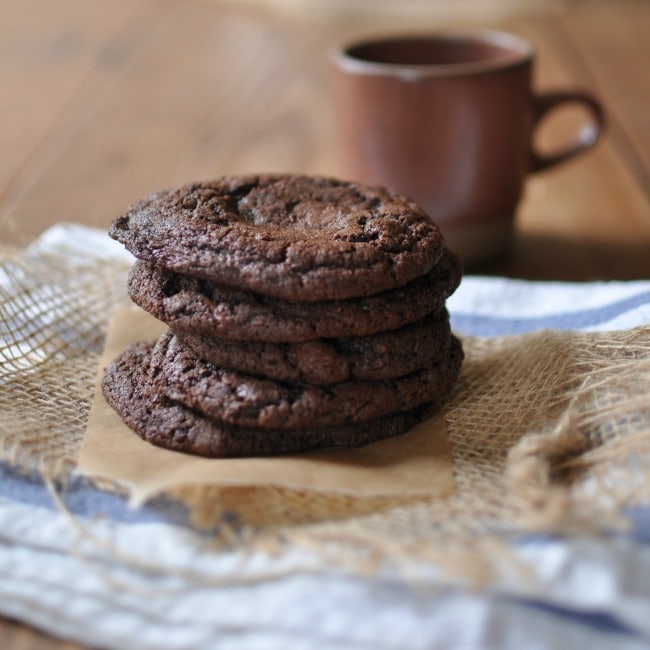 Blue Bottle's Double Chocolate Cookies
adapted from The Blue Bottle Craft of Coffee
*makes about 9 large cookies
3/4 cup of whole wheat pastry flour
1/4 cup of almond meal
1/3 cup of natural cocoa powder
1/2 teaspoon of baking soda
5 tablespoons of unsalted butter
1/2 cup of white sugar
1/2 cup of muscovado sugar
1 teaspoon of sea salt
1 egg, at room temperature
1 tablespoon of pure vanilla extract
3.5 ounces of dark chocolate (70%), coarsely chopped
1. Sift the flour, almond meal, cocoa powder, and baking soda into a bowl. Dump in any remaining bits into the bowl. Set aside.
2. Add the butter to the bowl of a stand mixer fitted with a paddle attachment and beat for 1 to 2 minutes, or until fluffy. Add the sugars and salt and mix on low speed until combined. Scrape down the sides of the bowl and continue mixing for another 5-6 minutes.
3. Combine the egg and vanilla extract in a medium bowl and whisk until blended.
4. With the mixer running on medium speed, add the egg mixture in a steady stream, mixing for about 30 seconds (or until smooth). Scrape down the sides of the bowl and mix for another 30 seconds.
5. Add the flour mixture and mix on low speed until just incorporated. Scrape down the sides of the bowl. Add the chocolate and mix until incorporated.
6. Scrape the dough into a lidded container and refrigerate for at least 3 hours or up to 5 days.
7. When ready to bake, preheat the oven to 350 degrees F. Line a baking sheet with parchment paper. Roll 1/4 cup portions of dough into balls and place them onto the baking sheet two inches apart.
8. Bake for about 12 minutes, rotating midway through, or until the cookies are slightly firm to the touch. Let cookies cool on the pan for about 10 minutes before removing. They'll be very tender, especially when they immediately come out of the oven. They're best eaten warm, but can be stored in an airtight container for several days.