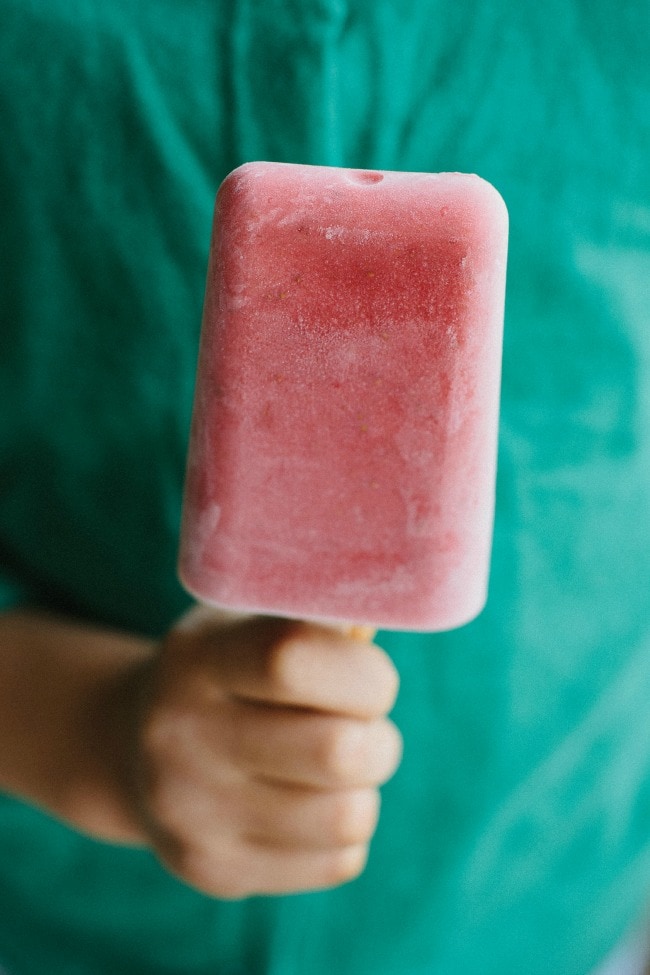 It's the summer of fun! For reasons before mentioned, I am lining up guest posts for this summer. Up next is Emma from My Darling Lemon Thyme. Emma is such a kind soul, and I love always love visiting her space in blogland.

My youngest started school this year, so I know all too well how precious those last moments of freedom are and I applaud the decision you've made Sarah. Having a break over summer is the best idea ever! And a huge thank you for having me here, you know how much I adore you and everything that you do. xx
It seems a little weird sitting here talking about summer, see I live in Western Australia… at the bottom of the earth. And it's winter. Although winter here is not exactly the winter I knew growing up in the little coastal town of Raglan, in the North Island of New Zealand. Instead of raining and beyond cold temperatures for 9 months of the year, here in Perth we are lucky. Winter lasts exactly 6 weeks, give or take a few days. It's a short sharp burst of cold in an otherwise sweltering hot city. Summer here is full on, so homemade popsicles are in constant rotation around our house as we make a feeble attempt to cool down. After last summer the kids got so used to coming home to popsicles that they still, even now in the depths of winter, ask for a popsicle after school. I usually say, it's too cold, lets wait until it warms up a tad and I'll get into making them again. But after being bombarded with all the lovely iced treats showing up all over the net from you lot up North, call me silly… but I just wanted to join in! The look on the kids faces when they came home from school to be greeted by popsicles was worth the madness that ensued as we sat there inside, eating freezing cold popsicles, while the rain pelted down outside. Mad I tell ya.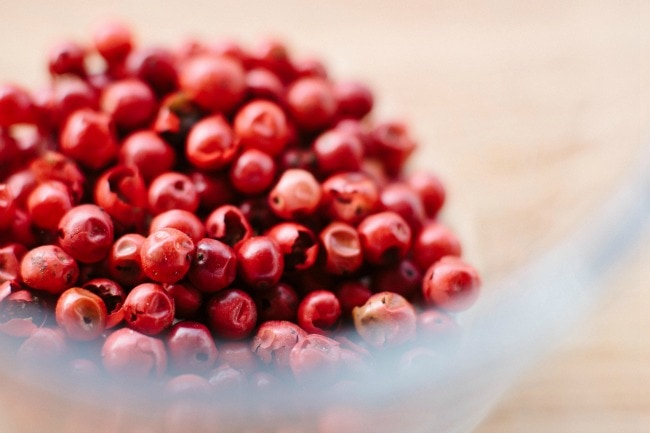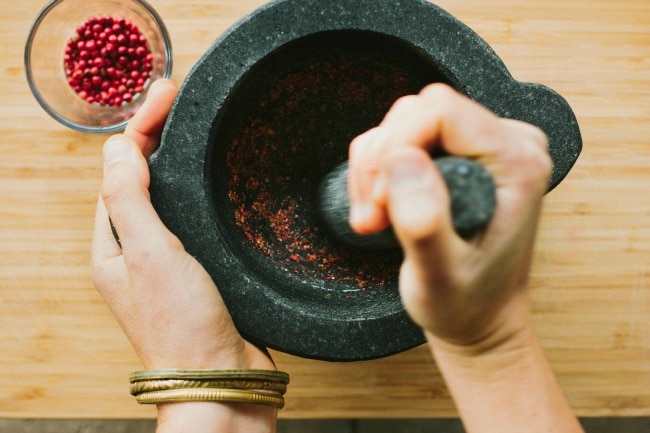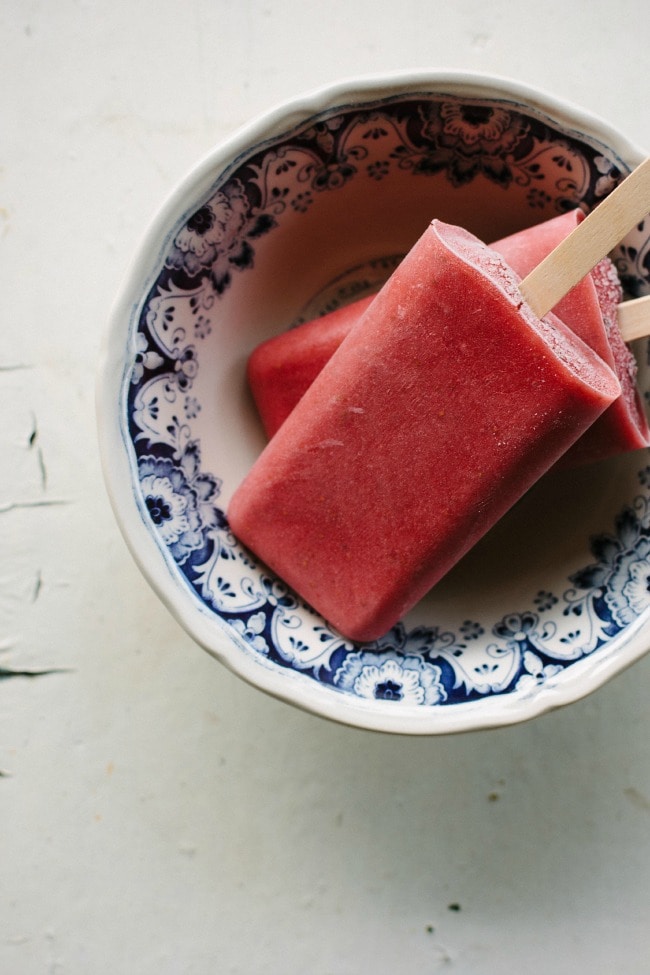 Because winter is so brief here we are able to grow summer fruit and vegetables almost all year-round. Tomatoes actually have more of a chance of survival in the cooler months here than in the peak of summer, when keeping them watered is a full-time job. And our strawberry season only takes a breather for a month or two in autumn before things start to crank back up again mid-winter. We have over 20 strawberry plants housed in various pots out the back of our house which are starting to shoot out loads of flowers and baby berries, which is a promising look to the season ahead. But for these popsicles I headed to our local farmers market, where stalls are groaning with produce just waiting to be consumed.
I love the pairing of strawberries and peppercorns, but rather than going the usual black peppercorn route I decided to go pink instead. Roasting the berries intensifys their flavour and also creates a natural strawberry syrup which means no other liquid needs to be added, keeping the flavours pure and vibrant. I went a little light on the pepper knowing the kids would be eating them, but had I been making them just for myself I could have easily doubled it. You could always go somewhere in between if you can't decide.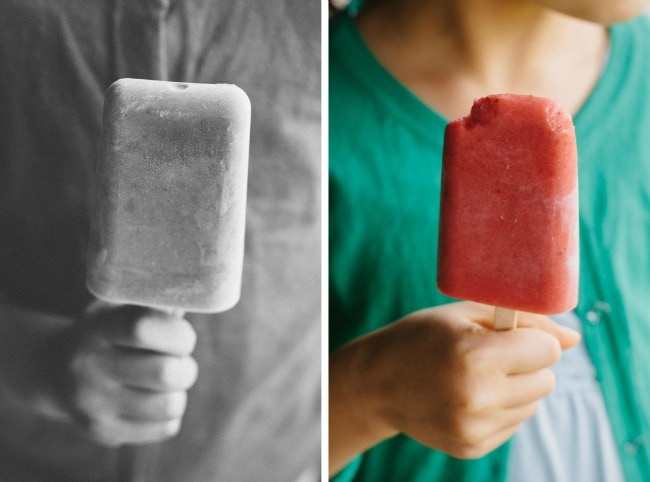 Roasted Strawberry, Orange, and Pink Peppercorn Popsicles
Unrefined raw sugar, brown rice syrup or honey can be used in place of the maple syrup if preferred. I used 1 teaspoon of pink peppercorns because I didn't want to freak my kids out, but had I been making them all for myself I'd go the full 2 teaspoons. If you can't find pink peppercorns sold separately, you should be able to to find them in a pack of mixed peppercorns and just pick them out.  
Makes 4
500g (just over 1 lb) strawberries, hulled
3 tablespoons pure maple syrup
1 tablespoon extra virgin olive oil
the finely grated zest of 1 orange
1-2 teaspoons pink peppercorns, finely ground
a good pinch fine sea salt
Preheat oven to 200C/400F. Combine ingredients in a medium bowl, transfer to a lipped baking tray or oven-proof dish and roast for 25 minutes or until strawberries are tender and their juices have been released. Remove from the oven and cool.
Transfer berries and their juices to a blender and blend until smooth. Spoon into popsicle molds, snap on the lids and freeze. If using wooden sticks freeze popsicles for an hour until partially frozen before inserting sticks. Freeze 4 hours or overnight.
Run moulds briefly under warm water to help release the popsicles.