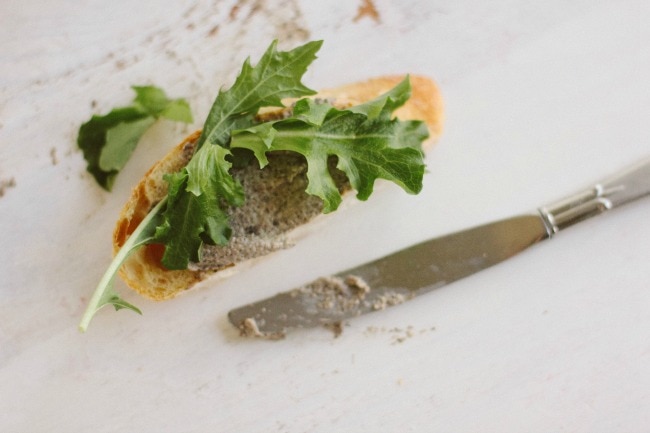 Fifteen years ago I never would have imagined I might one day be sitting on my couch, writing a blog post. It's possible I hadn't even heard the word 'blog' and if I had, I would have thought it belonged in the same kind of category as 'moist' and 'curdle' and 'pâté'. Also, I would not be eating mushrooms and especially not mushrooms in a pâté. That would have set my naive taste buds over the edge. But, thankfully, there is always hope for one to change. About fifteen years ago I was attending a small party at a family friend's house; a house where I had spent a good portion of my childhood eating meals, spending nights, and sharing secrets, and found myself confronted with just that: mushroom pâté. It was sitting there, right there in the center of the table, surrounded by fancy cheeses and breads, various dips and foods to dip in the dips; and even though I wasn't sure what it was at first glance, I knew it was something to avoid. I actually felt terrified when my host told me about it, certain it involved some kind of meat tube like my Grandmother kept in her fridge. My friend's mother sidled right up and knowing me well (she had, after all, put up with my picky eating at countless sleepovers), encouraged me to try it. But my ten-year-old self had emerged and I stubbornly shook my head. She went on to politely insist, so there at her get-together I tried to act one-and-twenty and swallow what I was most afraid of. Low and behold the pâté was delicious, and I went home with the recipe stuffed in my coat pocket and a door wide open to a new world of food.
So now here I am, blogging about mushroom pâté. Really, it's amazing how much we evolve when we are willing to take some risks and approach things differently. I try to remember this at every big twist and turn, but find it most important (although hardest) in the simple moments, those small gatherings.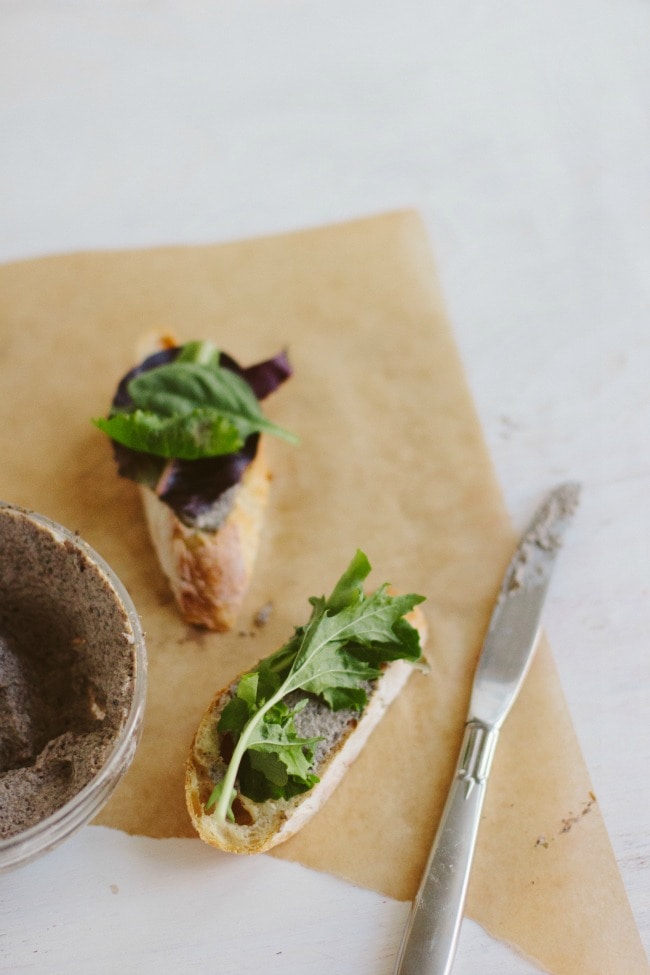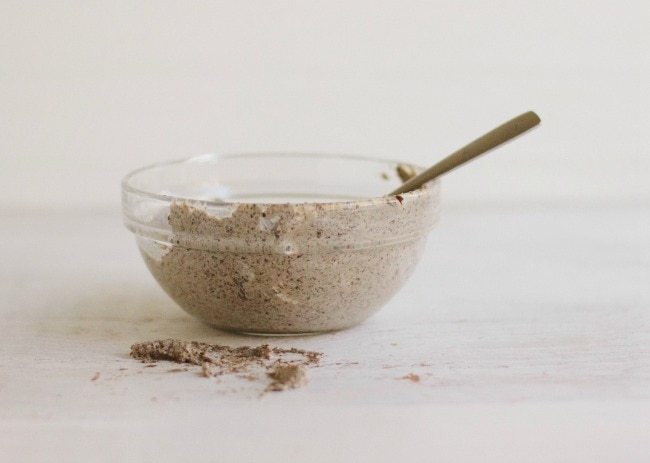 'Love will creep where it cannot go, will accomplish that by imperceptible methods,- being its own lever, fulcrum, and power, – which force could never achieve. Have you not seen the woods, in a late autumn morning, a poor fungus or mushroom, – a plant without any solidity, nay, that seemed nothing but a soft mush or jelly,-by its constant, total, and inconceivably gentle pushing, manage to break its way up through the frosty ground and to actually lift a hard crust on its head? It is the symbol of power of kindness.' -Ralph Waldo Emerson, Man the Reformer, A Lecture
Mushroom Pâté
I've tinkered with this recipe quite a bit, although it's adapted from the original version Mrs. P. gave me years ago. Her version uses butter instead of olive oil, Boursin garlic and  herb cheese instead of goat cheese, and cream cheese instead of sour cream. I've tried to lighten things up here a bit, and think my version is just as good, but feel free to swap what you want. I also used herbed goat cheese – we've had a rough spring and none of my herbs are coming up yet, let alone are planted. You can use plain goat cheese and add herbs that you like, if you'd rather do that. I suggest serving this with bread or toast, but it would also taste good on other things as well! On a pizza, stirred into eggs or frittata, on your morning bagel…
1 pound button mushrooms, cleaned and sliced
2 tablespoons olive oil
1 clove garlic, minced or pressed
1 tablespoon dry sherry
4 ounces goat cheese, room temperature (see note)
4 ounces sour cream (or yogurt)
1/4 teaspoon salt
Heat the olive oil over medium heat. Add the mushrooms and saute 8-10 minutes until the liquid from the mushrooms has released and then evaporated. Add the garlic and sherry and stir until the garlic is fragrant and the sherry has evaporated, about one minute. Remove the pan from the heat and set aside to cool. Add the cooled mushrooms, goat cheese, sour cream, and salt in a food processor and process until smooth. Serve with fresh bread, toast, or crackers.